USDC Crypto Explained: The Stablecoin Revolution
What is USDC crypto? The USDC is what is known in the cryptocurrency field as a stablecoin. Why? Because it is pledged to the US dollar, making it more stable than many other cryptocurrencies.
In the article that I am sharing with you today, I would like to propose that you navigate with me in the ocean of stablecoin and visit the island of USDC. We will understand what USDC crypto is and what USDC stands for in cryptocurrency.
Introduction to USDC: What is Stablecoin? And What is USDC in Crypto?
What is USDC in crypto? USDC is, as I said before, a stablecoin, a type of cryptocurrency that is stable. This means that its price is not volatile, and this is due to the fact that it is pegged on our dollar. There are many other stablecoins, such as Tether (USDT), Dai (DAI) and etc. Now that you have seen what USDC cryptocurrency is, let's see what it stands for. The USDC stands for USD Coin, USD for the United States dollar, and coin for cryptocurrency.
The Role of USDC in the Crypto Ecosystem
For a better understanding of what is USDC crypto, we need to see what is USDC crypto role in the crypto ecosystem:
• Medium of exchange: It is widely accepted as a form of payment by merchants and individuals around the world.
• Store of value: Thanks to its stability, it is a good choice for investors who are looking for a stable investment.
• Bridge between fiat and crypto: It can be used to easily convert between fiat currencies and cryptocurrencies, making the cryptocurrency more accessible in the world.
• Enabler of DeFi: USDC is used in a variety of decentralized finance (DeFi) protocols, such as lending and borrowing platforms. This makes it possible for users to earn interest on their USDC holdings.
How USDC Maintains Its Stability
If you understand the definition of what crypto USDC is, then you should know that the USDC maintains its stability thanks to the fact that it is pegged to the US dollar, and this makes its price follow the same movement as the price of the US dollar, making it stable.
Advantages of Using USDC
After talking about what is USDC in cryptocurrency and what is USDC in the crypto ecosystem, let's talk about its main advantages:
• Stability: As we saw when I answered the question, what crypto USDC is, the main advantage that the USDC has is its stability. This makes it a good choice for storing value or for making payments.
• Acceptance: USDC is widely accepted by merchants and exchanges around the world. This means that you can use USDC to buy goods and services.
• Transparency: How to talk about what is crypto USDC without talking about its transparency? The USDC is a regulated stablecoin, and third-party accounting firms regularly audit its reserves. This gives users confidence that real assets back their USDC.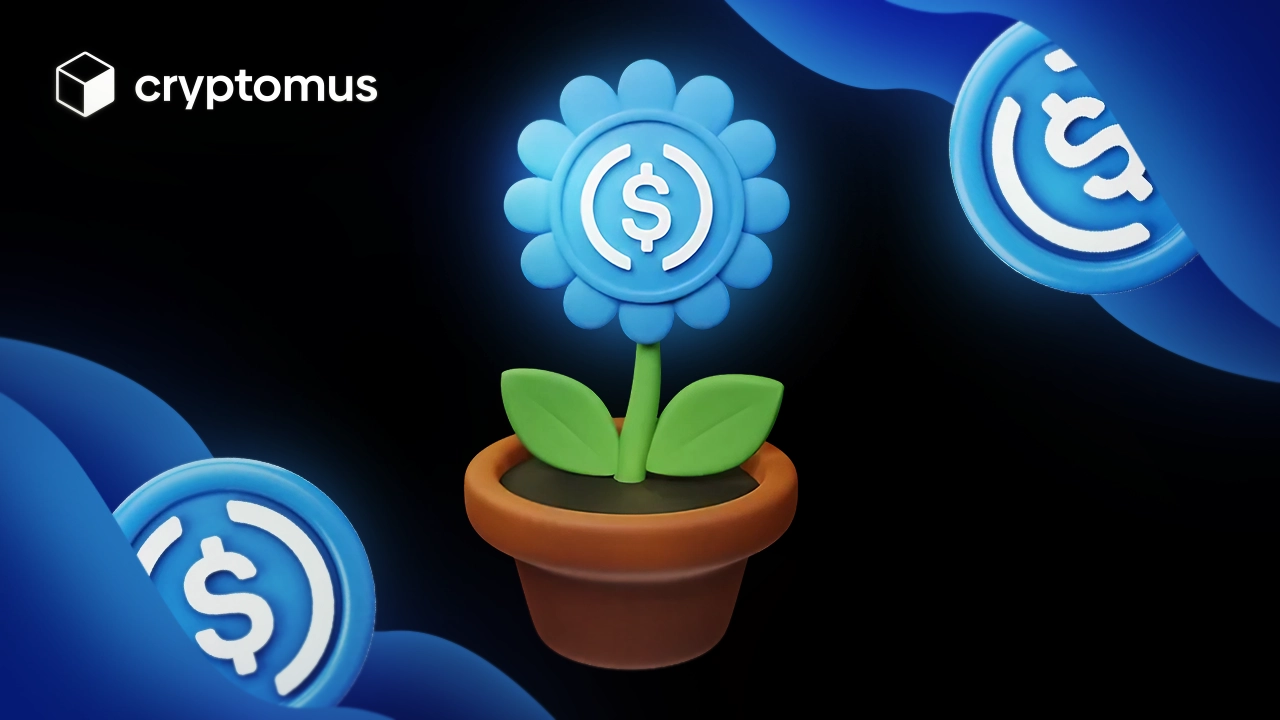 Security and Regulation in the World of USDC
USDC is a regulated stablecoin issued by Centre, a US-based financial institution, and backed by a reserve of US dollars audited by third-party accounting firms. This regulation provides users with confidence in their assets, eases merchant acceptance, and promotes the adoption of cryptocurrencies like USDC.
Where to Acquire USDC?
Now that you understand what is USDC in cryptocurrency and what is USDC in cryptocurrency in the crypto ecosystem, I will explain to you how to buy it. For this, you will need an account in a P2P platform, like our Cryptomus P2P platform, which allows you to trade USDC directly with other users. Once you have created an account and completed the necessary verification process, you go to the trading page and buy USDC.
Storing USDC: Wallet Options and Best Practices
To store your assets efficiently, you need a secure wallet that Cryptomus will not only provide you with a P2P platform where you will be able to buy USDC but also with a secure wallet where you will be able to store crypto confidently.
Future Prospects and Developments of USDC
Now that you know what USDC crypto is and what does USDC stand for in cryptocurrency, let's see together what are the main future prospects and developments of USDC. The USDC is growing rapidly in popularity due to its stability and widespread acceptance. Businesses and individuals are increasingly adopting it as a reliable digital currency for transactions and investment.
• Increased adoption: USDC is already one of the most widely used stablecoins in the world. However, we can expect to see even more adoption in the future. This is due to the growing popularity of cryptocurrencies.
• New use cases: The cryptocurrency market continues to develop, and the USDC could be used to pay for goods and services in the metaverse or to purchase fractionalized ownership of real-world assets.
Here we are at the end of this article that explains to you what USDC is in crypto. I hope you found it helpful and that it helped you increase your knowledge about the USDC. Leave us a comment below, share with us what you think about the USDC, and tell us if you are willing to use it.