Accept SOL as a Business: How to Get Paid on Your Website?
We are excited to announce that Solana (SOL) is now available on Cryptomus and is part of our crypto adventure! By adding this top 10 cryptocurrency, we offer you at the same time fast transaction speeds, low fees, and scalability that make it an excellent option for peer-to-peer payments.
Solana (SOL) is gaining popularity in the world of cryptocurrencies, both among merchants and users. As a merchant, by accepting SOL payments on Cryptomus, you can tap into this growing market and expand your customer base. Additionally, Solana boasts a vibrant and active community of developers and supporters who are constantly working to improve the platform.
This article is an introduction to SOL. I will explain to you what SOL is, its characteristics, and how you will be able to integrate it easily on your website.
What is Solana?
What is Solana crypto? And what does Solana mean? Solana is a cryptocurrency that offers fast, scalable, and low-cost Decentralized app development. Created by Anatoly Yakovenko in 2017 and put in service in 2020, Solana has a fast block time of 400 milliseconds, can handle up to 710,000 transactions per second, which is even more than Visa, and, more impressively, has a low transaction fee. It uses a unique technology called Proof of History. This technology removes the need for constant communication between validators. It allows the platform to execute smart contract code in parallel, making it faster and more efficient.
Why you should accept SOL payments
Starting accepting Solana on your website offers various advantages, fast transactions, access to the Solana community, and many others that we will see in detail now:
• Fast Transactions: Its fast block time and high scalability enable quick transaction confirmations. This means that customers can experience near-instant payment confirmations when using SOL for their purchases.
• Low Transaction Fees: Solana boasts low transaction fees, often only a fraction of a penny per transaction. By accepting SOL, you can provide your customers with a cost-effective payment option compared to traditional payment methods or other cryptocurrencies with higher fees.
• Scalability: It can handle a high number of transactions per second that means that your website can accommodate a large volume of payments without experiencing delays or bottlenecks. This scalability is essential for businesses that anticipate high transaction volumes or expect significant growth.
• Developer-Friendly Ecosystem: Its ecosystem offers robust developer tools and resources, making it easier for you to integrate SOL payments into your website. This can be advantageous if you have technical expertise or developer resources available to implement the necessary payment infrastructure.
• Future Potential: Solana is an emerging blockchain platform that has gained significant attention in the crypto space. By accepting SOL, you position your website to potentially benefit from the growing popularity and adoption of Solana and its native cryptocurrency.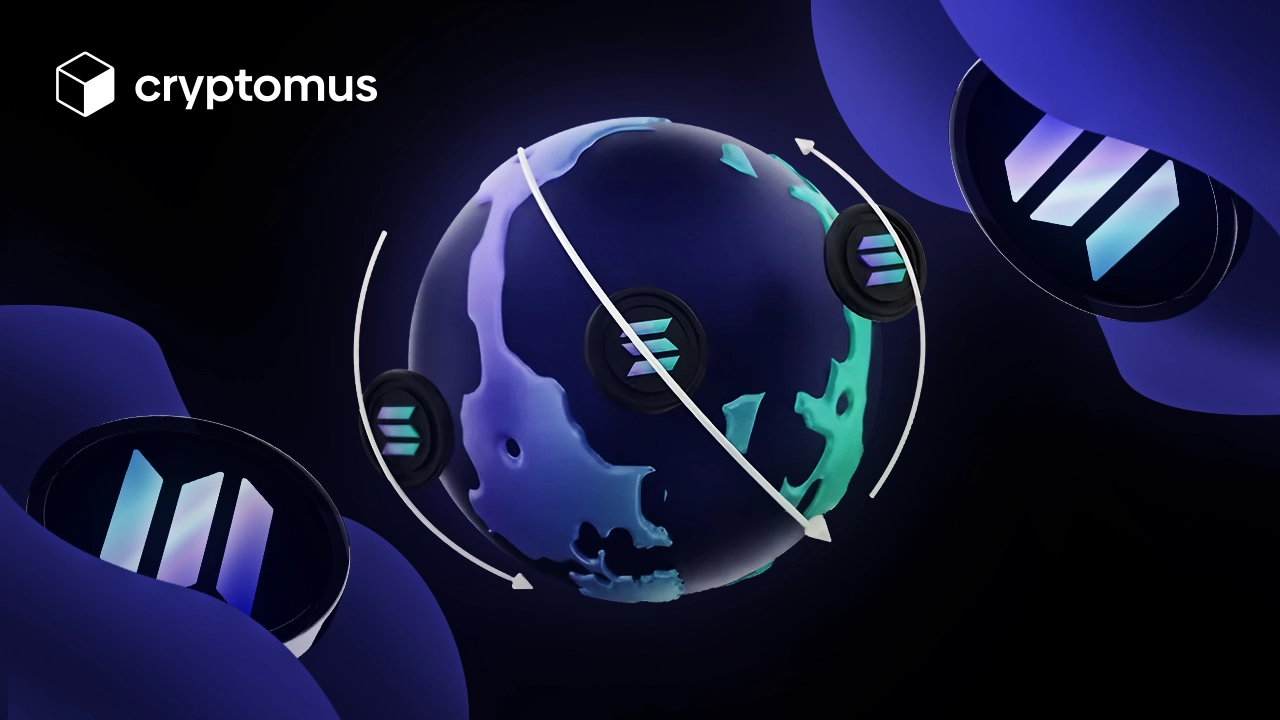 Is it safe to accept SOL?
To accept SOL as payment safely, ensure secure infrastructure, comply with regulations, and stay updated on security measures. Use secure payment gateways, SSL certificates, and encryption protocols. Work with reputable providers or employ cybersecurity measures. Educate customers on secure wallets, private critical protection, and potential scams.
How to accept SOL payments?
To accept Solana on your website or anywhere else you want, you will need to read and apply this complete guide that I created especially for you:
Cryptomus account: First, visit the Cryptomus website and create an account. Pass all the registration processes and verify your identity by completing the KYC test and enabling 2FA.

Merchant account: After creating your account, go to the dashboard and scroll down till you see in the left bar Merchants. Click on + and create your merchant account by adding the name of your business.

The integration type: Choose the type of integration between all that Cryptomus proposes depending on your needs: payment link, QR code payment, widget, plugin, and so on.

Make the integration: When you have made your choice, and you are finally ready to integrate, follow the instructions and finalize the process; remember, if you find any difficulty or problems, you will need to contact the support, and they will be here to help you.

Make a Test: Once the integration is in place, make a test using your integration to pay and see if you are receiving the money and if everything is working well; if not, you will need to correct it with our help.

Tell your clients: If the test is positive, then congratulations. You are finally ready to receive payments in Solana; you will need to post it on your socials and inform all your clients of this news.
Is Solana a good investment?
When I was doing my research about Solona, I saw some interesting questions that people were asking, such as where to buy Solana? Or is Solana a good buy? What is the Solana price today? And what is Solana value? So, is Solana still a good investment? Solana has 400+ projects and 1,000 validators on its network. It processes 65,000+ transactions per second with 60M+ accounts. Market cap grew from <$1B in early 2021 to >$10B in late 2022. It is ranked #9 by market capitalization, and it is praised for its speed and scalability. Another important factor in understanding if Solona is a popular cryptocurrency is to know if people are willing to use Solana to buy with it. And following Solana price will help you with your conversion and knowing when to convert your assets into fiat currencies to maximize your benefits. You can follow the evolution of the price of Solana by using special platforms of bots that will notify you to determine precisely when you will make your conversion to fiat currencies.
Start Accepting SOL for your Online Business
Accepting cryptocurrency has many benefits, such as fast transactions, low transaction fees, scalability, and popularity. By accepting Solana, you can expand your business and receive clients from all over the world. There will be no more geographical restrictions, and you can break traditional barriers.
With the features we have put in place, you will not only gain clients but also gain the ability to connect with people from all over the world. By accepting cryptocurrency, you can open up your business to a global market and destroy all the limitations that the traditional banking system confronts us every day.
I hope you liked this article that took me several hours and much research on the Internet to produce. Leave us a comment below to share with us your opinion on what you think is the best crypto to integrate into a website.