Becoming Cryptomus P2P Exchange Merchant: A Tutorial
Peer-to-peer (P2P) trading platforms are platforms that allow users to buy and sell cryptocurrencies with each other, such as Cryptomus, which offers a secure platform and a wide range of cryptocurrencies, giving users the flexibility to diversify their trades.
If you want to become a P2P merchant and make money with trading, this article is for you! I will explain to you step-by-step how to become a P2P merchant on Cryptomus.
Introduction to Becoming a P2P Exchange Merchant on Cryptomus
To become a P2P exchange merchant on Cryptomus, there are some essential things to know and master. Therefore, in this part, I will give you all the knowledge you will need and the steps to follow to achieve that goal. Let's not wait any longer and start exploring the world of Cryptomus P2P trading.
Why Become a Cryptomus P2P Exchange Merchant?
First of all, let us talk about what a P2P merchant needs from a P2P platform and what the P2P merchant requirements are.
Profitability: P2P merchants set their own exchange rates, allowing them to earn a commission on each trade and benefit from the price difference.

Security: The priority for a P2P merchant is to trade on a platform with robust protection that protects assets from hackers and scammers. These measures include identity verification for the merchant and other protection features such as 2FA.

Accessibility: A trading platform needs to be global and accessible worldwide, with a vast choice of cryptocurrencies, payment methods, and fiat currencies.
All of this can be easily found in Cryptomus P2P trading. You will have access to all the features we talked about and more, allowing you to smoothly and quickly start your trading journey.
Registering as a merchant P2P on Cryptomus
How to become a P2P merchant on Cryptomus? For this, just follow this tutorial:
Step 1: Visit the Cryptomus website, then create an account using an email, a phone number, and complete the creation.

Step 2: After creating your account, you need to pass the identity verification. To do this, go to your dashboard, click on Settings, then click on KYC personal wallet. Then click on Verification and follow the steps to pass the verification.

Step 3: Go to your P2P wallet and click on Trade now. It will take you to the trading page, where you will have your own merchant account and post ads for buying or selling any cryptocurrency.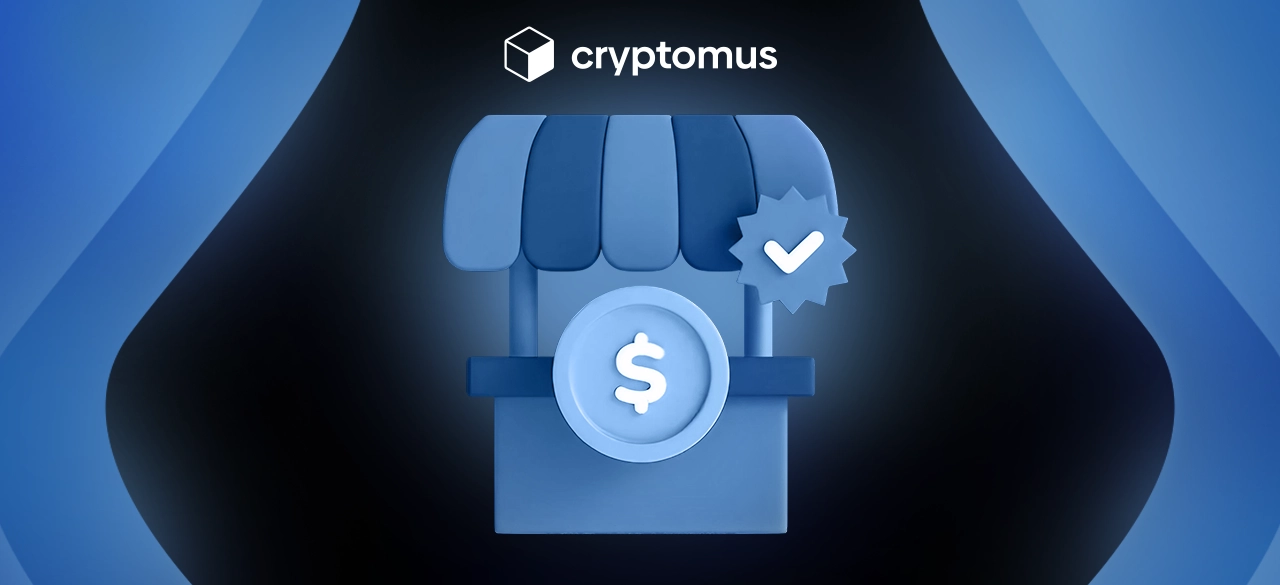 Setting Up Your Merchant Profile
To set up your P2P account to officially become a P2P merchant, you will just need to go to the trading page and click on User center and there you will have all the statistics and feedback about your account. And to create ads to sell or buy you just need to click on + Post ads and put all the information and publish.
Creating and Managing Your P2P Listings
One of the main criteria to become a P2P merchant is to know how to manage your P2P listing. Here is a list of some advice that can make things easier for you:
Detailed Descriptions: One of the P2P merchant requirements is to make a clear and detailed description, be persuasive, and provide potential buyers with all the information they need to make an informed decision.

Listing Setup: If you want to become a P2P merchant, set competitive pricing - not too high or too low, and make sure to set acceptable limitations for each trade. Also, set all the payment methods you are ready to accept. This will help you appear in filters.
Handling P2P Transactions Securely
To ensure secure P2P transactions, focus your attention on some details, such as ensuring that the seller has a green verified badge. This will indicate to you that he passed the identity verification. You can also check their reputation, feedback, and the number of trades they made to ensure that they are trustworthy.
Building Your Reputation as a Trustworthy Merchant
To build a trustworthy reputation, make trades, and invite your customers to leave a review at the end of each successful trade. Also, be nice to them by being polite, and, more importantly, be clear on your instructions to avoid any problems.
Tips for Success as a Merchant P2P on Cryptomus P2P Exchange
P2P merchants must provide detailed descriptions, competitive pricing, and respectful communication to potential buyers. They should also accept various payment methods and encourage positive reviews to grow their business.
This is the end of the article. Hopefully, it has helped you understand the main P2P merchant requirements and, more importantly, introduced you to our P2P platform. Please don't hesitate to leave a comment below to share your thoughts.