Accept USDT as a Business: How to Get Paid in Tether on Your Website?
If you have a business and want it to become more successful, we know how to help you with it. The solution is easy – just start accepting cryptocurrency with our crypto gateway! But isn't it risky? USDT payments will suit the needs of cautious recipients.
In this article we will discuss the advantages and methods of accepting payments in USDT for your online business.
What is Tether?
So what does USDT stand for? Tether (USDT) is a cryptocurrency pegged to the U.S. dollar which makes it a stablecoin. The currency is promised to be fully backed by Tether reserves by its developers. iFinex is the owner of Tether.
It was launched in July 2014 as RealCoin as Tether in November 2014. Originally it was based on the Bitcoin blockchain and now USDT supports Omni, Liquid Bitcoin protocols as well as Ethereum, TRON and many other blockchains.
Tether still remains as the third-largest cryptocurrency after Bitcoin and Ethereum. It is the largest stablecoin as well. [1]
What is the USDT payment method and how does it work?
So you've decided to accept payments USDT for your business. How to do it? Here is an algorithm described briefly: Create an account in a cryptocurrency payment gateway Choose a method of billing your customer Create a payment and sent it to your customer Receive a payment to your wallet
Why you should accept Tether payments
There are a bunch of advantages to accepting Tether payments, here are the main ones:
1. Price stability
The price of the currency is predictable as it is pegged to a fiat currency. It is pretty convenient to use as it reminds of ordinary fiat payments when still being a cryptocurrency. What is more, crypto transaction fees are often lower than fees for paying electronically with a credit card, that's why many businesses rather use USDT.
2. Transaction fees
Transaction fees are usually high on exchanges, but with Tether there is no commission if you transfer funds from one Tether wallet to another.
3. Transaction time
While USD deposits and withdrawals often take 1 to 4 business days to complete if doing it in a traditional banking system. When it comes to USDT transactions, it takes minutes to complete the transaction.
4. International payments
In some countries the financial system is underdeveloped and it is complicated there to make an international transaction. Accepting USDT through payment gateway benefits businesses who have clients all around the world and want to accept payments from other countries fast and with low fees.
5. Access
Crypto makes payments easy for those who don't have convenient access to banking.
6. Volatility protection
With our Auto-convert feature it is possible to convert incoming payments in any cryptocurrencies to USDT and save them from volatility this way as the currency is pegged to USD.[2]
Is it safe to accept Tether?
You can withdraw and deposit your funds easily anytime you wish to. USDT has not been depegged for long since 2015. What is more, Tether provides regular reports to prove that stablecoins are backed by physical currencies.
The world of crypto is relatively unpredictable when USDT is here to provide us with some kind of safety.
Now that we have discussed all the aspects of Tether (USDT) it is time to learn how you are able to integrate payments in the cryptocurrency to your own business.[3]
How to accept Tether payments?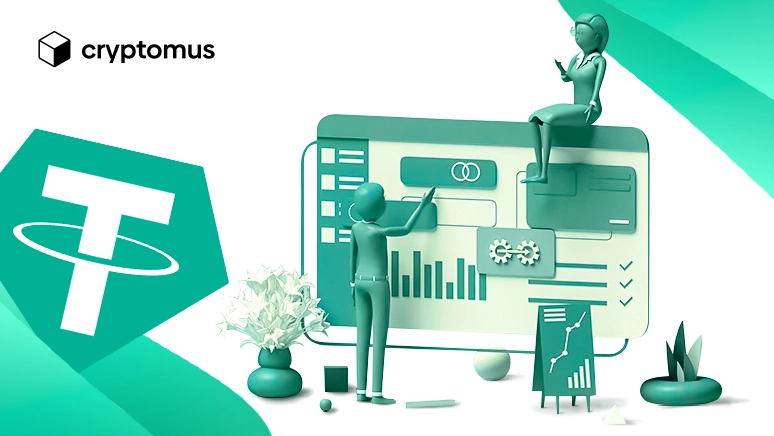 Sign up for a crypto payment gateway account
Choose the method of USDT payment method integration to your business. There you have options:
E-Commerce plugin integration
Choose the one that suits your website and download it, then enable it and set up API credentials.
Payment by link
Create an invoice and share it with your customers. They will be able to pay it by opening a link or scanning a QR code. There is also a static wallet – share it with your customers once and receive payments on your wallet.
API for USDT payments connection
It is a great customizable solution for merchants. However, the implementation of it takes some technical knowledge. Get an API key and ask your programmer to integrate it.
Now you are ready to accept USDT with our payment gateway .
Start Accepting USDT for your Online Business
Acquiring cryptocurrencies is a great decision for your business. You will attract new clients and stand out from other businesses by adding a new USDT payment method. Besides, USDT guarantees you protection from volatility.
It is easy to start accepting Tether with Cryptomus payment gateway, but if you have any difficulties with integration, our team is always ready to help. Contact us in the form on the website main page, by emailing us on [email protected], or in Telegram.