Understanding USDT Crypto: The Tether Stablecoin Explained
Stablecoins, altcoins, and crypto money - what a lot of words in this field that are often used interchangeably. Stablecoins are a type of cryptocurrency that aims to maintain a stable value by pegging their price to an external asset, such as a fiat currency or a commodity.
Today, we will talk about one of the most popular stablecoins in the crypto sphere, the "USDT," also known as Tether. So what is Tether? And what is USDT crypto? It is a cryptocurrency that is pegged to the value of the US dollar, making it stable and less volatile compared to other cryptocurrencies.
In this article, we will delve into the intricacies of USDT crypto, exploring what USDT crypto is and what USDT is used for. In addition, I will provide you with a comprehensive guide that will equip you with the necessary knowledge to utilize USDT in your transactions effectively.
What is USDT in Crypto?
In this part of the article, we will see together what is USDT stand for and what Tether crypto market is. Let's get started.
Definition of USDT (Tether)
Let us see what Tether is in crypto and what USDT stands for. USDT is a stablecoin pegged to the US dollar, ensuring its value remains stable and equal to one US dollar.
USDT as a stablecoin backed by fiat currency
When we take a look at what is USDT coin, the first thing we understand is that USDT is a stablecoin pegged to the US dollar, has a market capitalization of over $70 billion, and is commonly used by crypto traders and investors to avoid volatility.
The Role of Tether (USDT) in the Cryptocurrency Market
Now that you have seen what Tether (USDT) is, let's see what the USDT currency market is and how much it is worth.
USDT boosts cryptocurrency market liquidity by facilitating fiat currency conversion, reducing volatility, and facilitating quick fund transfers between crypto exchanges and DeFi platforms.
How Tether Cryptocurrency Works
Mechanism of maintaining price stability
Tether maintains price stability by pegging its USDT token to the US dollar, issuing new tokens based on demand, and redeeming them when demand decreases.
The role of reserves and collateral
Tether's reserves, including US dollars and assets like Treasury bonds, are crucial for maintaining price stability and serve as collateral for liquidation in case of reserves shortfall.
Transparency and audits of Tether's reserves
Tether has improved transparency and accountability by revealing its reserves and undergoing independent audits, with an attestation report from BDO Italia confirming assets of $18.3 billion and $82.4 billion.
Use Cases and Popularity
Why do traders and investors choose USDT?
USDT is a popular choice for traders and investors due to its price stability, liquidity, and wide acceptance. It is a stablecoin pegged to the US dollar, making it easy to buy and sell on crypto exchanges and participate in DeFi activities.
Adoption of USDT in trading and investments
As we have seen, the USDT is a popular stablecoin for crypto traders, used for buying, selling, hedging, and storing investments, and is the most popular trading pair on exchanges.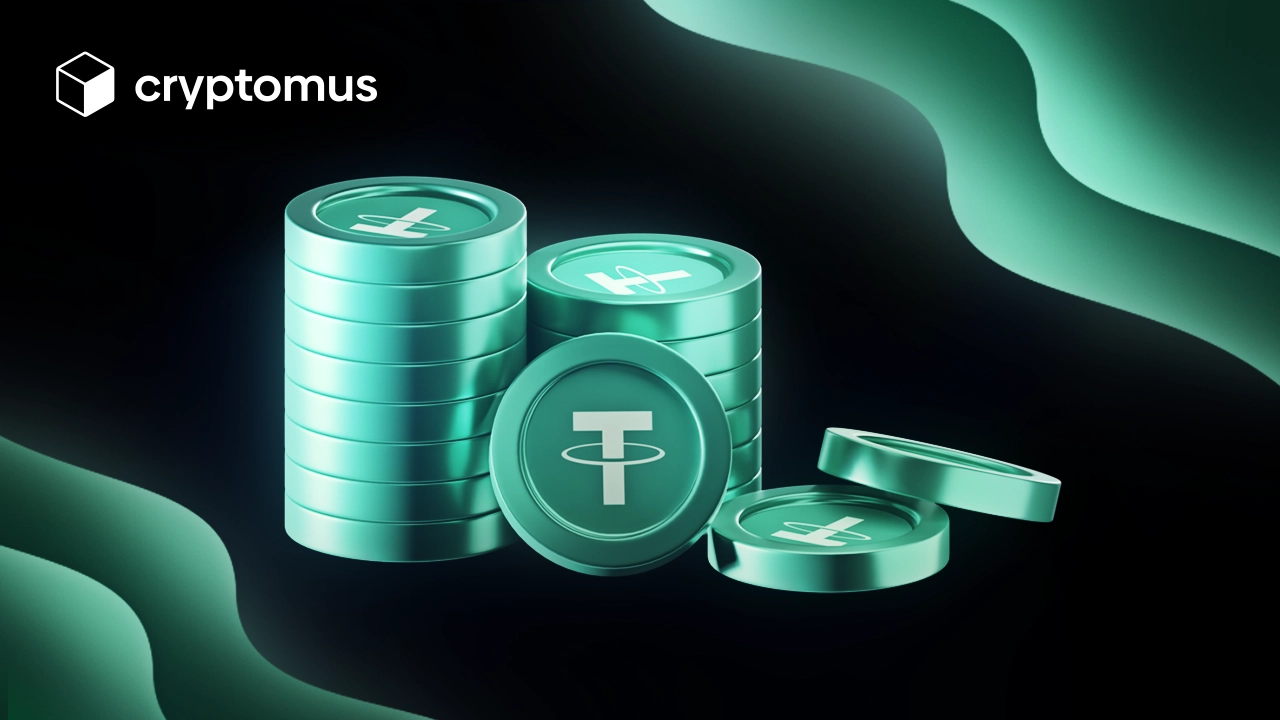 Comparison with other stablecoins
USDT is the most popular stablecoin globally, but there are other alternative stablecoins, such as USDC, DAI, and BUSD. Other stablecoins offer more transparency and decentralization, but the most popular remains the USDT.
Storing and Managing USDT
Now that you know what USDT Tether market is I will explain to you in detail how to store it.
To be able to store USDT, the only thing that you will need is a USDT crypto wallet that you can get quickly by creating an account in Cryptomus. After creating it, you will see that you have a wallet where you can put your USDT by buying it in the P2P market or from other exchanges and sending it to your Cryptomus USDT wallet.
Benefits and Risks of Using USDT
Advantages like price stability and liquidity
USDT is a stablecoin pegged to the US dollar, offering price stability, liquidity, and wide acceptance, making it easy to buy, sell, and participate in DeFi activities.
Risks including regulatory concerns and centralization
USDT faces regulatory scrutiny due to stability and potential illicit activities. Its centralization by the company Tether makes it vulnerable to censorship and counterparty risk, potentially causing holders to lose their money.
How to mitigate risks when using USDT
To buy or sell USDT, choose a reputable exchange with a good security record, like Cryptomus. You can also use a hardware wallet for large amounts and diversify your portfolio to reduce risk if one cryptocurrency loses value.
Real-World Applications
After understanding the answer to the question of what is USDT in crypto, you must have an idea of how to apply it to your business or in daily life.
How individuals and businesses use USDT
Individuals and businesses use USDT to offer convenience, cost-effectiveness, and global payment acceptance, making it a cost-effective alternative to traditional banking methods.
Case studies of USDT adoption in various industries
USDT is increasingly being adopted in various industries, including gaming, gambling, real estate, and supply chain management, to enhance efficiency and transparency.
Tips for Using USDT Effectively in Your Crypto Portfolio
For an efficient use of the USDT, you will need to know some essential tips that will help you understand entirely what is USDT in crypto and what is USDT market. And assure you to use it the perfect way.
• Store your money: How to make an article about what USDT is and what Tether is without talking about its storing capacity that will help you keep and protect your assets against volatility and fluctuation to use a stablecoin like the USDT.
• Send and receive payments: The USDT allows you to send and receive payments quickly and easily. This can be a good option if you need to send money to someone who is overseas or if you need to receive money from someone overseas.
I hope that you found this article helpful and that it allowed you to understand what USDT in terms of cryptocurrency is and what Tether cryptocurrency is. Don't hesitate to leave us a comment below to share your thoughts, and thank you for reading.