How to Use a Cryptocurrency Wallet
How to Use a Cryptocurrency Wallet? Cryptocurrency has gained immense popularity in recent years, with many individuals and businesses using digital currencies for various transactions. However, in order to safely store and manage your cryptocurrency, you need a cryptocurrency wallet. In this article, we will explore what a cryptocurrency wallet is, the different types of wallets available, why you should use one, and how to start using a cryptocurrency wallet.
What Is a Cryptocurrency Wallet?
Before diving into how to use crypto wallets, let's learn some basics.
A cryptocurrency wallet is a digital tool that allows users to securely store, send, and receive cryptocurrency. It doesn't actually store the coins themselves but rather the cryptographic keys needed to access and manage the coins on the blockchain. These wallets have a unique address that represents the user's ownership of a specific cryptocurrency.
Different wallets support different sets of coins. What about Cryptomus, it's crypto wallet allows you to store such essential cryptocurrencies as Bitcoin, Ethereum, Tether, as well as niche coins such as CGPT or CPT (which is a native coin of Cryptomus).
Types of Cryptocurrency Wallets
There are two main types of cryptocurrency wallets: custodial and non-custodial.
Custodial Crypto Wallets
Custodial wallets are provided by cryptocurrency exchanges or third-party service providers. When you use a custodial wallet, you trust the exchange or service provider to safeguard your funds and manage the security measures. These wallets are often web-based or mobile applications that offer a user-friendly interface for managing your cryptocurrencies. Cryptomus is an example of such a wallet.
Non-custodial Crypto Wallets
Non-custodial wallets, also known as self-custody wallets, provide users with full control over their cryptocurrencies. With a non-custodial wallet, you are the sole custodian of your funds, and your private keys are stored locally on your device or in a secure hardware device. This type of wallet offers enhanced security and privacy, as your assets are not stored on a centralized platform. Non-custodial wallets come in various forms, such as software wallets, hardware wallets, and paper wallets.
How to Choose a Crypto Wallet?
Here's a list of factors to consider when choosing a crypto wallet:
Security Features: Look for wallets with robust encryption, two-factor authentication (2FA), and other security options.
Reputation and Reviews: Research the wallet's reputation within the cryptocurrency community and read user reviews to assess its reliability and security track record.
Supported Cryptocurrencies: Ensure that the wallet supports the specific cryptocurrencies you intend to store and manage.
User-Friendliness: Consider the wallet's interface and user experience, ensuring it is intuitive and easy to navigate.
Compatibility: Ensure that the wallet is compatible with your preferred devices (desktop, mobile, hardware) and operating systems.
Community Support: Look for wallets that have an active community and responsive customer support for assistance and resolving issues.
Third-Party Integrations: Consider whether the wallet supports integration with other services or applications that you may need for your cryptocurrency activities.
By evaluating these factors, you can choose a crypto wallet that aligns with your security requirements, usability preferences, and overall trust in the wallet provider.
Why Should You Use a Crypto Wallet?
Using a cryptocurrency wallet offers several benefits:
Security: Crypto wallets are secure due to encryption of private keys, two-factor authentication, secure storage options, backup and recovery mechanisms, regular security updates, cold storage options, multi-signature functionality, and adherence to best security practices.

Privacy: Cryptocurrency wallets allow you to maintain your financial privacy by enabling you to transact directly with others without involving intermediaries.

Control: With a wallet, you have complete control over your funds. You can send and receive cryptocurrencies at your discretion, without relying on a third party.

Accessibility: Cryptocurrency wallets enable you to access your funds anytime, anywhere, as long as you have an internet connection or access to your wallet device.
Now that we know all the basics, it's time to learn how to use a crypto wallet.
How to Start Using a Cryptocurrency Wallet
Follow these steps to start using a cryptocurrency wallet:
Sign up to the wallet: The sign up process is easy – register an account using your email address or phone number. There is also an option to sign up using your Telegram or Tonkeeper account.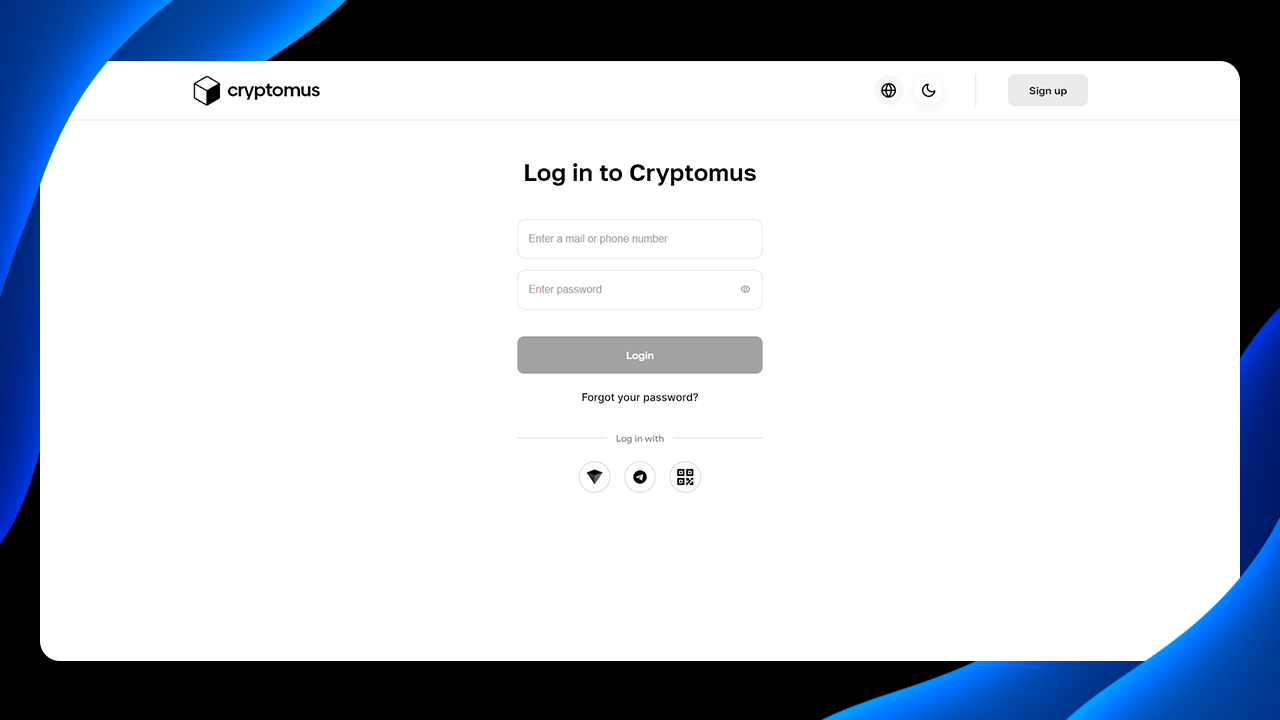 Fund your wallet: Once your wallet is set up, you can fund it by receiving cryptocurrencies from others or purchasing them from a cryptocurrency exchange and transferring them to your wallet address.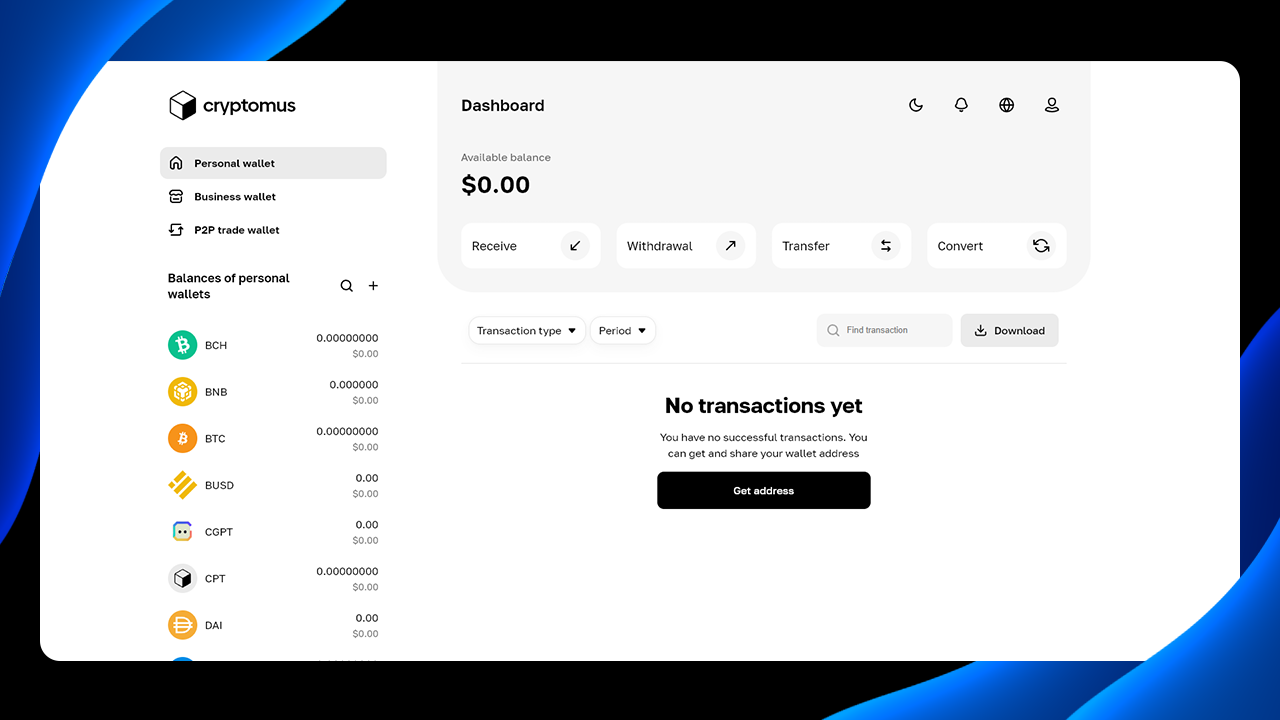 Practice security measures: Take precautions to secure your wallet, such as enabling two-factor authentication, backing up your wallet data, and setting up a PIN code.

Start transacting: With your wallet set up and funded, you can start using your cryptocurrencies.
Now you can send or receive coins and there is how you do it:
- To receive crypto:
If you want to accept crypto on your wallet, you should go to the Dashboard and click Receive.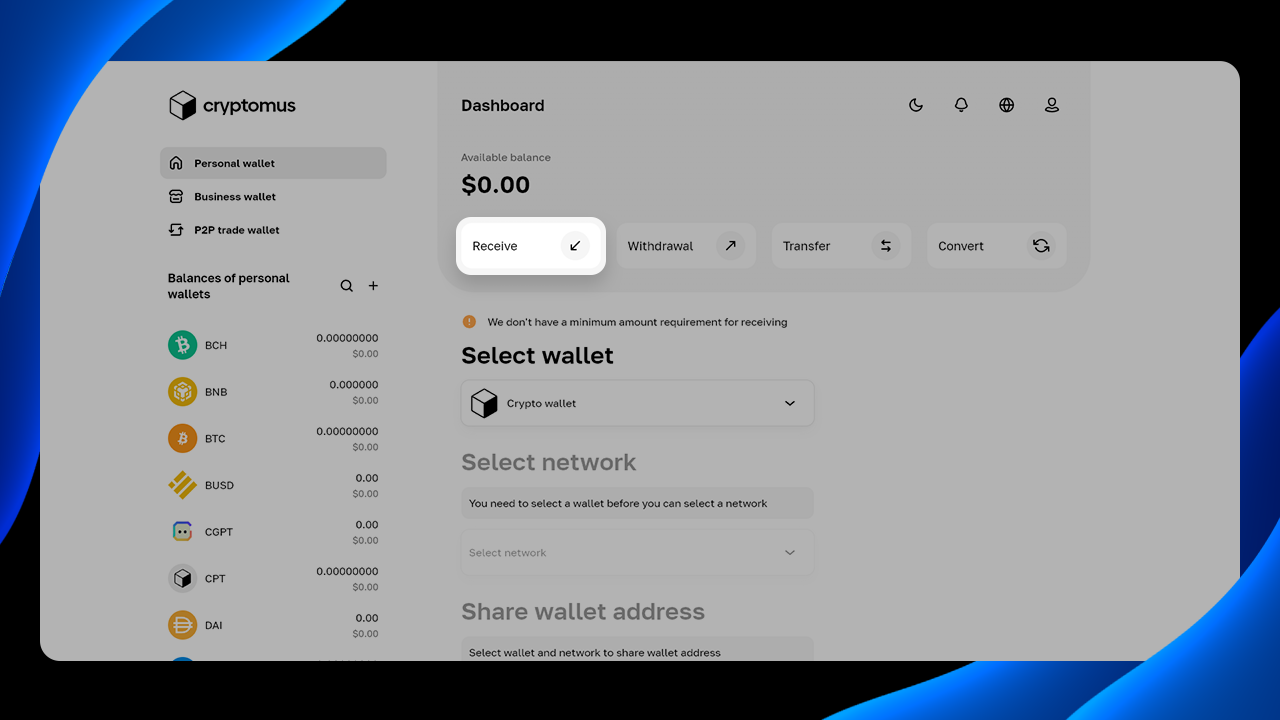 Select a wallet: Here you should select a wallet depending on the currency you want to accept.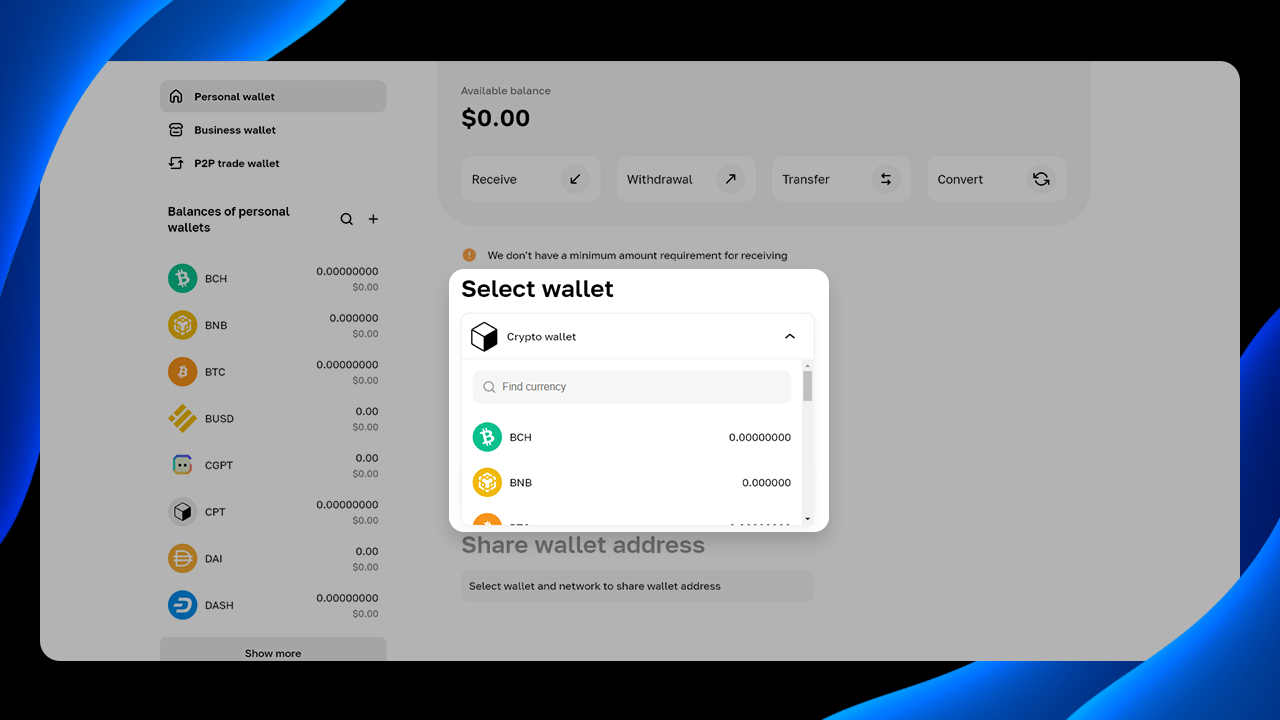 Select a network: For some cryptocurrencies there are options.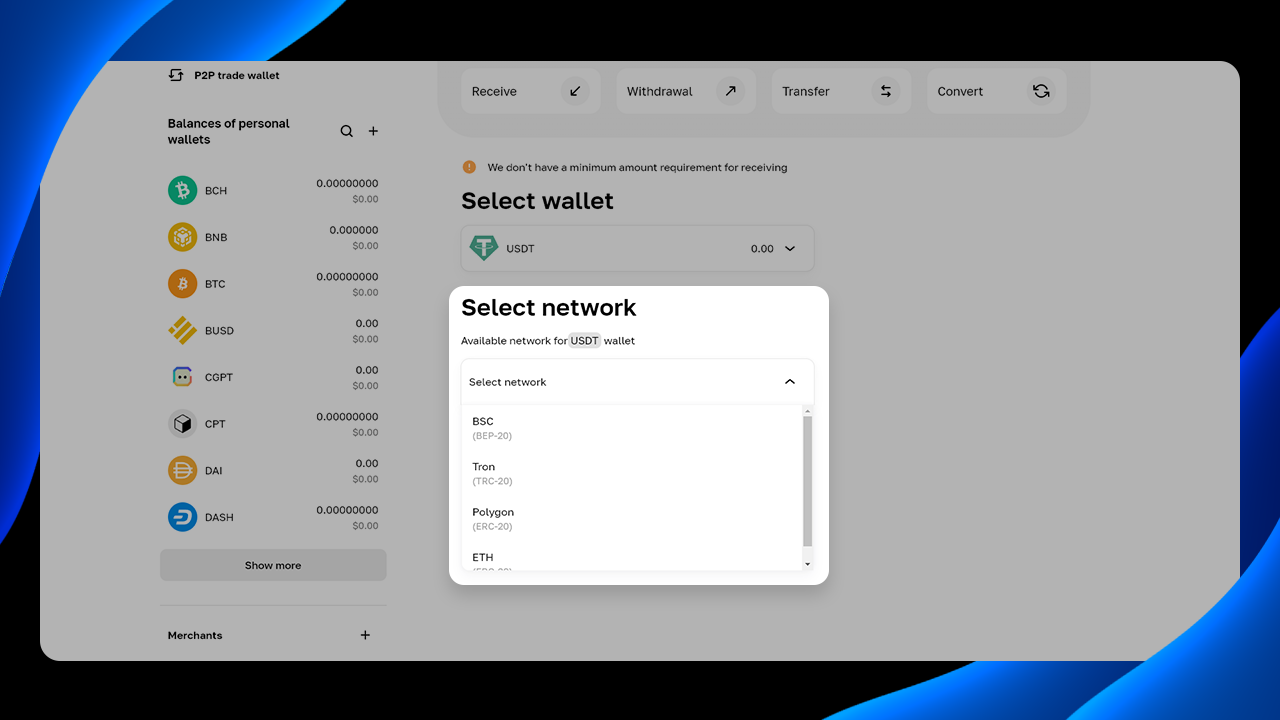 An address will be generated: Copy the address or share a QR code with the one who pays.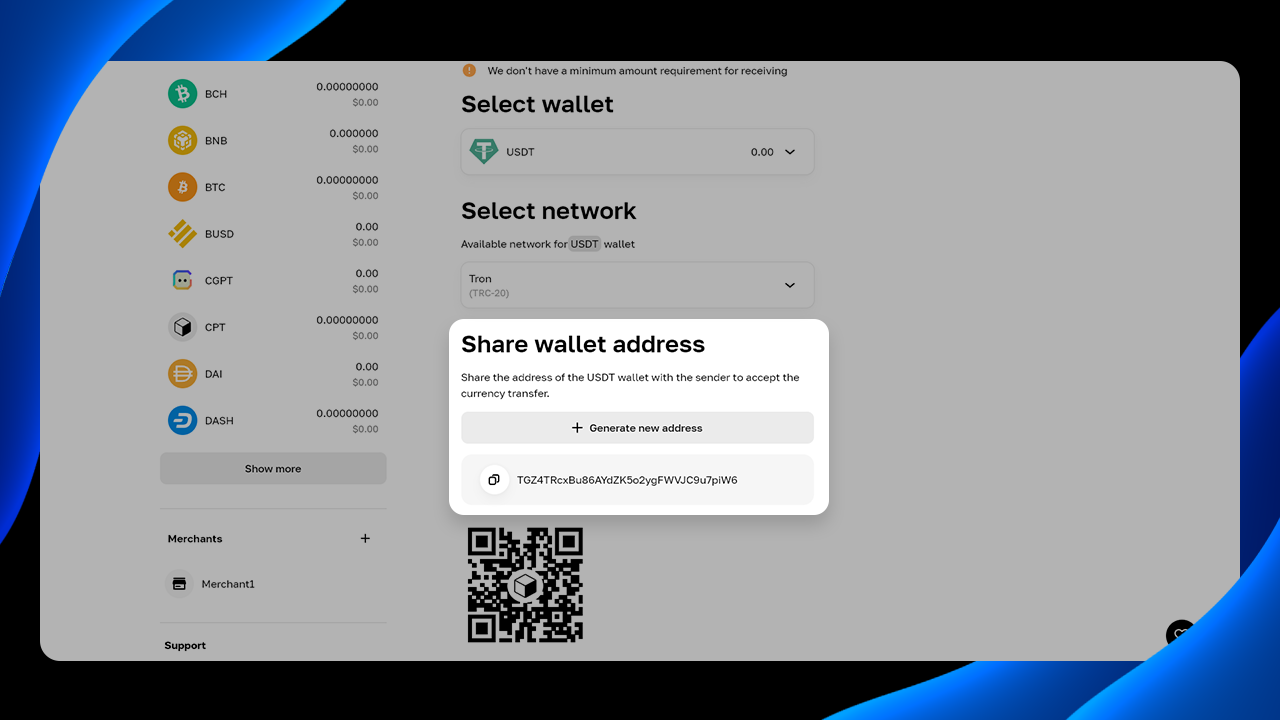 - To send crypto:
2FA authentication is required. Enable it in your profile settings.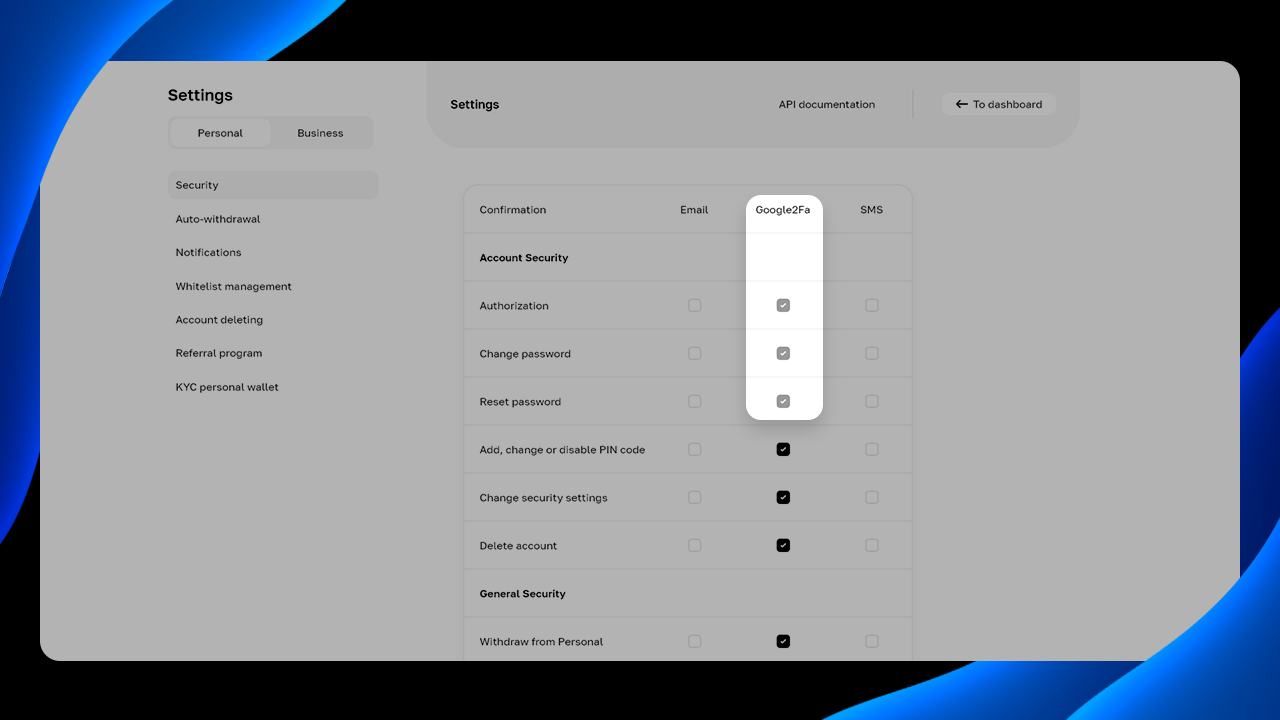 Select a wallet: Here you should select a wallet depending on the currency you want to send.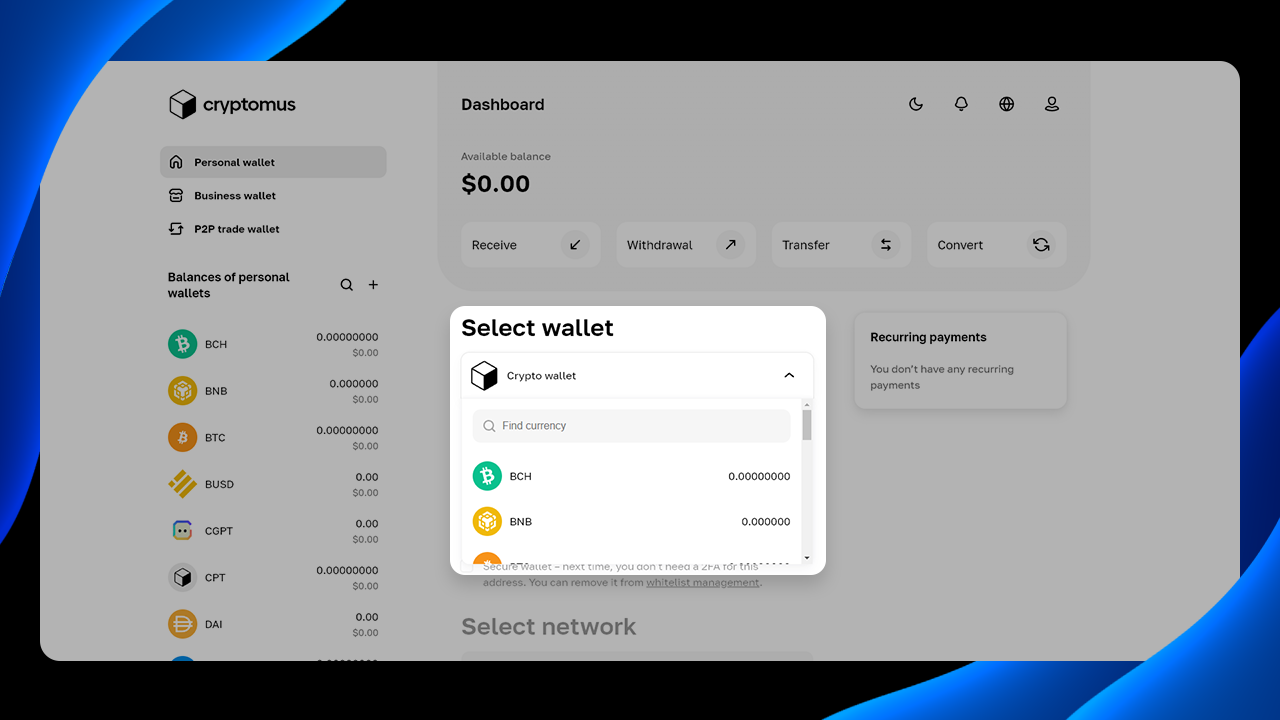 Enter recipient's address: Make sure to enter the address accordingly to the selected wallet. Here you can note that the address is secure so next time there will be no need to confirm it with 2FA.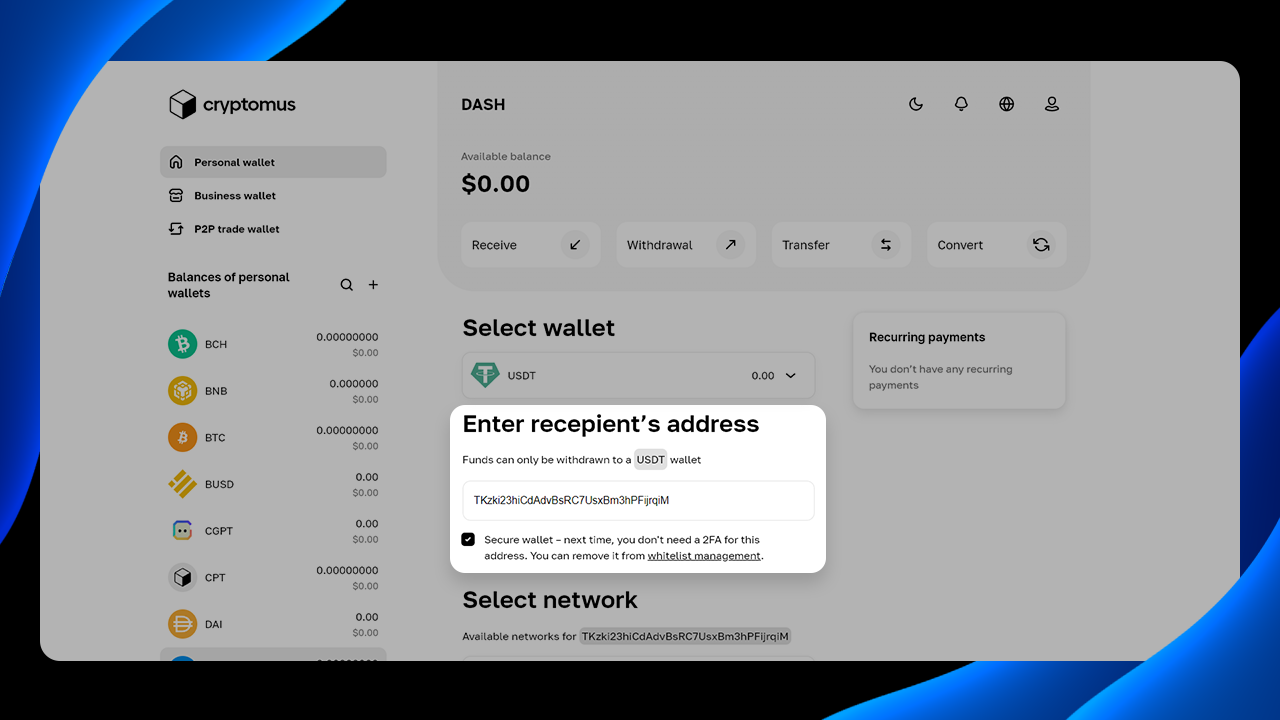 Now choose a network accordingly.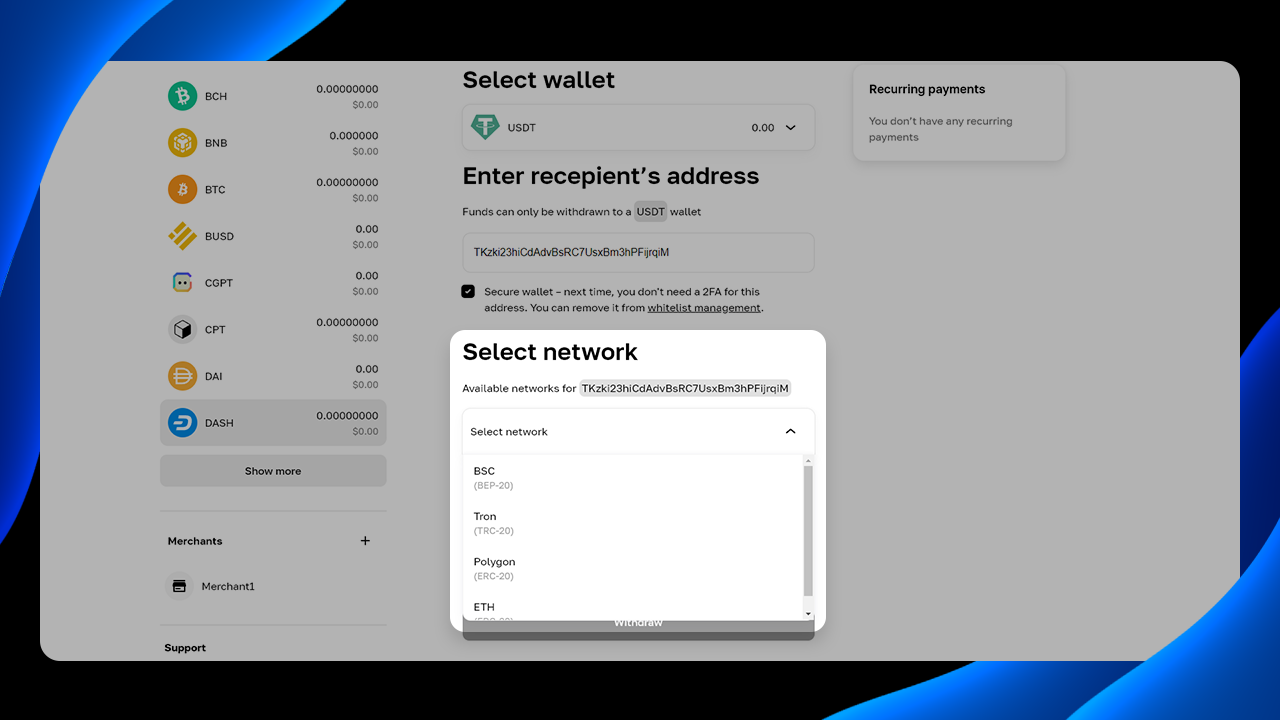 Enter an amount to send: Funds will be collected from the selected wallet.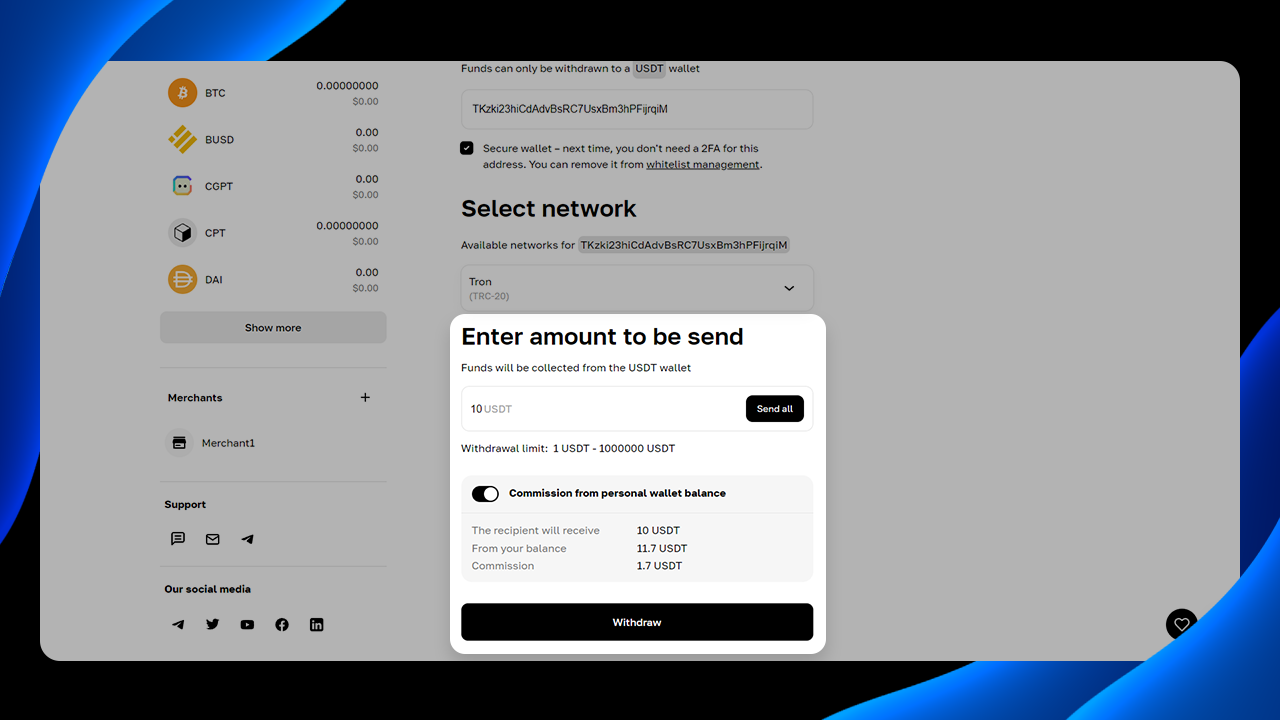 Adjust the commissions settings and click Withdraw.
Remember to stay informed about the latest security practices and keep your wallet software updated to protect your assets from potential vulnerabilities.
In conclusion, a cryptocurrency wallet is an essential tool for securely managing your digital assets. By following the steps outlined above, you will successfully learn how to use a cryptocurrency wallet and take control of your financial future in the digital age.