Guide to Crypto Staking for Beginners: Let's Earn Big
Cryptocurrency staking has emerged as a popular way for investors to earn passive income on their digital assets. By participating in staking, individuals can actively contribute to the security and operation of blockchain networks while being rewarded with additional tokens. In this guide, we will explore the concept of staking, its benefits, and provide insights on choosing a reliable staking platform. Whether you're a seasoned crypto enthusiast or a beginner, this staking guide will help you navigate the world of staking and unlock the potential of your crypto investments and today we will find out how.
What Is Staking?
Cryptocurrency staking has emerged as a popular way for holders to earn passive income on their digital assets. By participating in staking, users contribute to the security and operation of blockchain networks while being rewarded with additional tokens. In this guide, we will explore what staking is, the benefits it offers, how to choose a staking platform, and a step-by-step process of staking your crypto using Cryptomus.
Why Should You Start Staking?
Staking involves holding and "staking" a certain amount of cryptocurrency in a digital wallet to support the operations of a blockchain network. This process helps secure the network, validate transactions, and maintain consensus among participants. In return for staking their tokens, users receive rewards, often in the form of additional tokens.
How to Choose a Staking Platform?
When selecting a staking platform, consider the following factors:
Security: Ensure that the staking platform has robust security measures in place to protect your staked assets. Look for platforms that utilize encryption, multi-factor authentication, and secure infrastructure.

Reputation and Track Record: Research the platform's reputation within the cryptocurrency community. Consider factors such as the platform's longevity, user reviews, and any security incidents in the past.

Supported Cryptocurrencies: Check if the platform supports the specific cryptocurrencies you wish to stake. Different platforms offer staking options for various coins, so choose one that aligns with your staking preferences.

Rewards and Staking Conditions: Evaluate the platform's reward structure, including the staking period, reward distribution frequency, and annual percentage yield (APY). Compare these factors to determine the potential profitability of staking on the platform.

User Experience: Consider the platform's user interface, ease of use, and overall user experience. A user-friendly platform makes it convenient to stake and monitor your rewards.

Customer Support: Look for platforms with responsive customer support to address any inquiries or issues you may encounter during the staking process.
Crypto Staking Strategies
There are several crypto staking strategies you can consider when it comes to staking crypto. Here are a few popular ones:
Maximizing Rewards: Choose cryptocurrencies with high staking rewards and attractive staking yields. Research and compare the staking rewards offered by different networks to identify the most lucrative options.

Long-Term Staking: Stake your crypto assets for an extended period to maximize the benefits of compounding rewards. By leaving your tokens staked for a longer duration, you can potentially earn higher rewards over time.

Diversification: Stake a diverse range of cryptocurrencies across various networks. This strategy helps spread your risk and exposure, allowing you to participate in multiple blockchain ecosystems and potentially benefit from different market conditions.

Selecting Promising Projects: Conduct thorough research and due diligence to identify promising projects with strong fundamentals and potential for growth. Staking tokens of such projects can offer the opportunity for both rewards and capital appreciation.

Staking-as-a-Service (StaaS): Utilize staking platforms or services that handle the technical aspects of staking on your behalf. This option can simplify the staking process, especially for those with limited technical expertise, while still allowing you to earn rewards.

Dynamic Staking: Continuously assess the staking landscape and adjust your staked assets based on market conditions, network upgrades, or changes in staking rewards. This strategy involves actively monitoring and adapting your staking portfolio to optimize rewards.

Governance Participation: Consider staking tokens in projects that offer governance rights and decision-making power to token holders. By actively participating in the governance process, you can influence project development and potentially earn additional rewards.

Yield Farming: Explore decentralized finance (DeFi) platforms that offer yield farming opportunities. By providing liquidity or participating in liquidity pools, you can earn staking rewards as well as additional returns from transaction fees or other incentives.
How To Stake Your Crypto with Cryptomus?
If you ever wondered "How and where can I stake my crypto?", here is the answer. Cryptomus is a user-friendly staking platform that simplifies the process of staking your crypto assets. Follow these steps to stake your tokens using Cryptomus:
Visit the Cryptomus website and create an account by providing the necessary details. Use your phone number or email to register or simply sign up via Telegram or Tonkeeper.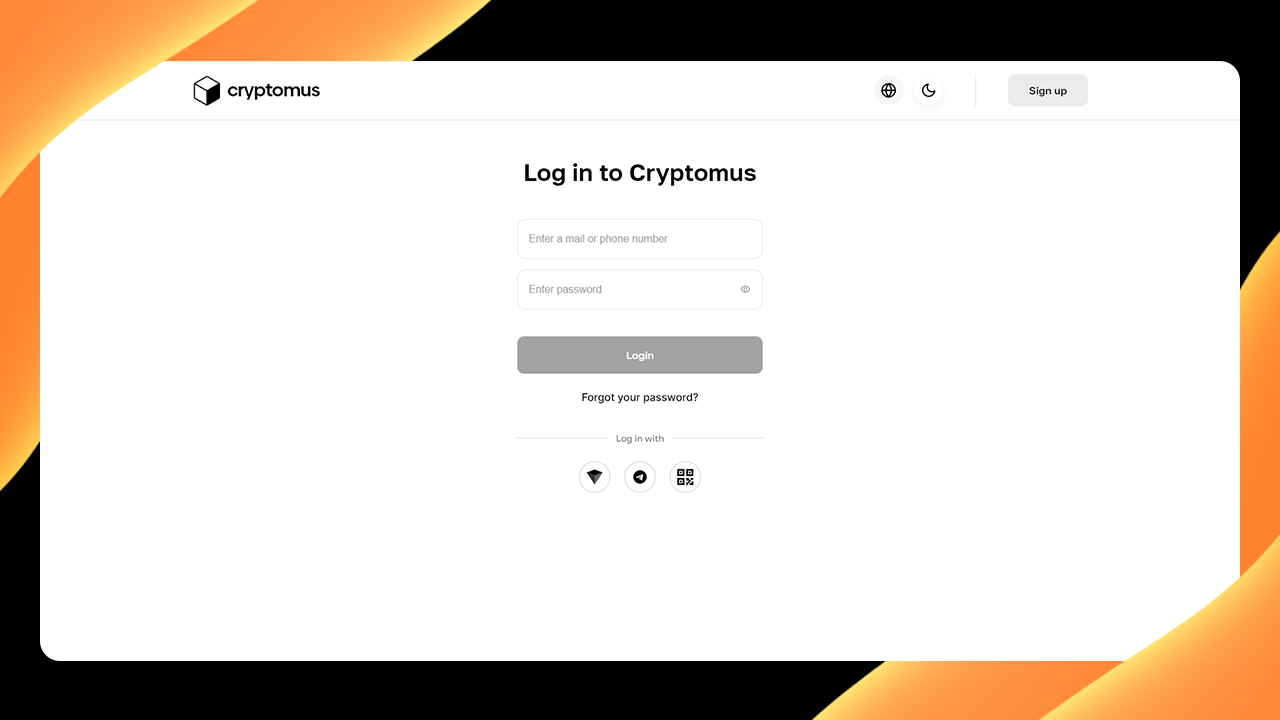 Deposit the cryptocurrency you wish to stake into your Cryptomus wallet. Now you could only stake TRX at our platform, but more options will be available later (to learn more about upcoming updates you could check our Roadmap).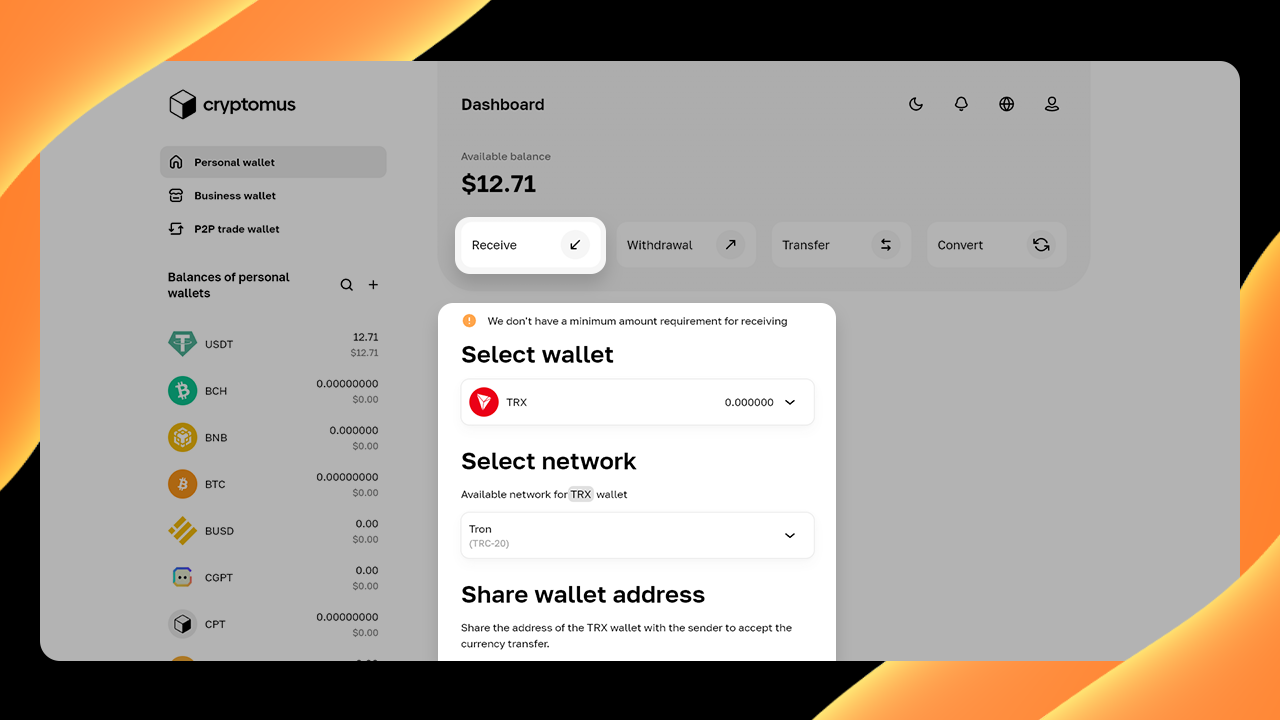 Go to the Dashboard > Balances of personal wallets, then find the Staking button next to the coin you want to stake. Here you need to choose a lock amount and a validator.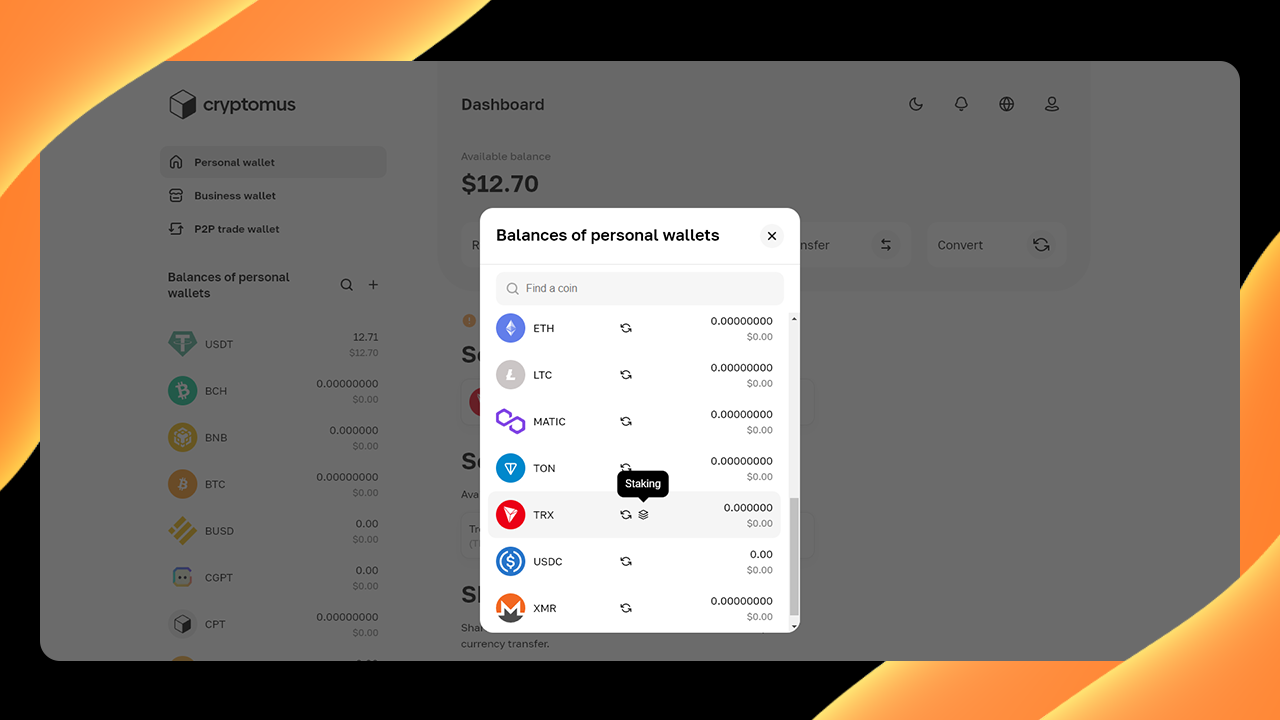 All you need to do now is to confirm the transaction.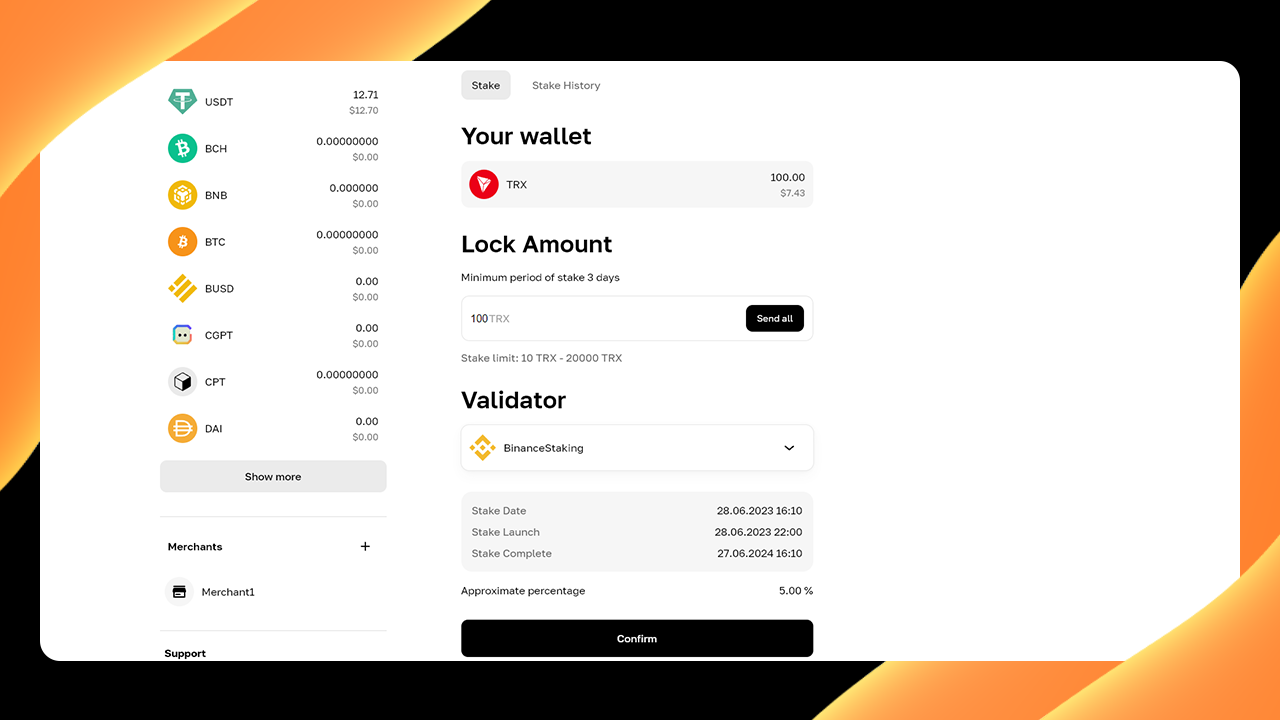 Sit back and relax as your staked tokens begin earning rewards. Monitor your staking activity through the Stake History section, where you can track your rewards and manage your staked assets.
By following steps we listed in this staking guide, you can start staking your crypto assets and enjoy the benefits of passive income and network participation.