How Cryptomus is Enabling Direct P2P Crypto Trading
Peer-to-peer trading, also known as P2P crypto trading, is a market that allows you to trade cryptocurrencies directly with other platform users.
As you already know, Cryptomus is a crypto payment gateway that offers a solution for all businesses that want to integrate a crypto payment in their website, Telegram, social, or everywhere they want, but we are also proposing a P2P trading platform where you can buy and sell crypto assets and make money with price fluctuations of cryptocurrencies.
We created a step-by-step guide that will help you understand what P2P trading is. Our complete guide will explain to you in detail how to easily create a P2P trading account in Cryptomus and start your journey.
What is P2P trading
P2P trading serves several purposes. Many people profit from our P2P trading, but the majority of users prefer to exchange one currency for another with the help of it.
The process of crypto trading starts with the creation of an account in a P2P trading platform, where you will have the opportunity to buy and sell, set your price and preferred method of payment.
Cryptomus offers a crypto P2P platform that is open for all those who have an account. It offers you the possibility to trade various crypto assets such as the USDT, Bitcoin and many others.
Step-by-Step Guide on Using Cryptomus P2P
To be able to trade cryptocurrencies on the Cryptomus P2P Trade, you will need to follow these steps.
Create a Cryptomus account
Go to the Cryptomus, follow all the steps to create your account, and sign up with your email or phone number. Alternatively, it is possible to sign up with Tonkeeper, Telegram or Google account.
Pass KYC verification
After creating your account, you will need to pass the KYC verification. To do it, follow these simple steps:
Go to your dashboard on Cryptomus and click on the setting.

Go to the left bar and click on KYC personal wallet.

Once you are on the KYC verification menu, click on Verification.


Follow the process and finish the verification.
Start Trading
Once you have created your account and made the KYC verification, you are entirely ready to start your trading journey. The first thing you need to do is:
Go to the dashboard and click on the P2P trading wallet.

Once you are inside the P2P trading menu click on Trade now.

Now you are on the trading page, you will see two buttons, Sell and Buy, and a list button where you can select the cryptocurrency you want to buy.
Below this menu, you will find a filter menu where you can select the fiat currency you want to use, the payment method of your choice and the region.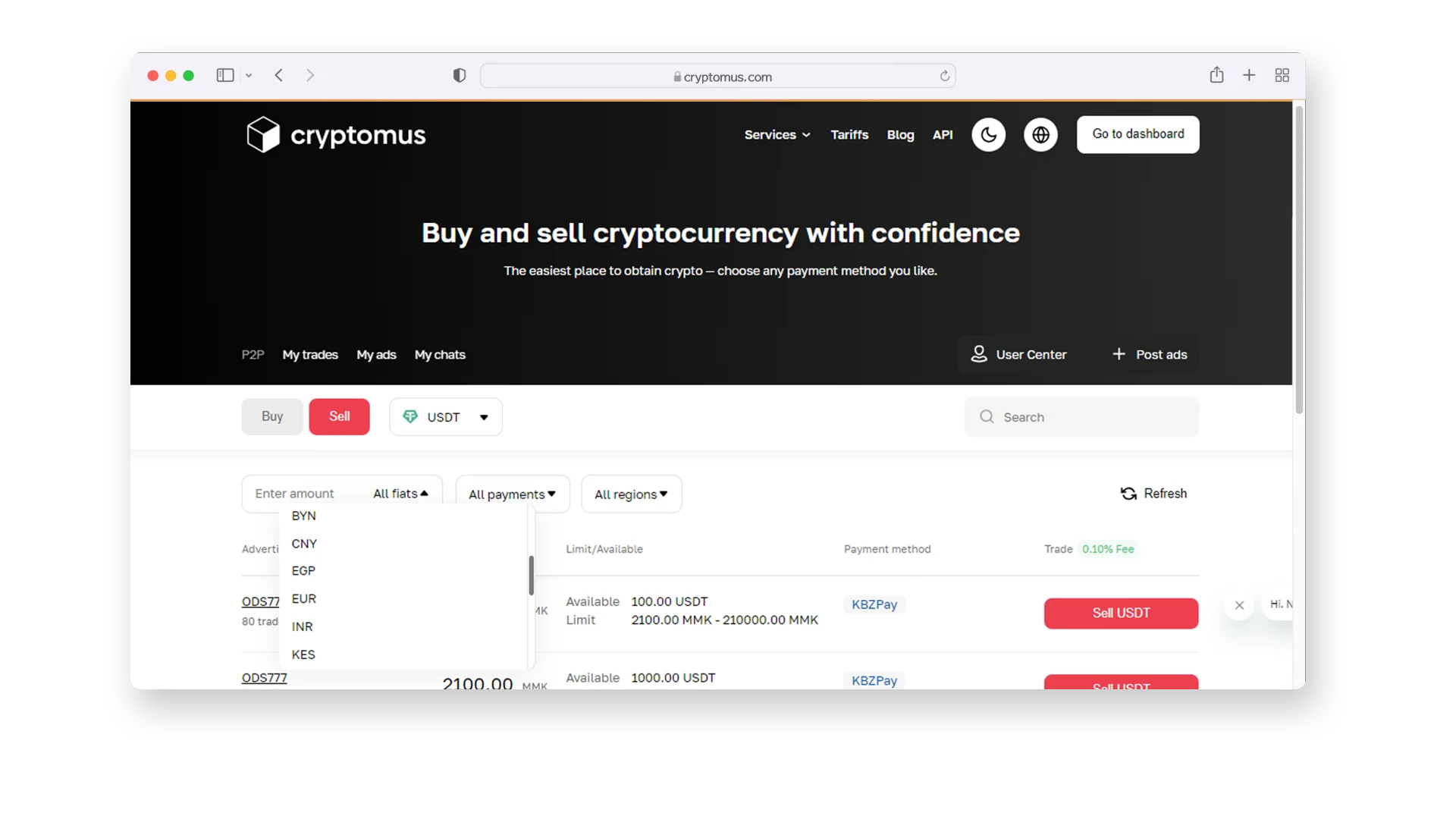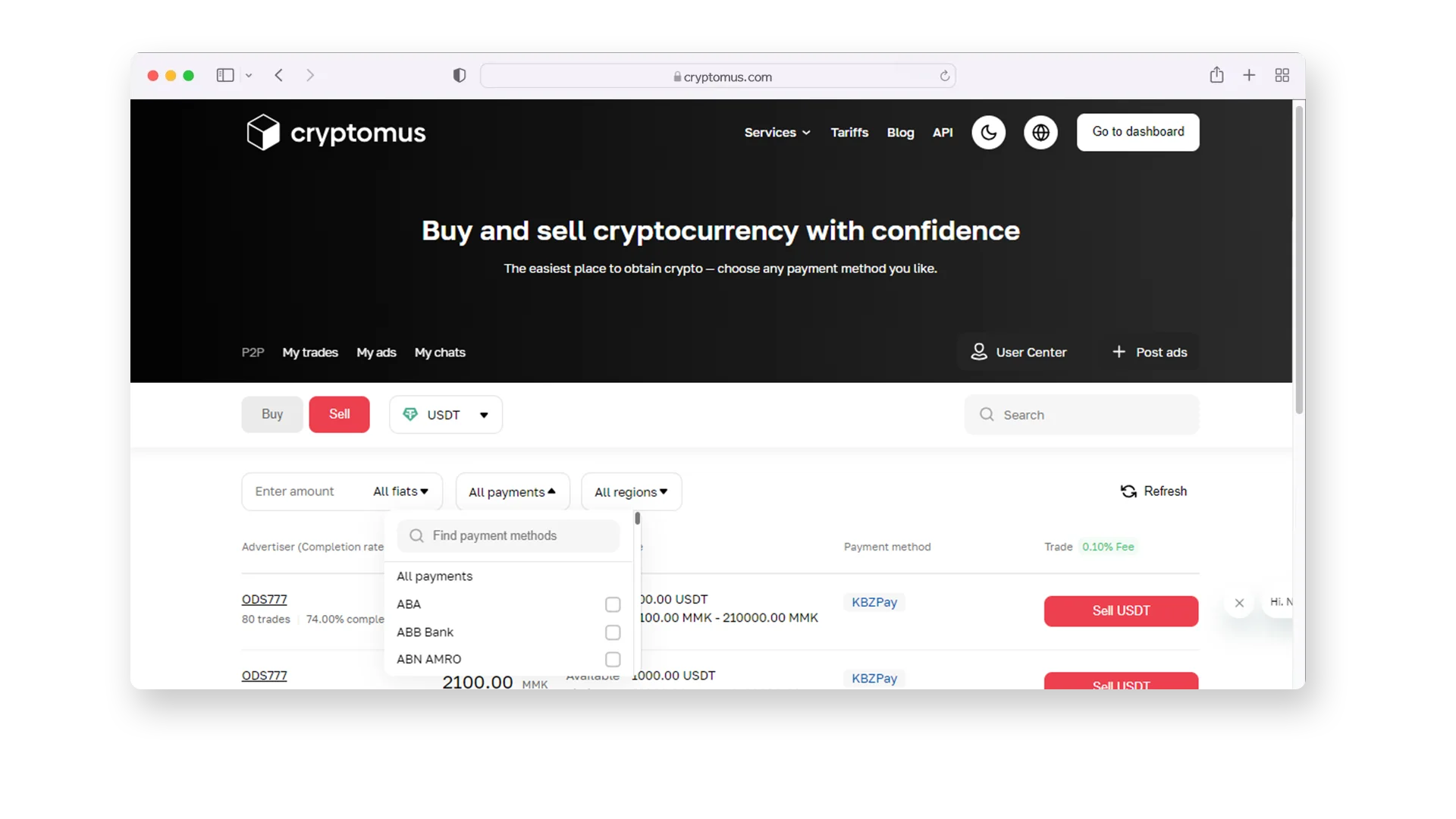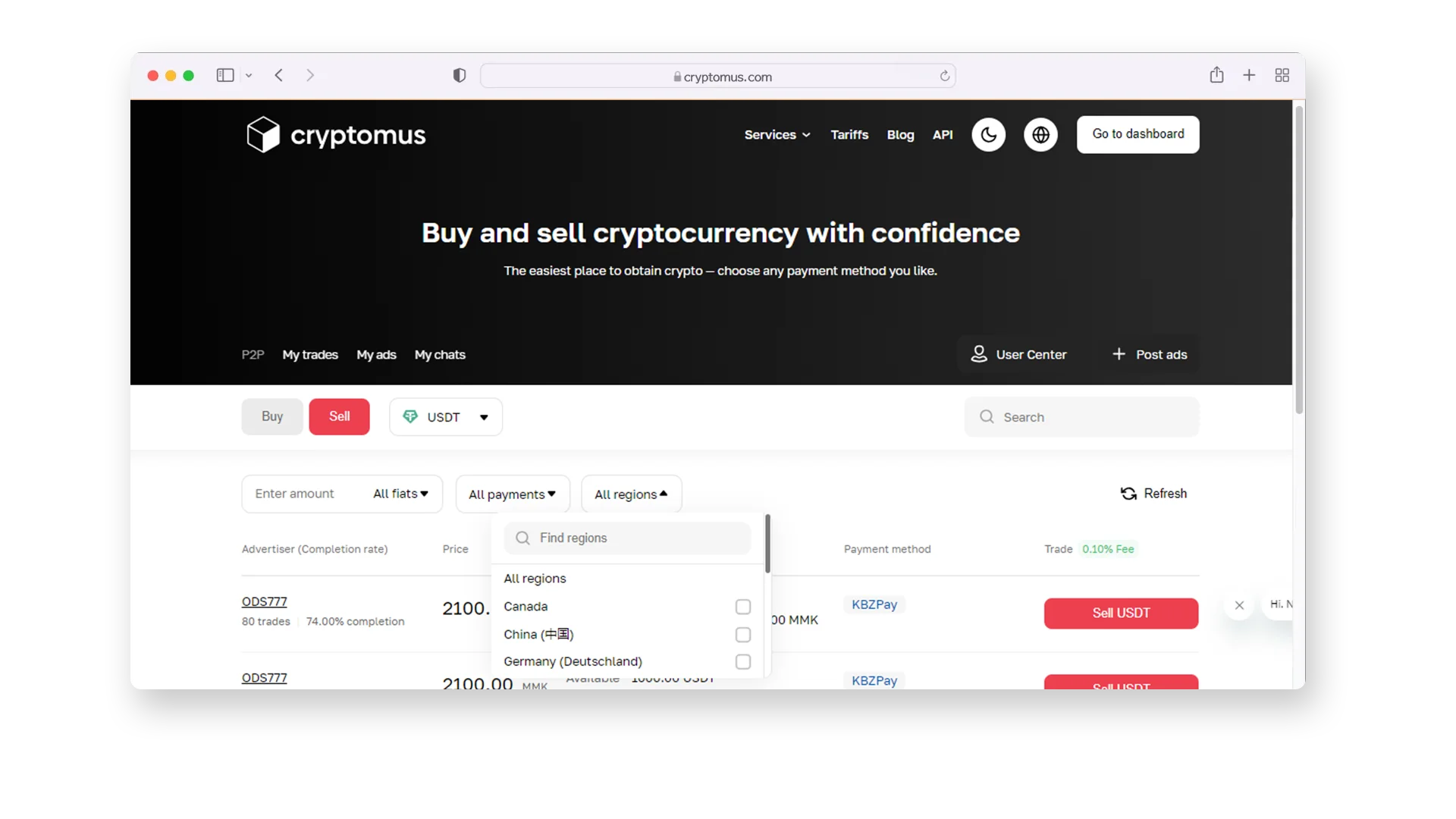 Once you have selected the cryptocurrency, the payment method, and the fiat currency, you will see all the available ads that people are proposing about the cryptocurrency you have selected. You will find some important information that you need to know, such as:
The payment methods they accept;
The price they are selling at;
The minimum that you can buy;
The maximum that you can buy.
After you have checked all this information and found the best seller that meets all your needs, the next step is to click on BUY. Then you will see a menu with 3 important information:
I want to pay: how much you will pay;
I will receive: the price with 0.1% commission;
Will be credited: how much you will receive.
Now that you know these 3 important pieces of information, always tap on how much you need to buy in the Will be credited box and the conversions will be automatic in the I want to pay box. You will see how much you need to send to the seller.

Once you have entered all the information, click on Buy and wait for the seller's confirmation. Discuss with him where to send the fiat. Once you have sent the money, click on Transferred. Notify the seller. He will receive a notification, and after that, he will confirm the transaction, and you will receive your crypto in your wallet.
Congratulations, you just made your first transaction!