A Beginner's Guide to Cryptocurrency Trading: Understanding the Basics
The word "trading" is one of the most popular words of this era, especially when the subject is about cryptocurrencies. In social media, YouTube, and blogs, all the Internet is talking about it and how much money you will be able to make with it.
So, what is trading? How does it work? Can you really make money with it? So many questions therefore. I created a complete guide to cryptocurrency trading for beginners that will explain every single detail of how to start trading cryptocurrency for beginners.
Key Concepts in Cryptocurrency Trading Crypto Beginner
Understanding key concepts in this domain is crucial! Here is for you a complete guide for trading cryptocurrency for beginners.
Basics of Cryptocurrency Trading
The main critical concepts of crypto trading for beginners are what I call a "trading dictionary", a group of words that are constantly used in this field and that will be essential for this beginners guide to trading crypto:
• P2P trading: An example of a P2P trading platform is Cryptomus. It is a type of trading where individuals can trade with each other. The concept is to choose a cryptocurrency and buy it a low cost and sell it at a higher price to make a profit.
• Volatility: It refers to the fast fluctuation of cryptocurrency price movements.
• Volume: The volume is the trading activity happening for a specific cryptocurrency in an amount of time.
• Orders: These are the different types of trade orders you can place to buy or sell coins, like the market limit.
• Wallets: Wallets for crypto are the same as a bank account is for fiat currencies, a place where to store your cryptocurrency. Note that every type of cryptocurrency has a specific wallet.
• Liquidity: How easily an asset can be bought and sold without significant price impact.
• Trading pairs: Each trade involves exchanging one crypto for another. BTC/ETH is trading Bitcoin for Ethereum and so on.
Setting Up Cryptocurrency Trading Account
Choose a platform with low fees, secure trading and a good reputation.
Cryptomus P2P trading not only offers you the possibility to trade in P2P with a wide range of choices in crypto and payment methods, but it also has a 0.1% fee per trade, which is nothing compared to all the tools it offers you, wallets for each crypto, a trading spot to see the market in real-time and many other features.
To have an account, you only need to go to Cryptomus, sign up, and pass the identity verification. Then, you will have access to all its features.
Buying First Cryptocurrency
Now that you have an idea of how to start cryptocurrency trading for beginners let's see how to choose a cryptocurrency to invest in. Consider factors such as market capitalization, analyze the potential for growth and liquidity in the market, use the Cryptomus trading spot to follow the prices in real time, and use social media to have some valuable tips.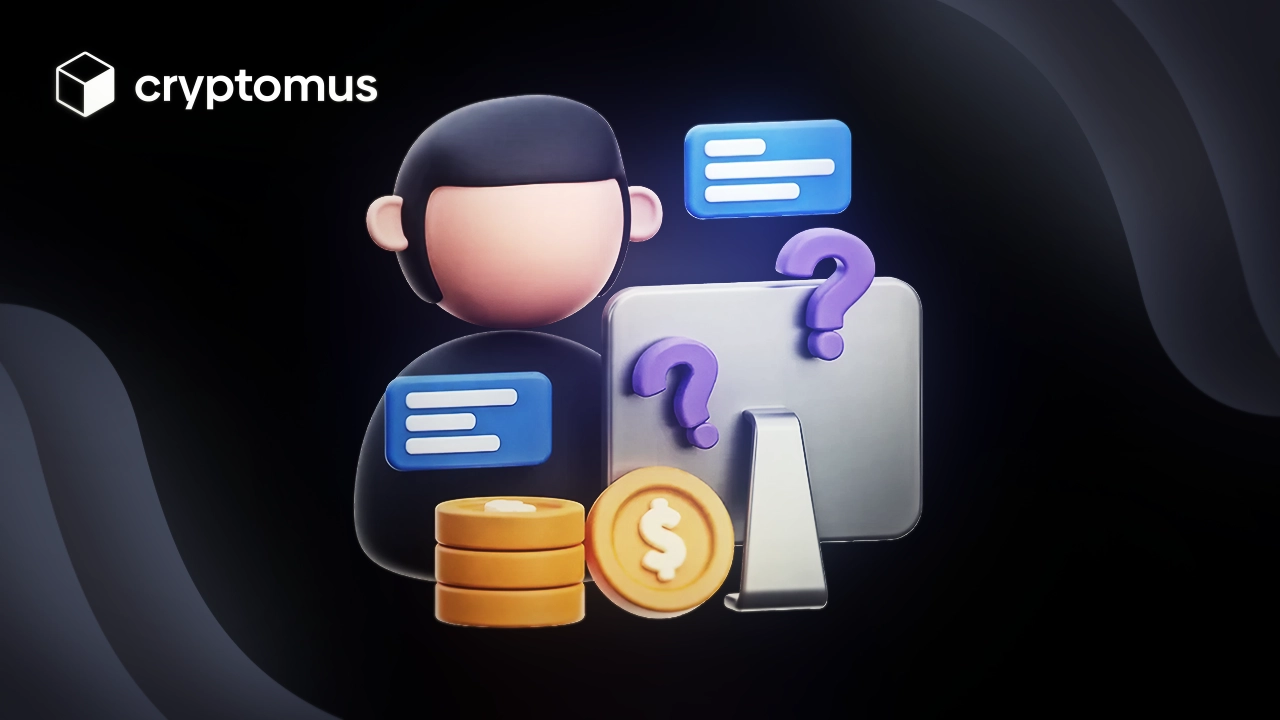 Technical Analysis in Cryptocurrency Trading
Technical analysis involves analyzing price charts and market data to try to predict future price movements in the cryptocurrency market. Here are some critical things for trading crypto for beginners:
• Chart patterns: Analyzing graphs of market data to identify trends like head and shoulders, cup and handle, wedges, flags, etc.
• Candlestick charts: Price charts displaying open, high, low, and close for set periods to spot trends.
• Trading volume: Higher trading volumes generally indicate more significant price movements.
Understanding the Factors Affecting Cryptocurrency Prices
The main rule for cryptocurrency trading and investing for beginners is that cryptocurrency prices are affected by many factors: supply and demand, media hype, regulations and competition. You also have investor psychology that plays a role in determining cryptocurrency prices, but you can always find some good deals in P2P platforms, such as Cryptomus.
Managing Risks in Cryptocurrency Trading
While trading in cryptocurrency as a beginner, it's essential to manage risks by utilizing stop losses and limit orders and protect yourself against scams. Put in place trading strategies that will improve your chances of winning and decrease the chances of losing at the same time.
Strategies for Successful Cryptocurrency Trading
A successful strategy for cryptocurrency trading for beginners is to start by educating yourself about the basics of cryptocurrency and how the market works. Learn about different types of cryptocurrencies available, and consider starting with a small investment and gradually increasing it as they gain more experience and confidence in their trading abilities.
Security and Storage of Cryptocurrencies
To protect your assets, you will need to use secure wallets that offer 2FA security and other security protocols. You also have to be careful about scams and phishing attacks, so keep yourself informed about what are the latest threats.
Taxation and Record Keeping in Cryptocurrency Trading
To calculate your capital gains and losses, you need to track your coin prices, document all transactions, use crypto tax software and, more important, understand the tax rules and trading fees in your country. Once you know who is taking your money and how much, make a strategy to minimize the losses.
Tips for Сryptocurrency Тrading for Вeginners
To make your trading journey, in addition to all the advice and steps I gave you in the guide to crypto trading, there are the main tips that will allow you to pass your cryptocurrency trading from beginner to advanced:
• Educate yourself: One of the primary basics of cryptocurrency trading is to constantly keep learning and practicing. Take trading courses and read books about trading. You will evolve faster and put in place more precise strategies.
• Start small: Of course, after educating yourself comes the second leading crypto trading basics, which is practicing. Don't be scared to lose the first days because it is what will happen to you for sure. That is why you need to play slowly. Invest a small amount and learn from your mistakes.
Keep in mind that crypto trading for beginners will not be easy, but if you keep trying, you will make it. There we are at the end of this beginners guide to trading cryptocurrency. I hope you understand the basics of crypto trading. You can leave us a comment below and share with us your trading experience.