How Do HTML Payment Widgets (Payment Buttons) Work?
In 2023, accepting cryptocurrency payments on your website via integration can be interesting for you and your business. Offering this feature will open a door of opportunities that you may not have seen before. New clients, unlock the reputation of pioneer, enable worldwide payments, seamless integration methods, lower fees and a high-security level of protection of data and assets.
Cryptocurrencies are making waves in the financial ocean, with all the advantages that they offer. But the fact that you are reading this proves to both of us the growing interest that people are giving in this new technology.
In this article, I will introduce you to the latest integration created by Cryptomus, the payment widgets, more specifically how to make a payment button. I will explain to you step by step what this feature is and how it will help you make more money.
Introduction to HTML Payment Widgets
Most of us have an idea of what a widget is. We all have checked this feature at least once on our phones. In the field of websites widgets are not so different. The correct and easy definition for them is:
A small, standalone block of code that can be embedded in a web page or application to perform a specific function or provide a particular feature.
I know this definition is too technical, so let me simplify it for you: A widget on a website is a bit like a mini-app. It's a small tool or feature that you can add to make your website do more. For example, some widgets show the weather, list events on a calendar or display posts from social media sites like Facebook or Twitter or even payment methods like a Paypal payment button, HTML or Stripe payment button.
So as you understand it, a cryptocurrency payment widget is a mini-app that displays the crypto payment method, such as payment buttons. It is as simple as that.
Now that we know what a payment widget for website is we will see what are the various types that Cryptomus proposing to you:
First, we have the payment button for website . You also have the payment form and the QR code, 3 customizable HTML widgets that you can easily integrate into your website.
In the next part, we will see how to make a payment button for website that will have your brand colors and name in less than 10 minutes.
Embedding Payment Buttons on Your Website
An example of an online payment button is the stripe payment button. To be able to create similar or better payment buttons, you will need to use the Cryptomus Crypto Gateway. Thanks to it you will be able to achieve amazing results in less than 10 minutes. Here is for you a simple step by step guide that will allow you to create smart payment buttons that will take your brand name and colors:
Create a Cryptomus account: Go to Cryptomus, create an account, follow all the verification processes, activate the security measures and pass the KYC test.

Create a merchant account: Go in the Merchants section, click on +, create your merchant account by entering your website name, link and information, complete all the verification processes and activate your account.

Go to Widgets: After you have created your merchant account, it is time to Make Payment Button, Go to your merchant account and click on Widgets.

Follow the steps of the creation: Fill in all the information, name of the widget, the type (button, form, QR code), the currency you want to use, the network, the amount to pay, and the payment name, click on continue, customize your button by choosing the size and the color, then you click again on continue.

HTML code: After the customization process, you will need to make a smart payment button overview and see what it looks like. If everything is okay, copy the HTML code and paste it into your HTML website file and you are done.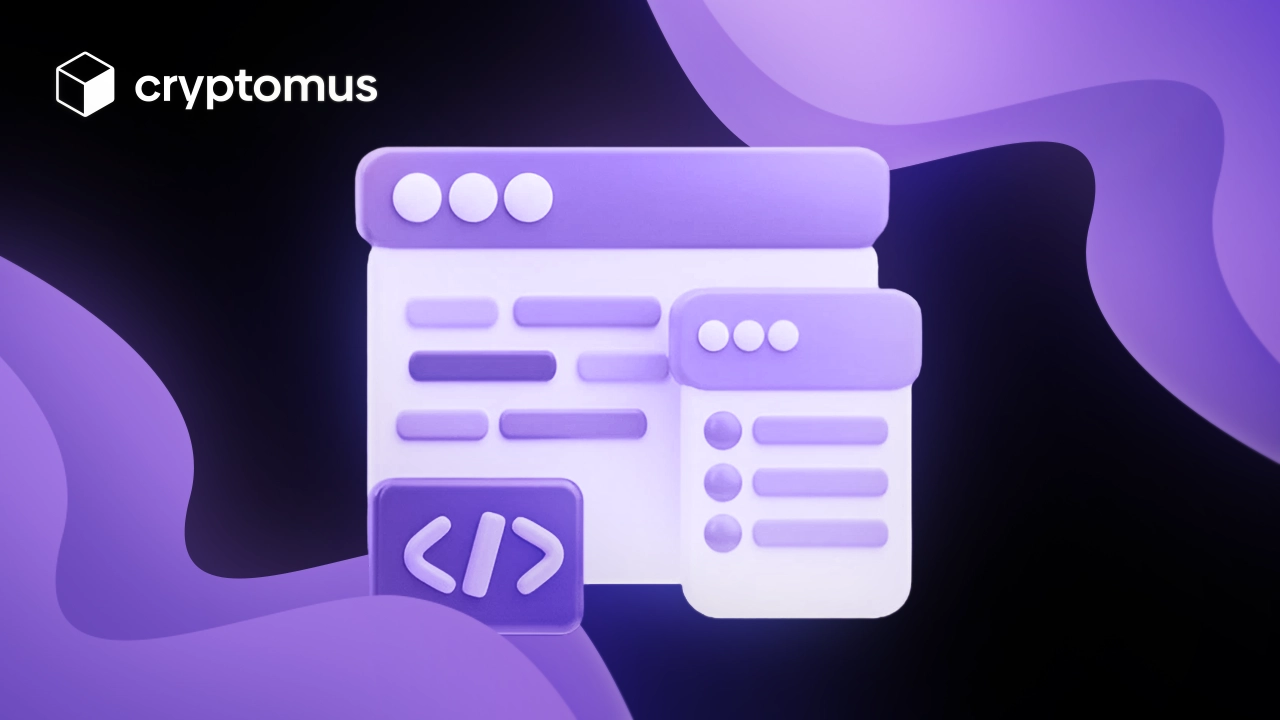 Configuring Payment Options
For an optimal payment option configuration you just need to identify what cryptocurrency your customers use. It is the only difficult thing to do, the rest is easy. Let me explain. After knowing your customers' favorite cryptocurrency go to the merchant account widgets, and there you will find boxes where you can choose the currency, the name of the payment and the network. Then you just need to integrate and you are ready to receive seamless payments.
Making Payment Widgets
As I explained to you in the step-by-step guide, you need to create a Cryptomus account, then a merchant account, go to Widgets, set all your payment parameters: currency, name, network, and so on, make the customization of the widget, and then integrate the HTML code into your website.
Security Measures for Payment Widgets
Cryptomus Widget provides a robust security protocol with multi-layer features like 2FA, SMS, Email, Password, Auto Withdraw and a strong protection script. It also offers 24/7 support and a cyber security team for protection.
Processing Payments and Confirmation
Your customers just need to click the button, send the money to your address and you will receive it in your business wallet in Cryptomus. You also will receive notifications by telegram, email, etc. depending on your notification configuration.
Tracking and Reporting Payment Data
You can see all transactions on your business account in Cryptomus, all invoices with all the details you need for efficient accountability. Cryptomus also provides real-time updates on the status of each transaction, allowing you to easily track payments and monitor cash flow.
Best Practices for Effective Payment Widgets
A payment widget on a website should be designed to be clean, intuitive and consistent with the website's design, making the payment process straightforward. It should be responsive, and support secure payment methods with multiple payment options.
You should also consider the fact that you will need to advertise this feature to your customers to make them aware that they can use this feature to make purchases of your products.