Top Picks: The Best Crypto YouTube Channels You Should Follow
Thanks to the increasing popularity of cryptocurrency, a lot of crypto influencers have emerged: YouTube channels, blogs, TikTok accounts, and Instagram crypto influencers, a group of people that will help you invest or get familiar with the world of cryptocurrencies.
In this article, we will specifically talk about the most prominent crypto YouTubers. We will explore the world of crypto YouTube together and try to get the best crypto YouTube channels. Let's not wait any longer and start our exploration.
Why Do You Need a Cryptocurrency YouTube Channel?
Crypto YouTubers are essential for individuals who want to stay updated and informed about the latest trends, news, and developments in the cryptocurrency world.
These channels provide valuable insights, analysis, and expert opinions from industry professionals, helping viewers make informed decisions when it comes to investing or trading in cryptocurrencies, and some of them can guide you if you are a beginner in the field.
Top Crypto YouTube Channels and Top Crypto Youtubers
To be able to learn or improve your skills in the world of cryptocurrencies, you need to find good mentors, people who will share with you their knowledge and insights. Therefore, I created for you the list of the best crypto YouTubers, the best crypto YouTube channels for different levels of investing, or if you are a beginner to learn and developing new skills, a group of the best cryptocurrency YouTube channels that provide information about the news in this sphere.
Best YouTube Channels For Crypto Investors
If you want to improve your skills in the field of crypto investing, here is a selection of the best YouTube channels and most reliable crypto YouTubers that will help you achieve your goals:
Warrior Trading: This crypto YouTuber provides technical analysis, crypto market trends, and trading tips, offering a comprehensive analysis.

Steven Dux: It is one of the top crypto YouTubers that will give information on various topics related to cryptocurrencies and crypto trading.

Andreas M. Antonopoulos: One of the best Bitcoin YouTubers. He is renowned for his ability to explain complex technical concepts understandably in educational content on blockchain technology and Bitcoin.

BTC Sessions: A Bitcoin YouTube channel that will give you a lot of information about Bitcoin and various other cryptocurrencies for improving your trading skills.
Best YouTube Channels For Beginners
Now, if you are a beginner and you want to start a crypto journey, and you don't know where to start, I advise you to take a look at these YouTube channels that will help you a lot:
Cryptomus: This YouTube channel has many videos that focus on setting up and choosing a convenient cryptocurrency wallet, a simple payment processor and working on P2P exchanges.

Coin Bureau: This channel provides high-quality educational videos on a wide range of cryptocurrency topics.

Benjamin Cowen: It focuses on technical analysis and market predictions.

Into the Cryptoverse: Hosted by Benjamin Cowen, this channel provides a more beginner-friendly approach to technical analysis.

Ivan on Tech: It covers a wide range of cryptocurrency topics, including news, analysis, and tutorials.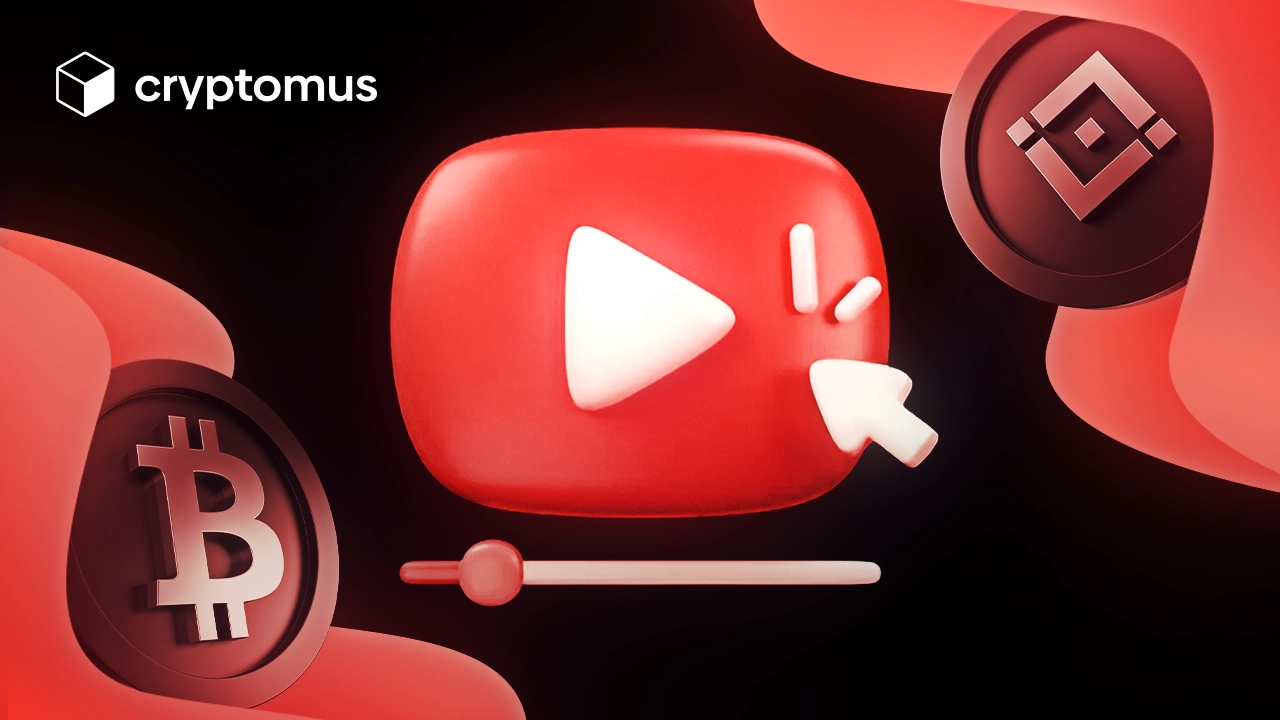 Best YouTube Channels For Crypto News
Now, I will list a selection of the best crypto YouTube channels to always be updated:
Michael Wrubel
Sheldon Evans
Kitco News
These YouTube channels provide news updates on cryptocurrency, analysis of altcoins, and analysis of the market. They offer live updates, analysis, and news on various cryptocurrencies.
Benefits Of Following Crypto YouTube Channels
There are many benefits to following crypto YouTube channels. These channels can provide you with:
Up-to-date information on the cryptocurrency market:
Crypto YouTube channels offer daily updates on the cryptocurrency market, including news on new projects, market analysis, and regulatory changes. This helps in making informed investment decisions and avoiding mistakes based on outdated information.

Analysis of cryptocurrency trends:
They also offer valuable insights into cryptocurrency trends, featuring analysts who break down complex market movements and identify emerging trends, aiding in informed investment decisions.

Education on cryptocurrency concepts:
Watching YouTube videos about this will help you understand everything from blockchain technology basics to advanced technical analysis, providing valuable resources for beginners and those interested in cryptocurrency learning.

Investment advice:
Crypto YouTube channels offer valuable insights into investment strategies, identifying promising opportunities, and staying updated on market trends. They teach about day trading, swing trading, position trading, risk management, and ICOs while also assisting in identifying scams and providing daily updates on news, events, and regulatory changes.
In conclusion, crypto YouTube channels are a valuable resource for anyone who wants to learn more about this topic and stay updated on the latest news and trends. They also provide a wealth of information, from beginner tutorials to expert analysis, whether you are a seasoned investor or just starting out.
Here we are at the end of this article that was about the most famous crypto YouTubers. I hope you found it helpful. Don't hesitate to leave a comment below and share your TOP cryptocurrency YouTube channels with us.