Beginner's Guide: How to Buy Ethereum for Your Crypto Portfolio
If you are a cryptocurrency user, you must know that feeling of frustration of navigating through various platforms, creating accounts, and passing identity verifications only to be surprised by hidden fees or withdrawal issues at the end.
And here comes the reason I wrote this article. As you can understand from the title, I will talk about Ethereum, explain what it is, and, more importantly, I will explain to you in detail how to buy Ethereum.
Purchasing Ethereum: Step-by-Step Guide
The first thing to understand before starting to talk about how to buy and sell Ethereum, how to buy Ethereum with a credit card, or how to buy ETH without fees is to know what it is, so let's get started.
Step 1: Understanding the Importance of Ethereum in Cryptocurrency
Created in 2013 by Vitalik Buterin, and officially launched in 2015, it is the second-largest cryptocurrency by market capitalization, after Bitcoin. With a market capitalization of 214 billion USD and a 24-hour trading volume of USD 20.53M.
Step 2: Choosing the Right Exchange for Buying Ethereum
To be able to know how to buy and send Ethereum instantly, you need to find first where to buy it. The most used method to buy ETH is P2P trading. An example of these platforms is Cryptomus, where you will be able to buy ETH in a secure way with low fees.
Let's see together what are the main criteria to get the best P2P platform:
• Reputation: The reason why you need to focus on this point is that thanks to it, you will know all that the platform doesn't want you to know: hidden fees and problems that people face, and, more importantly, if platforms are reliable or not.
• Fees: Avoid using platforms that have multiple fees or high fees for the simple reason that it will make the price of your Ethereum way higher for no logical reason.
• Ease of use: This point will help you use the platform at its maximum and avoid problems related to the low clearness of the platform.
• Security: High-security protocols will allow you to protect your assets and also protect you from scammers on the P2P platform and allow you to buy securely.
Why Cryptomus
Cryptomus offers a user-friendly interface, high protection, and features like a converter, trading spot, and staking system, making it a top P2P trading platform for beginners and advanced traders.
In the next part of the article, I will answer questions like how to buy Ethereum with a debit card, how to buy ETH instantly, or how to buy Ethereum without fees or low fees using Cryptomus.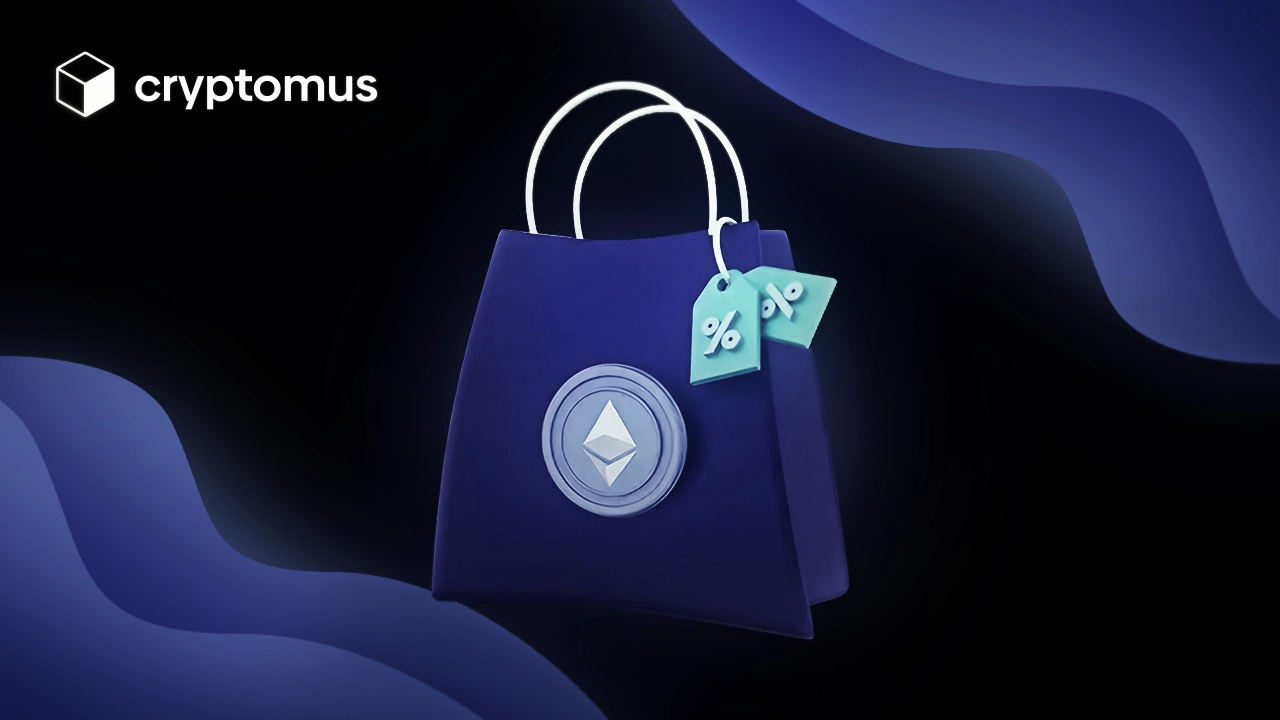 Step 3: Setting Up ETH Wallet
When you sign up and create an account by using Gmail, phone number, or email, in other ways on Cryptomus, and pass the identity verification, your ETH wallet will be set automatically and ready to be used.
Step 4: Registering and Verifying Exchange Account
In general, in P2P platforms, after creating your account, you will need to pass the identity verification. On Cryptomus, too, once your account is created, you will need to go to settings and pass the verification test by sending your documents and taking a selfie.
Step 5: How to Buy Ethereum With Cryptomus P2P Platform
Buying Ethereum on Cryptomus is simple. Go to your P2P wallet, click "Trade now", and select Ethereum. Also choose your fiat currency and payment method. Choose the ad that is compatible with your parameters, select the cheapest options, and buy.
Step 6: Storing Ethereum Securely
Now that you know entirely how to buy Ethereum, let us see how to store it on our P2P platform. After buying Ethereum, it will be automatically sent to your P2P wallet, where it will be already securely stored. Still, you can put them in your personal ETH wallet by just going to your P2P wallet and making a transfer from there to your personal ETH wallet, without fee and instantaneously.
Step 7: Monitoring Ethereum Prices
One of the key points to fully comprehend how to buy Ethereum is to know how to monitor the price of Ethereum. Monitoring the price allows investors to make informed decisions about when to buy or sell their Ethereum holdings. For this, you can use the trading spot that Cryptomus offers you to follow the evolution of market prices.
Step 8: Trading Strategies for ETH
One of the leading trading strategies is to follow the market evolution. Take a close look at all the events that can impact the price of Ethereum, such as improvements or regulatory changes. This will allow you to predict the price if it will go up or down. And you can also choose a payment method that will ask from you the lowest fees possible to combine it with the low fees of Cryptomus, and you will get the best price.
Tips for Successful Ethereum Investment for Your Crypto Portfolio
Understanding how to buy Ethereum instantly can be useful. However, without the tips that I am about to share with you, you might face challenges and uncertainties along the way.
• Timing: Understanding how to buy ETH online and knowing how to buy ETH at the right moment are two different things. Why do you think that all traders follow all those graphics and numbers? The answer is to know when is the right moment to buy.
• Use the market: The logical step that comes after knowing how to buy Ethereum crypto at the right moment is to know how. For this, you need to follow the market and understand why it is changing. In other words, you need to monitor it using a trading spot.
Thank you for taking the time to read this. I hope you found this article helpful and that you understood how to buy Ethereum cryptocurrency. Don't hesitate to leave us a comment below to share your opinion about it.