How to Accept Cryptocurrency On Your Website: A Step-by-Step Guide to Crypto Payments Integration
Cryptocurrency payments have become a popular method of acquiring payments for business in recent years, and integrating them into your website can provide a number of benefits, but first of all, it is able to save your business a lot of money. In this article, we will cover why you should accept payments in digital currencies, which cryptocurrencies are better to accept, and how to integrate crypto payments on your website.
Why Accept Crypto Payments On Your Website?
There are several compelling reasons to accept cryptocurrency on your website. For one, it can help attract a new audience of tech-savvy customers who prefer to use cryptocurrency as their preferred payment method. Furthermore, the utilization of blockchain technology makes crypto payments a transparent and comparatively safe payment alternative.
Benefits Of Accepting Crypto Payments
Why should you accept crypto payments on your website? Here are a few reasons:
Faster and cheaper acquiring: Compared to traditional payment methods, cryptocurrency payments take less processing times that can help you receive funds quickly. Moreover, they generally have lower transaction fees, which can result in long-term savings for your business.
Fiat payment gateways typically charge 2-7% for their services. This means that the money you can spend to grow your business will be used to cover your acquiring costs. Below we've illustrated how significantly one of our merchants saved on acquiring for his online business when he switched from fiat to cryptocurrency payments.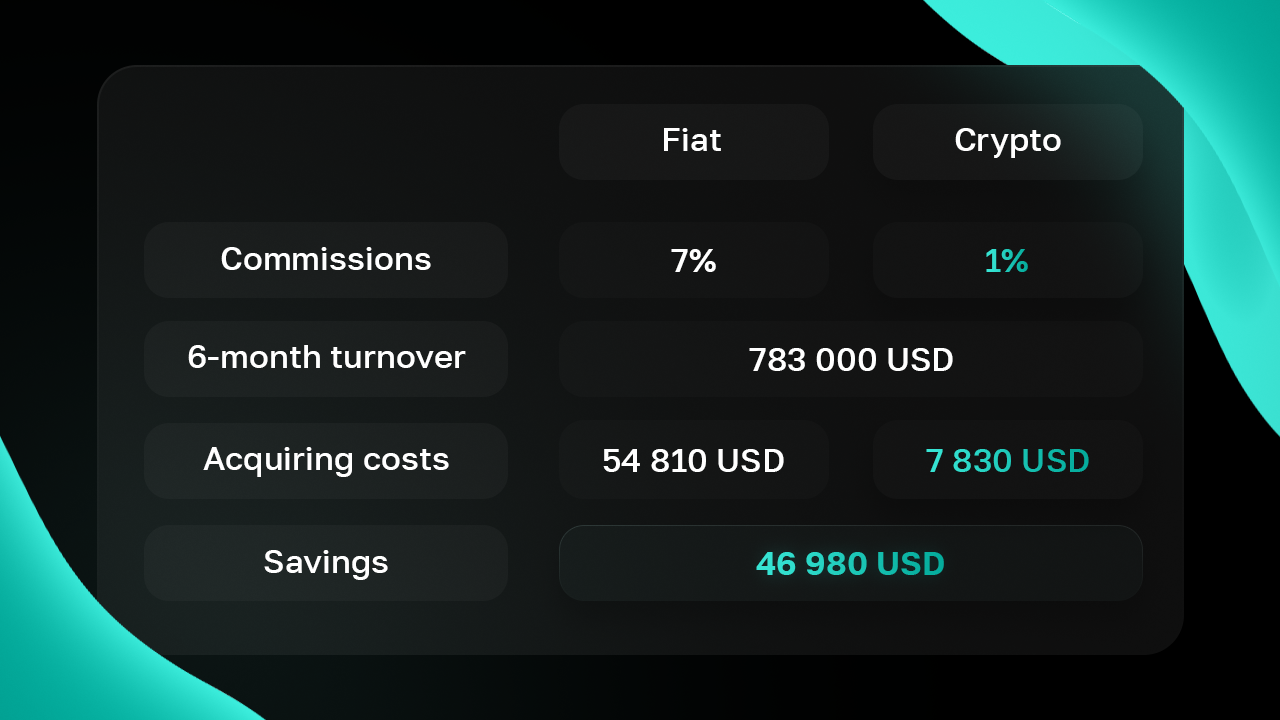 The use of blockchain technology provides added security: Cryptocurrency transactions are performed through the blockchain, which adds one more layer of security. This means that transactions are less susceptible to fraud and hacking attempts, making them a more secure payment option.
Global accessibility: By accepting cryptocurrencies, businesses can now receive payments from customers located anywhere in the world, providing an opportunity to expand their customer base and reach new markets that were previously out of reach.
An additional payment option to attract new customers: Sites that accept crypto attract new customers who prefer to use this payment option. This can help you stand out from competitors and increase sales.
No holds: Crypto payment gateways do not freeze or hold onto your funds during the transaction process, allowing for a smoother and more seamless payment experience.
No rolling reserves: Rolling reserves are not required in crypto payments as transactions are irreversible, and without them, the risks of fraud and chargebacks are significantly lower.
Which Cryptocurrencies Should You Accept?
When it comes to acquiring crypto, choosing the right cryptocurrencies can be a crucial factor in the success of your business. With so many cryptocurrencies available, it can be challenging to determine which ones are the best fit for your business needs. So let's explore the top cryptocurrencies for payments and the considerations you should take into account when choosing which ones to accept.
The Best Cryptocurrencies to Accept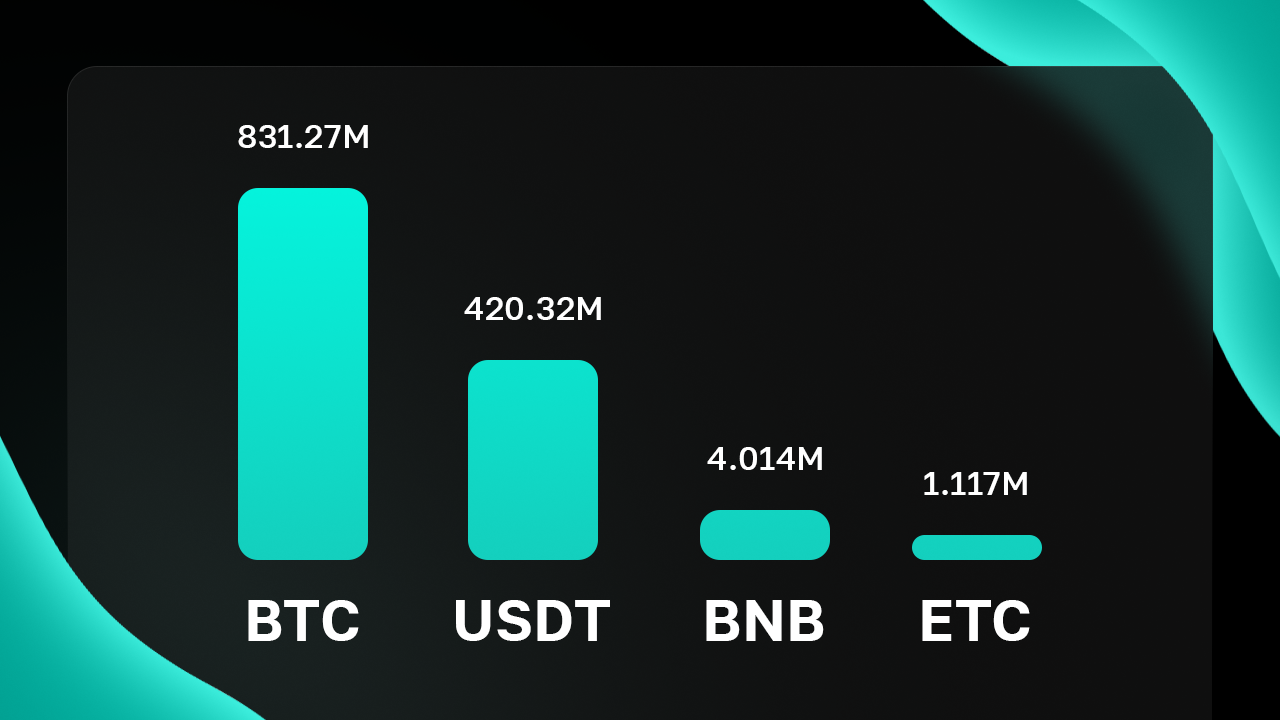 The number of transactions for each cryptocurrency mentioned from the time of their introduction
Considerations For Choosing Cryptocurrencies
Before we start talking on how to add crypto payments to a website, let's look at which currencies are the best to accept. When choosing which cryptocurrencies to accept, there are several factors you should take into account:
Customer Demand: It's important to consider which cryptocurrencies your customers are most likely to use. This could be influenced by factors such as the demographics of your customer base and the geographical location of your business.

Volatility: Cryptocurrencies are known for their volatility, which can impact the value of payments received in these currencies. It's essential to consider the potential risks and benefits of accepting volatile cryptocurrencies for your business. Anyway, with Cryptomus it is possible to convert your incoming payments to USDT automatically and this will save your funds from unexpected rate changes.

Transaction Fees: Transaction fees vary for every cryptocurrency. It's important to take into consideration the costs associated with accepting different cryptocurrencies and how they will impact your business's bottom line.
How to Accept Crypto Payments on a Website
So how to integrate crypto payments on a website? Adding crypto payments to your website can seem like a challenge for some, but it's actually quite easy.
Cryptomus payment gateway provides everything for the quick and easy connection – from all the integration methods available to the special beneficial conditions for merchants:
Low transaction commissions – starting from 0.4%
Auto-convert – get your funds converted to USDT instantly and save them from volatility
Personal manager – we are ready to answer your questions at any time of the day. Also,
Automated mass payouts – it may be very handy to have an ability to pay your employees all at once
Choose who pays the commission – acquire for free, just mark your client as the one who pays the commission
Cashback system – your client will get cashback in our native CPT coin
So, here are the steps you need to take to integrate Cryptomus:
Step 1: Sign Up
In order to accept crypto payments on a website, you'll need to sign up to the crypto payment gateway and create your first merchant account.
Step 2: Integrate The Payment Gateway
Now you need to configure the payment gateway to accept payments on your website. This typically involves connecting your payment gateway to your website using an API key or other methods, including ready-made eCommerce plugins. To find out how to integrate Cryptomus with each method in detail, contact the Cryptomus team by filling the form below the article.
Step 3: Display Crypto Payment Options On The Website
Once you have integrated a crypto payment gateway into your website, the next step is to display the new payment options to your customers. This will not only make it easier for customers to pay for your products or services using cryptocurrencies but also help promote your business as being innovative and forward-thinking. Here are some tips on how to promote the new payment option to your customers:
Update Your Website: Make sure that you have updated your website to include the new payment option. This could include adding a banner or pop-up message that highlights the new payment option and its benefits.

Highlight the Benefits: Educate your customers on the benefits of paying with cryptocurrencies. This could include faster transaction times, lower fees, and greater security.

Social Media Promotion: Use social media to promote the new payment option. Share posts and updates that highlight the benefits of paying with cryptocurrencies, and make sure to include links to your website.

Email Marketing: Send out an email newsletter to your subscribers to announce the new payment option. Highlight the benefits of using cryptocurrencies and provide instructions on how to use the new payment option.

Offer Discounts: Encourage customers to use the new payment option by offering discounts or special promotions for those who pay with cryptocurrencies. This will not only incentivize customers to try the new payment option but also help drive more sales for your business.
Step 4: Withdraw Your Income
With our Cryptomus P2P Trading platform it is now easy to turn crypto you've aggregated to fiat and then withdraw it to your debit card or bank account.
Tips For A Smooth Crypto Payment Experience
Now, when we found out how to add crypto payments to a website, it is time to pay attention to some helpful tips. When it comes to accepting cryptocurrency payments, there are a few key tips that can help ensure a smooth and seamless payment experience for both you and your customers. Here are some tips to keep in mind:
Educate Your Customers: One of the most important aspects when you accept crypto payments on a website is educating your customers on how to use them. Make sure to provide clear instructions on how to make payments using cryptocurrencies, including which currencies you accept and how to convert them if necessary. Additionally, be sure to explain the benefits of paying with cryptocurrencies, such as faster transaction times and lower fees.

Display Payment Options Clearly: Another important tip is to make sure that your payment options are displayed clearly on your website. This can include adding a dedicated payment page, including payment options on product pages, and displaying logos of accepted cryptocurrencies on your homepage. This will help customers easily identify their payment options and make the checkout process more seamless.

Provide Support And Feedback: Finally, it's important to provide support and feedback to customers who use cryptocurrency payments. This can include offering customer service to help customers navigate the payment process, providing feedback on their payment experience, and addressing any issues or concerns that may arise. By offering support and feedback, you can help ensure a positive payment experience for your customers and encourage them to use cryptocurrencies for future purchases.
By educating your customers, displaying payment options clearly, and providing support and feedback, you can help ensure a smooth and seamless payment experience for cryptocurrency payments.
Conclusion
In conclusion, to accept crypto on your website means to have numerous benefits, including faster and cheaper transactions, increased security, global accessibility, and an additional payment option to attract new customers, which solve a lot of problems relevant for eCommerce. Choosing the right cryptocurrencies to accept can also be a critical factor in the success of your business, and you should consider factors such as customer demand, volatility, and transaction fees when making your decision.
We believe that this guide can not only teach you how to integrate crypto payments on the website, but will help to accelerate a bigger client base and become more successful in the market, as well as save a lot of your business time and funds that you'll be able to spend on the development of your business.