Start Earning with Cryptomus: The Affiliate Program
There are several ways to earn crypto with Cryptomus. One of them is to be a part of the affiliate program. In this article, we will tell you how it works and discuss why you should start using this feature as soon as possible. Keep reading.
Benefits of Cryptomus Affiliate Program
So why is it profitable for you?
1. Rewards: The Affiliate program offers rewards to those who successfully refer new customers. Cryptomus Referral program is a great opportunity for our users to earn rewards by bringing new users to the platform. By participating in it you could earn 30% of the payment commission from all clients you refer.
For example, if the one you refer makes a transaction worth $1,000,000, you will get $6,000 out of this in USDT.
2. Easy to use: Referral programs are easy to use. You simply have to share your referral code with your friends and family members.
3. Social interaction: Referral programs encourage social interaction between users.
How to start?
To be a part of the program you should take the next steps:
Sign up for Cryptomus. The process of it is simple – create an account with your email or phone number, no KYC is needed. You could authorize with Tonkeeper as well to be completely anonymous.

Go to Profile settings.

Choose the Referral program tab – here you can see your referral code (a set of random numbers and letters) or enter a code someone else gave you

Tap the "Copy link" button.

Share it with other people to gain part of the profit from everyone who used the code.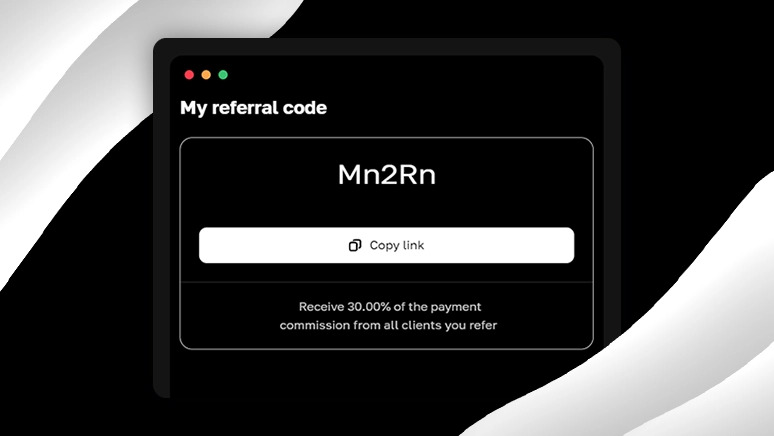 This is how you use the opportunity to gain profit with Cryptomus. Other ways of earning could be found on the "Earn" page. Share your referral link with your friends to start earning rewards today.