Which Bitcoin Wallet to Choose: Bitcoin Wallet Guide
Having trouble choosing the best wallet for bitcoins? Every cryptocurrency wallet positions itself as the best crypto wallet, but we don't let them fool you. Here is our detailed guide on how to choose the best crypto wallet for your needs, in which we will teach you about wallets for bitcoins and how to decide on which one suits you best.
What Are Cryptocurrency Wallets?
Cryptocurrency wallets help people keep their funds safely in a single place; a wallet is software or a physical device. It is not your coins that need to be protected, but your private keys. The keys are giving you access to your funds. Also, with the help of wallets, it's possible to transfer funds. Some even offer additional features, but the main function of wallets is still storing crypto assets.
Notwithstanding that, wallets for bitcoins have almost nothing in common with ordinary physical wallets. A cryptocurrency wallet is a tool for accessing the blockchain. It reads the public ledger to show you your balance and allows you to make transactions.
Why You Need It
It's not necessary to keep your funds in the wallet as there are alternatives to it like for example built-in wallets on the exchange. It's okay to leave your coins in these multi-purpose services, but not for a long time.
Many exchanges are safety oriented, some of them even offer insurance coverage and use cold storage methods. Even though, the risk remains. So, it's preferable to withdraw your funds from the exchange to the wallet as holding funds on the exchange may be risky.
How Bitcoin Wallets Work?
Cryptocurrency wallets work almost the same as your online bank wallets. Put cryptos there similarly to how you put your fiat into your bank account. Store cryptocurrency there or even buy and sell coins if your chosen wallet has these features.
Types Of Bitcoin Wallets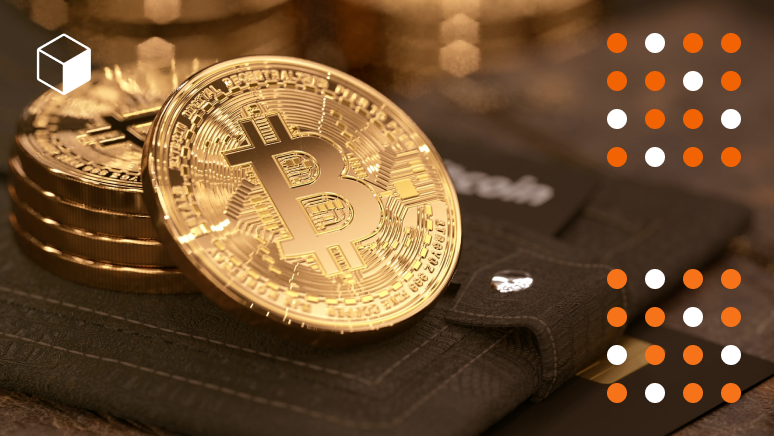 There are several types of bitcoin wallets today, and before choosing the best BTC wallets, let's firstly talk about each of them:
Mobile Wallets
Mobile crypto wallets are similar to any other mobile wallets. This type of wallet is quite popular right now, you can find wallets of this type in any app store. These wallets are vulnerable to theft or any other fraudulent activity risk. So, it's more clever to hold only a small amount of crypto on them.
The private key is not held on a server but stored on your mobile device. Most mobile wallets are not custodial, so that is a pleasant bonus.
Desktop Wallets
Desktop wallets are similar to the previously described type of wallets. Private keys are kept on the computer itself. Desktop wallets tend to be more advanced than mobile ones. A desktop wallet differs from a mobile wallet in its higher level of privacy and many sophisticated features.
Although it is convenient and sophisticated enough to provide advanced users with useful features, the risk remains as it's easy to install fraudulent software.
Web Wallets
Web wallets exist online only. Access is available through a web browser or an app connected to the internet. Keys are held by a website owner or encrypted behind a password.
Hardware Wallets
Top crypto wallets are typically hardware wallets. These wallets are electronic physical gadgets. To manage your funds, the device must be connected to your computer.
A good choice for those who value safety – private keys are isolated from devices connected to the internet because you store them offline. This way hackers have no possible access to your coins. Even if the device will be stolen, it's still protected by the PIN code. If your bitcoin hard wallet is lost – don't worry, you are still able to retrieve your coins if you create a backup code.
The best hardware wallets can store thousands of different currencies and can connect to other wallets.
So what are the pros of hardware wallets?
Effortlessly secure cryptocurrencies
Easily regain access if something unpredictable happened
Easy setup
And what are the cons?
Cost money
May be complicated for newbies
Paper Wallets
These wallets are the other top bitcoin wallet choice. Paper wallets are the most secure ones, they simply can't be attacked by hackers. All you need is to print it out and fold it in a certain way so that the personal key is completely hidden. Laminate it and keep it in a safe for perfect protection. You can even send it by post, which is great for not tech-savvy users.
"Hot" Vs. "Cold" Wallets
Hot wallets
An internet connection is necessary for hot wallets to operate. Use them on any device that has internet access.
Hot wallets still are not completely secure since they create private keys on the internet. They are suitable for storing small amounts of cryptocurrency, but it's better not to keep your savings there, as these wallets are extremely vulnerable to cyber-attacks.
Advantages of hot wallets:
The finest and simplest way to keep smaller amounts of crypto-assets
Send and receive payments fast
Have access to assets across multiple devices
Disadvantages of hot wallets:
Not safe for the storage of large amounts of crypto
Cold Wallets
These wallets are not easy to hack as they are not connected to the internet. There are two main types of cold wallets – paper wallets and hardware wallets. Both are separate physical devices.
A small gadget with a screen and buttons – that's how a hardware wallet typically looks like. To use it, it is necessary to connect the wallet to the phone or computer. Even if the device is infected by a malicious program, your keys are safe because they are stored offline. A hardware wallet is among the safest methods of storing cryptocurrency.
The name of paper wallets speaks for itself. The side with a private key printed on the wallet has folded in a way nobody will see it. It's even better if you laminate your wallet and keep it in a safe place.
Advantages of cold wallets:
Enhanced security level as your keys are stored offline
Disadvantages of cold wallets:
Often expensive
Hard to use
Inconvenient
How To Choose The Best BTC Wallets For Your Needs
Your wallet choice depends solely on your needs and goals.
What to choose if you are a beginner? For beginners, it may be a good decision to start with online hot wallets that charges very low fees for transactions.
What to choose if you are an experienced user? Your best choice is a hardware wallet as it offers better security for your funds. it will especially suit you if you are comfortable with computers, in this case there unlikely will be any problems.
What to choose if you are a crypto whale? For serious enthusiasts, it's a choice between security and advanced features. Decide what your priority is and go for a suitable wallet.
In conclusion, the best BTC wallets depend on how you plan to use them and what goals are you pursuing because every wallet is good for different purposes.