Hardware Wallet Vs Software Wallet: What's The Difference?
Hard wallet vs soft wallet – this discussion about the choice of crypto wallet is always present in the community. Choose your fighter! We'll help you to do this in this very article.
Types Of Cryptocurrency Wallets
A wallet connected to the internet is a hot wallet. These wallets are convenient and easy to use in comparison to cold wallets. The main downside is that these wallets are vulnerable to hacker attacks, thus, it's not recommended to keep your funds in a wallet long-term.
Hot wallets are the best choice for those, who are new to crypto. There are several types of wallets available, each type has its benefits and drawbacks. Let's look at all of them closely:
Users' private keys are encrypted and stored on their computer hard drives.
Web wallets are wallets that allow access to users' funds in a web browser. Typically they are provided by crypto exchanges.
With mobile wallets, it's easy to manage your funds anywhere anytime having a mobile phone with an internet connection.
Custodial and non-custodial wallets
The method of security is another factor that determines which wallet you should prefer. Wallets are categorized into custodial and non-custodial.
Custodial wallets are wallets with a third party keeping the user's private keys. On the other hand, non-custodial wallets are for those who are not afraid to take the responsibility for keeping their keys safe. It suits advanced users better as it takes a level of self-trust. Remember that you'll lose access to your funds by losing the keys.
Cold wallets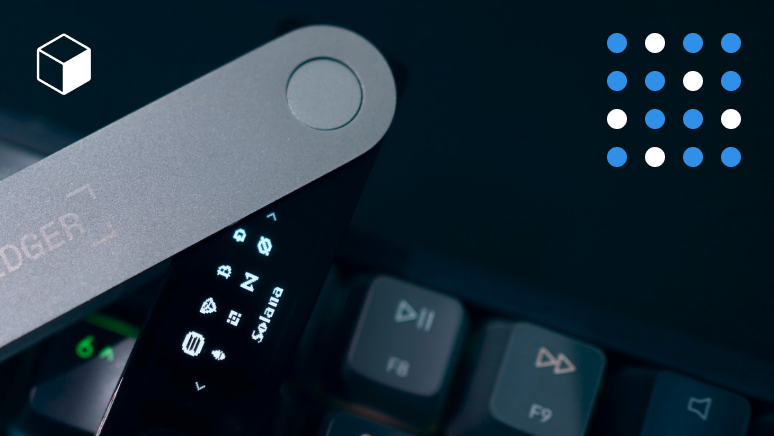 Cold wallets are offline wallets. These wallets are small gadgets resembling thumb drives. Cold wallets are safe as the keys are stored offline which makes them resistant to hacking. Though, these wallets are complicated and suited for advanced users.
Paper wallets
A piece of paper contains private and public keys. The paper is often folded a specific way to protect keys from getting stolen. You can even send this wallet by post.
Hardware wallets
A high-tech solution is considered to be the safest one. This is a separate electronic device on which you can keep your crypto.
Analyzing Hardware Wallets
Should hardware wallets be your choice? If so, how do you choose the best device for you personally? Let's find it out!
How Does A Hardware Wallet Work?
Hardware wallets perform two functions:
Cryptocurrencies are not stored in the hardware itself but in a blockchain. To access it, you need to use your private key. The wallet is the device that protects your funds from online attacks as it isolates them from the internet.
They allow you to confirm transactions
When you create a transaction, you "sign" a special message. It confirms your ownership of the private keys. It is not possible to sign it without the key, so no one can make a transaction without your involvement.
Pros And Cons Of Hardware Wallets
Some of them are obvious, but the others aren't. Let's briefly discuss them.
Pros of Hardware Wallets:
In this category, hard wallets are winning the "hardware wallet vs software wallet for your cryptocurrency" battle. These devices are super secure even if the computer you use for the transaction isn't. The hardware wallet has its own separate layer of security.
Many Assets, One Location
You are able to manage different cryptocurrencies simultaneously in one wallet.
The wallet is usually a small plug-in device you can take with you anywhere you want.
Some platforms let you trade directly from your hardware wallet. This saves time and money because you skip third-party services and their fees.
An enhanced level of security is provided by the PIN required to access your funds. The PIN will be stored on your Hardware wallet only
Cons of Hardware Wallets:
Hardware Wallets are very expensive so think if it's really necessary for you to spend the money on the device if the amount of money on hand is not that big.
Be aware of the replicas when buying a device. You may end up losing your funds if there are viruses. It's always better to buy from an official manufacturer site.
How To Choose A Hardware Wallet
Hardware wallets are different and it's important to know what your priority is when buying a device. There are the basic and most important differences:
Supported coins
Some hardware wallets allow you to store the currency but don't let you buy, sell, exchange, or stake it. Make sure the device supports the currencies you need.
Usability features
First of all, look at the connection type of the chosen wallet. Many of them are easily connected to the phone or computer by USB or USB-C. Some of them allow alternative options for connection like Bluetooth or even QR code scanning.
Next, the display. Most users prefer bigger screens as they display more data simultaneously and are easier to tap.
What about the material, almost all hardware wallets are made of plastic, but some of them are covered with metal and look like a regular flash drive.
Most devices don't have a battery as they draw energy from a device they are connected to. Nevertheless, many wallets with a bigger screen need a battery as a display consumes more power and doesn't have USB ports.
Supported software
Software is an intermediary between a wallet and the user. Often devices have app interfaces for the coins supported, although sometimes third-party apps need to be installed. Without these apps, you won't be able to send, store, and exchange coins.
Price
We recommend you buy hardware wallets from official websites only — the fewer intermediaries between you and the wallet manufacturer, the lower the risk of someone unpacking it along the way and obtaining your private keys.
Analyzing Any Software Wallet
Hardware wallet vs software wallet – which crypto wallet is better?
Pros And Cons Of Software Wallets
Pros of Software Wallets:
Software wallets are usually user-friendly and the interface is intuitive. There are a lot of options to choose from – desktop, mobile, and online software wallets existing so users are free to pick the most suitable form.
Software wallets are free, you don't have to pay for the installment. Instead, you pay for using it in the form of a fee when creating a transaction.
Cons of Software wallets:
Even the software wallets use strong encryption or PIN for making sure your crypto funds stay secure but to use the software wallet you should stay connected to the internet, which leads to remaining susceptible to any malware or virus which may be lurking in the background.
How Does A Software Wallet Work?
Software wallets are computer programs you download on your computer. With the help of it, you can send, accept and exchange crypto online. Some wallets store only several types of coins, while the other type allows you to store any cryptocurrencies.
The wallet is encrypted, to access your assets, you need to enter a password. Even if you forgot your password, there is still a chance to regain access by utilizing the recovery phrase.
Hardware wallet vs software wallet Q&A
The best for beginners – hardware wallet vs software wallet
Software wallet
The best for advanced users – hardware vs software wallet
Hardware wallet
The safest one – cryptocurrency hardware wallet vs software wallet
Hardware wallet
The most convenient one – hardware vs software crypto wallet
Software wallet
The most user-friendly – hardware wallet vs software crypto wallet
Software wallet
The most expensive – hard wallet vs soft crypto wallet
Hardware wallet
Conclusion: What Are The Best Crypto Wallets?
Hardware vs software crypto wallet? Cryptocurrency platforms offer different types of wallets to their users. The choice should depend on the assets you hold and the coins you want to store.
Hardware wallets better suit people with larger amounts of crypto. These wallets are more secure but pricey. What about software wallets, it's a go-to choice for users with less experience in crypto. Software wallets are free and convenient, but vulnerable to viruses and hacker attacks.
Hopefully, this article answers your question related to hardware vs software wallets.