The Future of Finance: Cryptocurrency Virtual Cards Unveiled
The Crypto virtual card is a virtual debit card that uses cryptocurrencies and fiat currencies to make online purchases. With the Crypto virtual card, users can easily convert their cryptocurrencies into fiat currencies and use them for everyday expenses or online shopping. It provides an additional layer of privacy and protection, as transactions made with cryptocurrencies are decentralized, and they are converted only at the payment. I will share with you today an article that will explain the benefits of the crypto virtual card and how to get one, and most importantly, we will examine which is the best cryptocurrency virtual card available on the market.
Unlocking New Possibilities: Cryptocurrency Virtual Cards
The virtual credit card crypto offers numerous possibilities similar to physical or traditional bank cards. It allows you to make payments similar to an ordinary card, but the difference is that you use cryptocurrency. Let's explore together the advantages that a crypto virtual credit card can offer us.
• Convenience: The virtual card crypto can be used to make payments online and in-store anywhere that accepts Visa or Mastercard.
• Security: The virtual card crypto is more secure than traditional credit and debit cards because they are not linked to a bank account.
• Rewards: The cryptocurrency virtual debit card offers a reward program that allows you to earn cryptocurrency for every purchase you make.
• Access to new services: When you use a virtual card to buy with cryptocurrency, you open a door that gives you access to new services and products, for example, withdraw cryptocurrency from ATMs or use cryptocurrency to purchase gift cards.
Why Cryptocurrency Virtual Cards are Gaining Momentum
Let's take a minute to look at the statistics about the global cryptocurrency debit card market. We will see that it is expected to grow from $101.66 million in 2021 to $2,044.42 million by 2028, representing a CAGR of 51.2%.
It enables users to spend their cryptocurrency using credit cards, offering convenience, instant access, and rewards.
Securing Your Digital Wallet: Cryptocurrency Virtual Cards
To secure cryptocurrency virtual cards, choose a reputable provider, use strong passwords and 2FA, use only trusted websites and merchants, monitor transactions regularly, keep software up to date, use a dedicated device for crypto transactions, store assets in a cold wallet, and avoid sharing personal information online. Use cards for affordable purchases, avoid risky projects, be aware of fees, and keep a copy of the terms and conditions.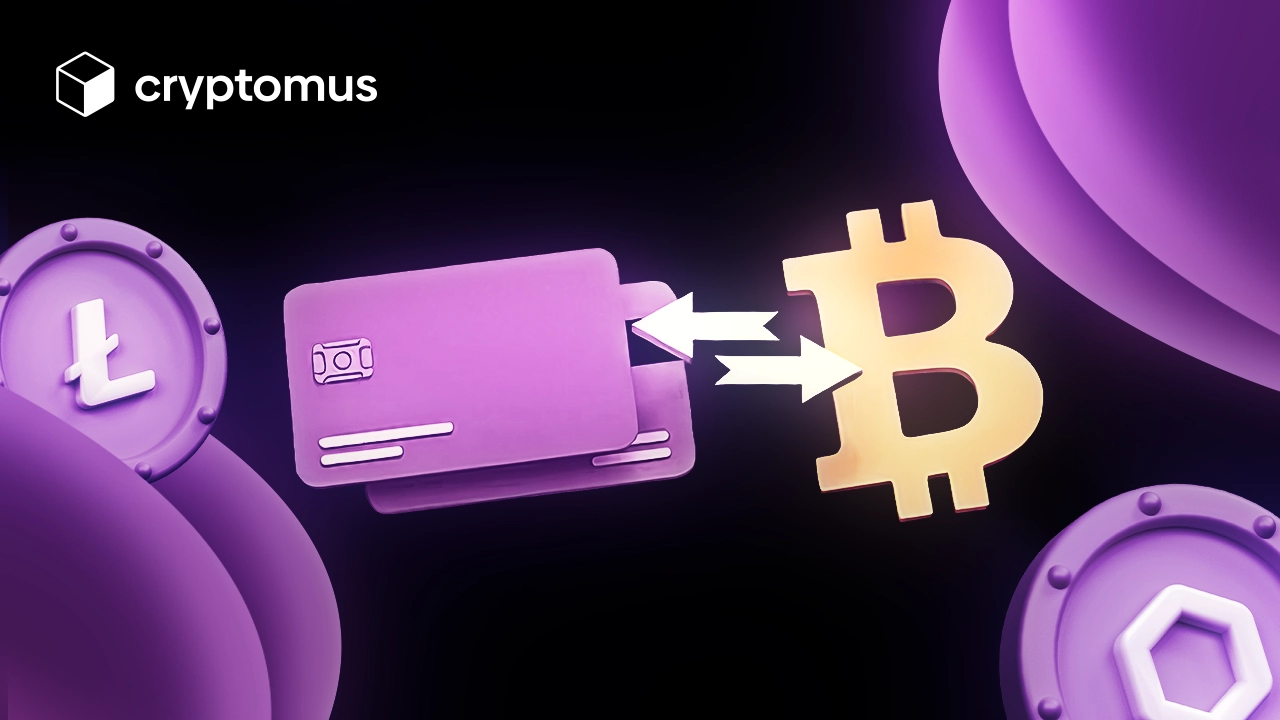 How Cryptocurrency Virtual Cards Simplify Transactions
Cryptocurrency virtual cards allow users to use their crypto for purchasing goods and services globally at merchants who accept Visa or Mastercard.
Thanks to these cards, the process of conversion of cryptocurrencies to fiat currencies is much simpler and faster while also ensuring privacy protection. Most virtual cards don't charge any transaction or withdrawal fees, and merchants cannot view the user's crypto wallet address.
Security and Convenience: Key Features of Cryptocurrency Virtual Cards
These cards offer all the security of the crypto, like decentralization, strong encryption, fraud protection, global acceptance, instant transactions, low fees, and the ability to spend crypto at any merchant that accepts credit or debit cards.
Transforming Virtual Cards into Digital Assets
Virtual cards offer security and convenience for online and offline purchases, exactly like a traditional bank card, while digital assets, like cryptocurrencies and loyalty points, are becoming popular. To convert virtual cards into digital assets, use cryptocurrency exchanges or peer-to-peer marketplaces like Paxful and LocalBitcoins.
Exploring the Potential of Virtual Cards
The potential of the virtual crypto card is really impressive: security and control over your assets. They can be created and used instantly, stored, and accessed from anywhere. You can use them for paying subscriptions, peer-to-peer payments, international payments, goods and services, and also in a magazine or online.
The Impact of Cryptocurrency Virtual Cards on Finance
Virtual card cryptocurrency is a payment method that enables users to spend their crypto with the conversion to fiat currencies. This makes it a convenient tool for many people, despite some individuals not being fans of it; thanks to the advantages it brings to the table, the popularity of the virtual crypto card has a positive impact on the use of crypto and example of it:
• Increased financial inclusion: The virtual crypto card enables individuals without traditional banking services, such as those in developing countries, to participate in the global economy.
• Reduced transaction costs: The virtual crypto debit card can significantly lower transaction costs for businesses and consumers due to their lower cost compared to traditional credit card transactions.
• Increased competition in the financial sector: The crypto virtual debit card rise is expected to boost financial sector competition, as traditional banks and institutions must compete with cryptocurrency companies to offer their own products and services.
Thank you for reading this article. You can share your thoughts on using the virtual debit card crypto for digital payments by leaving a comment below.