How to Accept Cryptocurrency Payments with Clientexec
The world of crypto is constantly evolving, and Cryptomus too. We are excited to announce our last integration, the Cryptomus Clientexec plugin, a plugin that will allow you to add a crypto payment method to your Clientexec platform.
Our Clientexec plugin will make the process of receiving crypto payments much more accessible, and it will also give you the opportunity to expand your business and reach clients on a global scale.
In this step by step guide, you will learn how to install and use the Cryptomus Clientexec plugin. We will also explain what Clientexec is, how it can help you make more money, and how to open the gates for all the benefits of cryptocurrencies.
What is Clientexec?
Clientexec is a platform that will help you create your own billing and customer management software for your business and many other features that will make the development of your business more accessible, such as:
• Client management: It allows you to create and manage client accounts, track their usage, and provide them with support.
• Billing and invoicing: Generate invoices and accept payments from your clients. It also supports recurring payments, discounts, and coupons.
• Product management: Clientexec also allows you to create and manage different products and services that you offer to your clients.
• Ticketing system: Build a built in ticketing system that you can use to track and manage customer support tickets.
• Reporting: It also provides a variety of reports that can help you track your business performance.
Why Accept Crypto Payments with Clientexec
Accepting crypto payments using our Clientexec plugin will allow you to have access to all the benefits that cryptocurrencies and the blockchain offer. After much research on the Internet, there is for you a list of the most important advantages:
• New customer base: Crypto payments can open up a new customer base for businesses; an example of this is the people who are unbanked or underbanked, as well as people who live in countries with unstable currencies.
• Fast and low-cost transactions: The transfer process is much faster than traditional fiat payments with lower fees thanks to the decentralization that eliminates intermediaries and doesn't require authorization from banks or financial infrastructures.
• Geographic reach: Transactions in crypto can be made from anywhere in the world without the need to worry about currency exchange rates or international transaction fees.
• Brand image: Accepting crypto payments can show customers that your business is innovative and forward thinking.
Integrating cryptocurrency payments into your business through our Clientexec plugin can provide significant benefits. By tapping into the growing crypto economy, you can reach new global customers, enable faster and cheaper transactions, and portray your company as innovative and technologically advanced.
Start Accepting Crypto Payments with Clientexec: Step by Step Guide
There is for you a complete guide that will allow you to integrate Cryptomus Clientexec plugin on your platform easily:
The first step is to download the folder "Cryptomus", which is downloaded via the path plugins/gateways.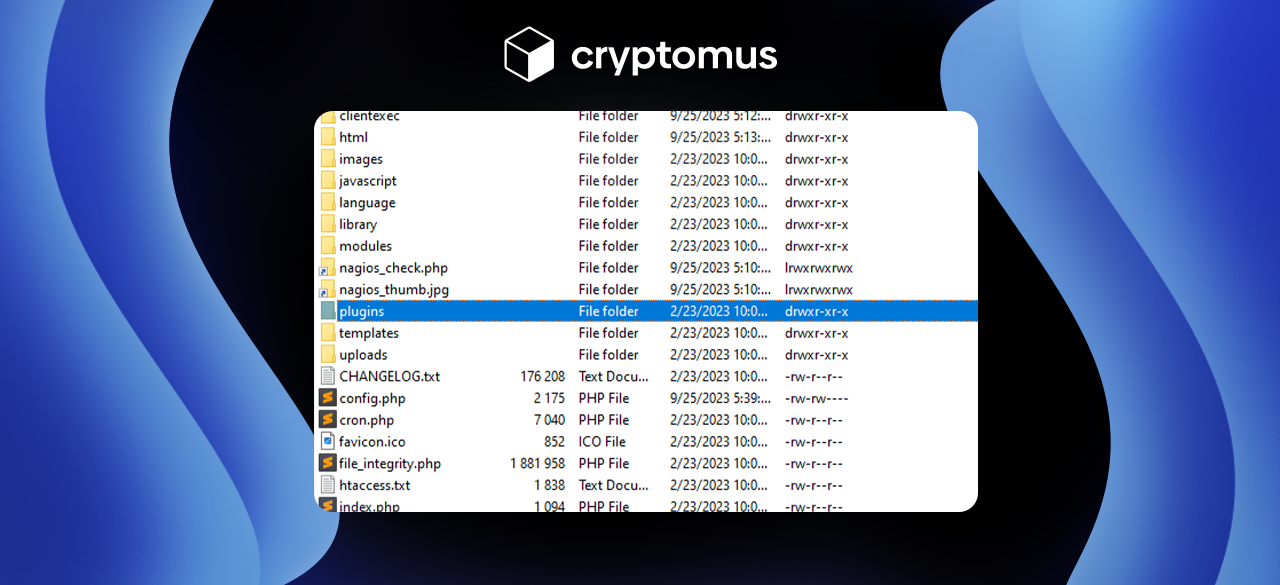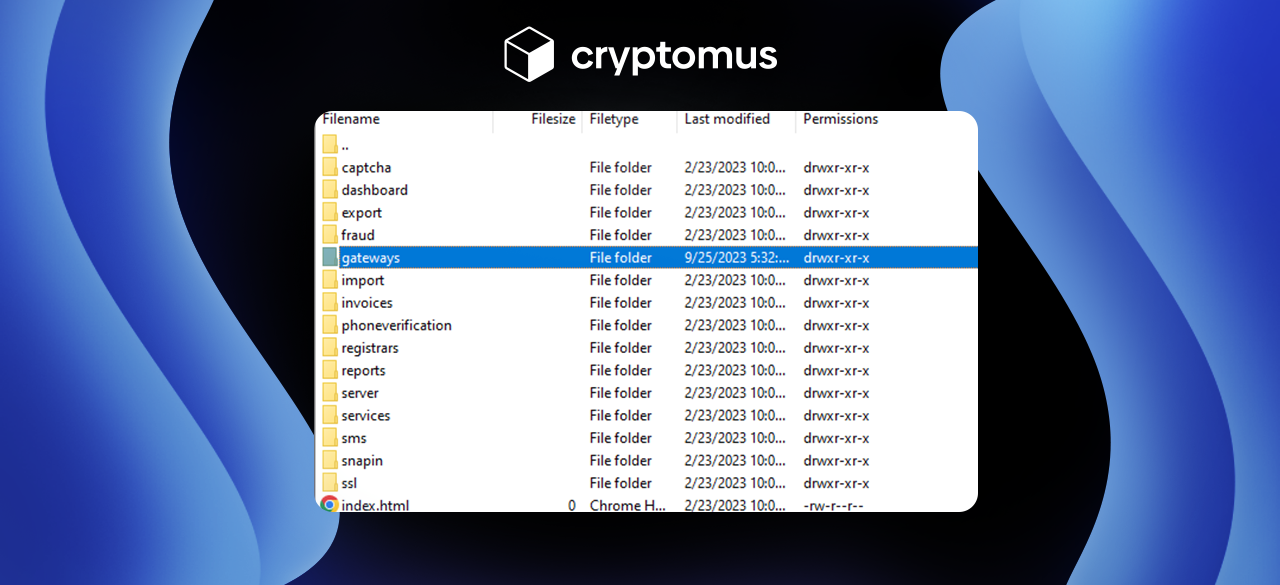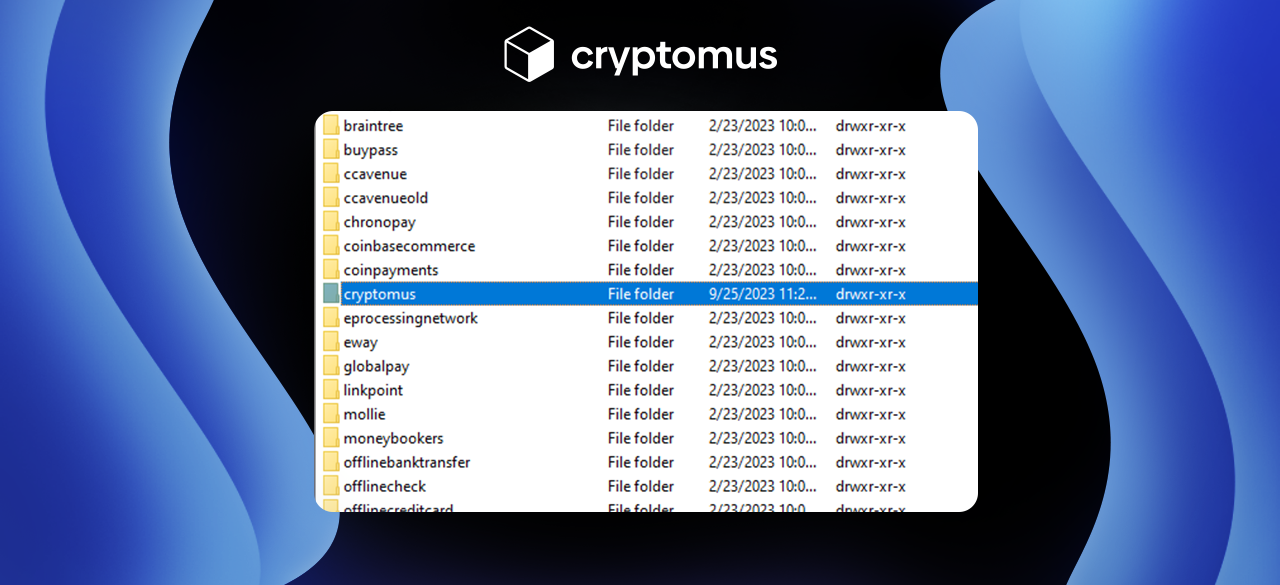 The second step will be to go to your web interface on Clientexec and click on the tab named "Settings" in the top menu. After clicking on "Settings", look at the "Plugins" category and click on "Payment Processors".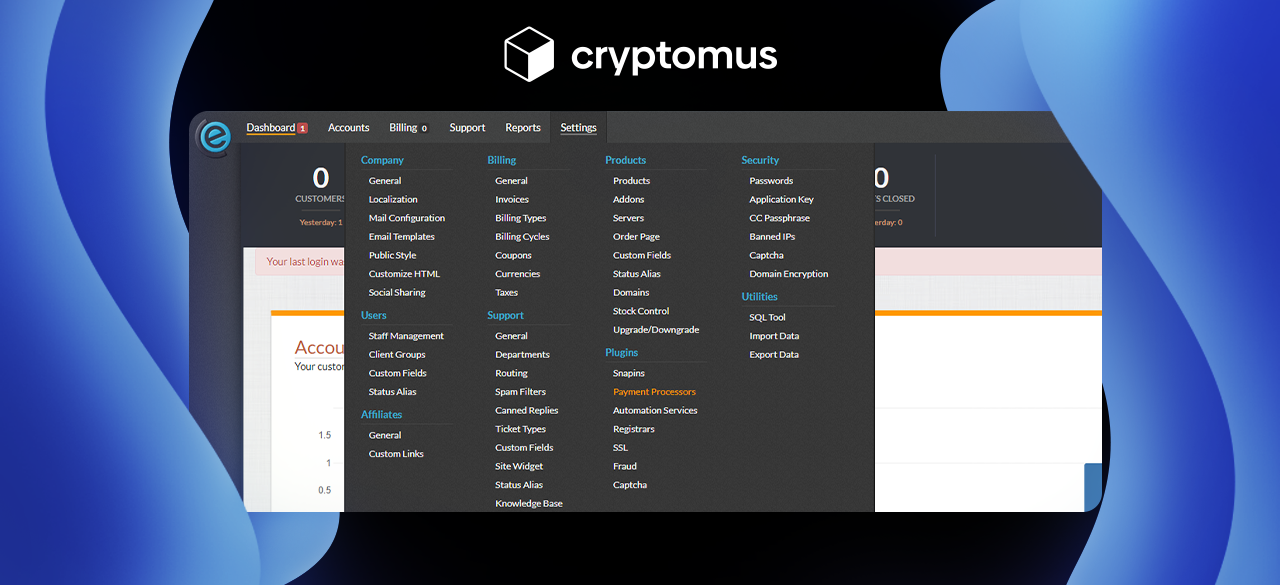 Once you are on the payment method settings page, click on "Payment Processors" in the "Plugins" categories to go to the payment method settings page.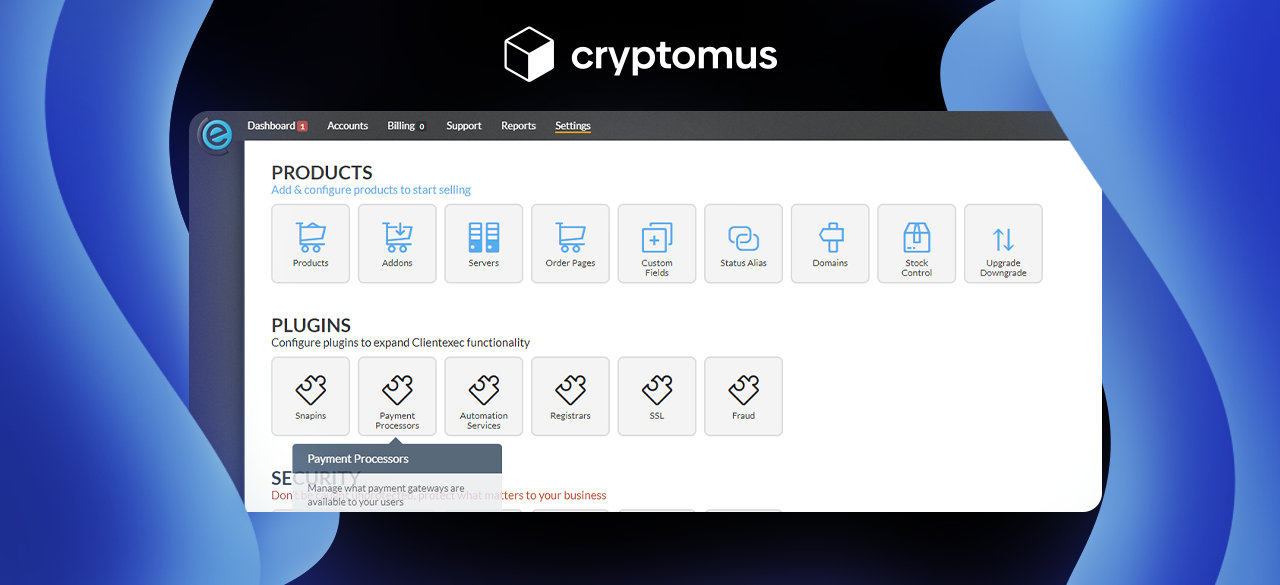 Now that you are on the "Payment Processors" page, in the drop down menu, write "Cryptomus" and you will find "Cryptomus." Click on it and go to the plugin settings page.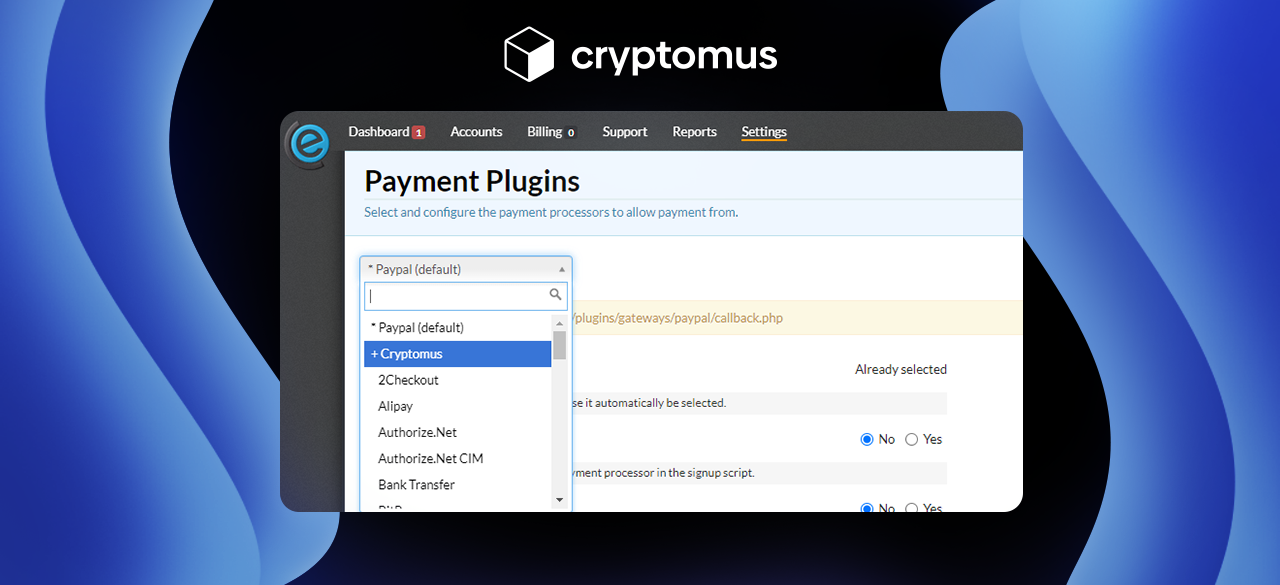 Select the desired settings and fill in the fields "Merchant ID" и "KEY Payment", received after registration on cryptomus.com and creating your Cryptomus merchant account, a process that takes 2 minutes.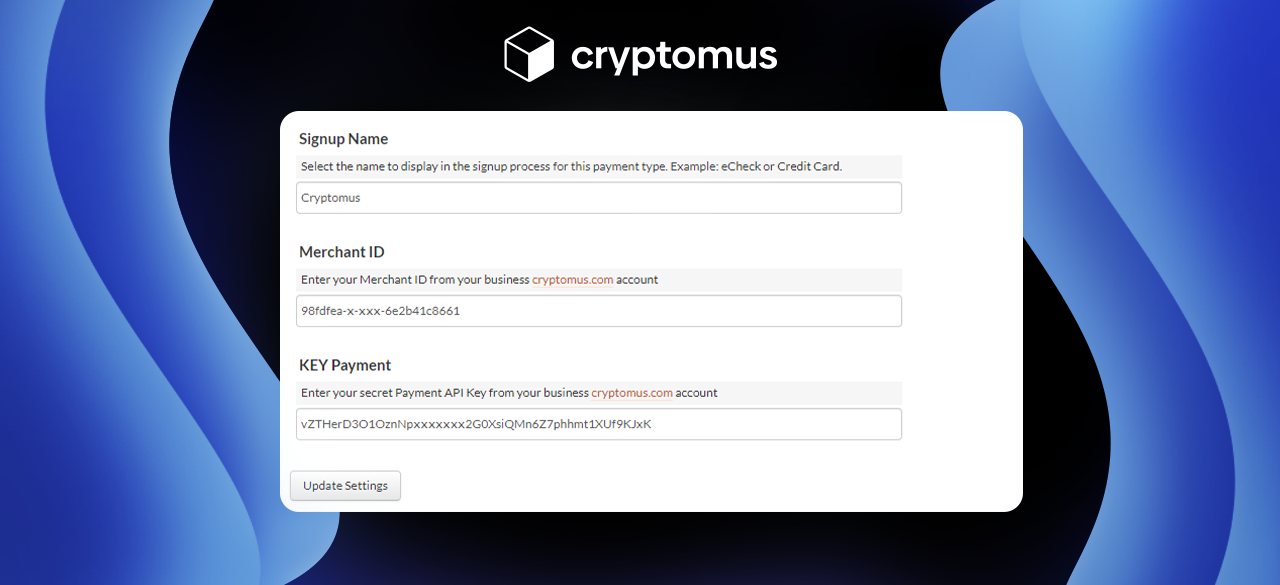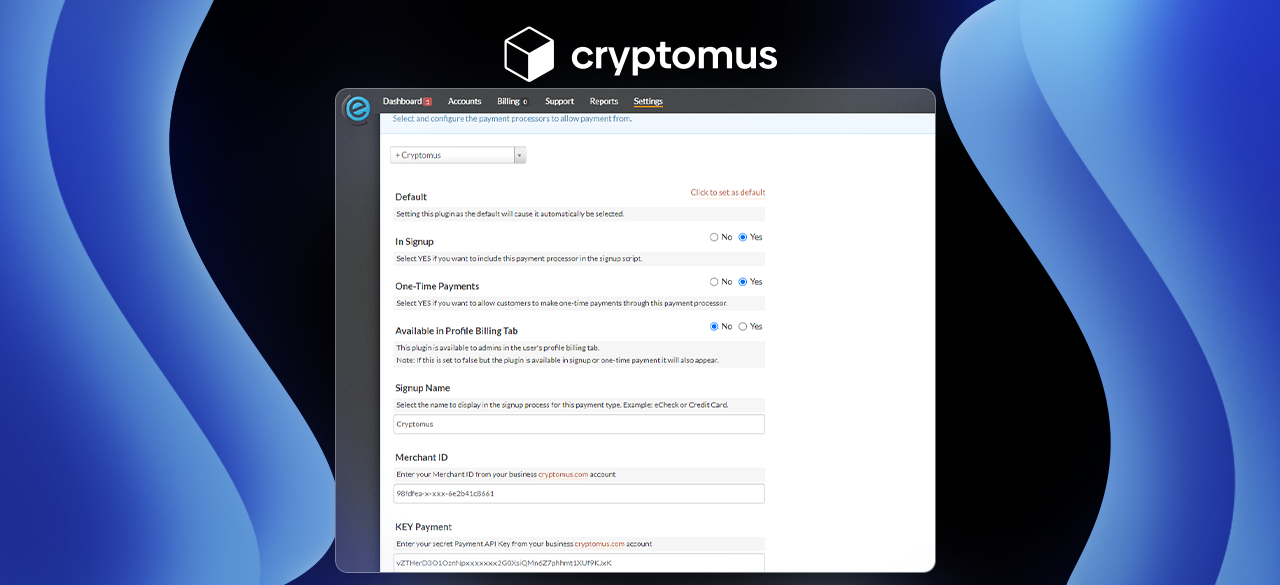 After putting this information, save the changes and make a test. If everything is working well, then let me tell you congratulations. You just opened the door that will take you to the crypto world, a world that will take you and your company to the future.
Conclusion
Integrating our Cryptomus Clientexec plugin to receive Crypto payments will offer you and your business huge advantages, such as global access, which will allow you to have the whole world as clients with no geographical limits.
In addition to that, the fact that it is decentralized and does not depend on any financial institutions reduces the number of people that will be involved in the transaction, making it less expensive and reducing fees for you and also for your clients.
Crypto payments are also instantaneous not, unlike bank transfers where they can stay pending for 3-5 days, and sometimes weeks.
In conclusion, integrating cryptocurrencies will bring you benefits. This is the end of this guide. I hope you found it helpful, and don't hesitate to leave us a comment below and tell us what you think about this Clientexec plugin.