Accept Payments For Shopify Dropshipping
Making money using dropshipping can be really interesting; there is no need to have an inventory. The only conditions are:
• The creation of an online shop.
• Finding a winning product.
• Advertising on social media.
• Getting orders.
• Making money.
With the arrival of Shopify and the Shopify payment methods, this became even easier, giving anyone the possibility to create a professional e-commerce shop without any knowledge of coding.
If you are already in the field of Dropshipping, or you have e-commerce in Shopify, let me ask you a question: Have you ever thought about combining dropshipping and cryptocurrencies?
Combining the benefits of dropshipping with decentralized and global access to cryptocurrencies is a powerful concept and the creation of a brain new drop shipping payment system. Accepting crypto payments on your website grants low fees and global clientele.
Exploring Payment Options for Shopify Dropshipping
There are many popular drop shipping payment systems. In this part, we will see the Shopify supported payment methods, and we will talk about our plugin Cryptomus that will allow you to add a crypto payment method to your Shopify website:
First, let's start with the popular Shopify dropshipping payment methods and the best payment methods Shopify:
Shopify payments payment methods
• Credit and debit cards: in the first place, we have traditional payment methods like Visa, MasterCard, and so on. They represent the best payment method for Shopify thanks to their simplicity.
• PayPal: in the second position of payment methods for Shopify, we have PayPal, thanks to its security, efficiency, and popularity.
• Amazon Pay: Amazon Pay is also one of the Shopify accepted payment methods that allows customers to pay for goods and services on other websites using their Amazon account information.
• Shopify Payments: Shopify adding payment methods is the most exciting feature that this website proposes because it allows you to create a plugin or install one that already exists, giving you more choices for payment methods for Shopify.
• Cryptomus crypto payments: thanks to the Shopify multiple payment methods system and the Shopify withdrawal methods, we created for you a Shopify plugin that integrates all websites made with that platform, allowing you a secure, efficient Crypto payment system that offers you the possibility to receive payments on crypto, with crypto of your choice all over the world with fees that are almost not existing compared to the traditional system.
Before explaining how you can use it to get access to the fantastic world of opportunities of crypto, let's first see the main benefits of this innovation and understand why it is the best payment method Shopify:
• Lower fees: Cryptocurrency transactions have lower fees than traditional payments. Why? No middleman, the concept of cryptocurrencies is built toward the technology of blockchain that depends on no one individual involved in the transaction, which means lower fees.
• Faster transactions: Compared to the traditional banking system, a transfer from one bank to another can take time, hours, days, or weeks, but with crypto, it is instantaneous; there is no need to wait no matter where you are on earth.
• Increased sales: More payment options: set up payment methods Shopify Expanding the payment options you offer to your clients by adding more choices and integrating a cryptocurrency payment system can bring many benefits to your business. It will allow you to attract new clients from all over the world with no border restrictions, giving them more satisfaction and, at the same time, making your company look more innovative and up-to-date.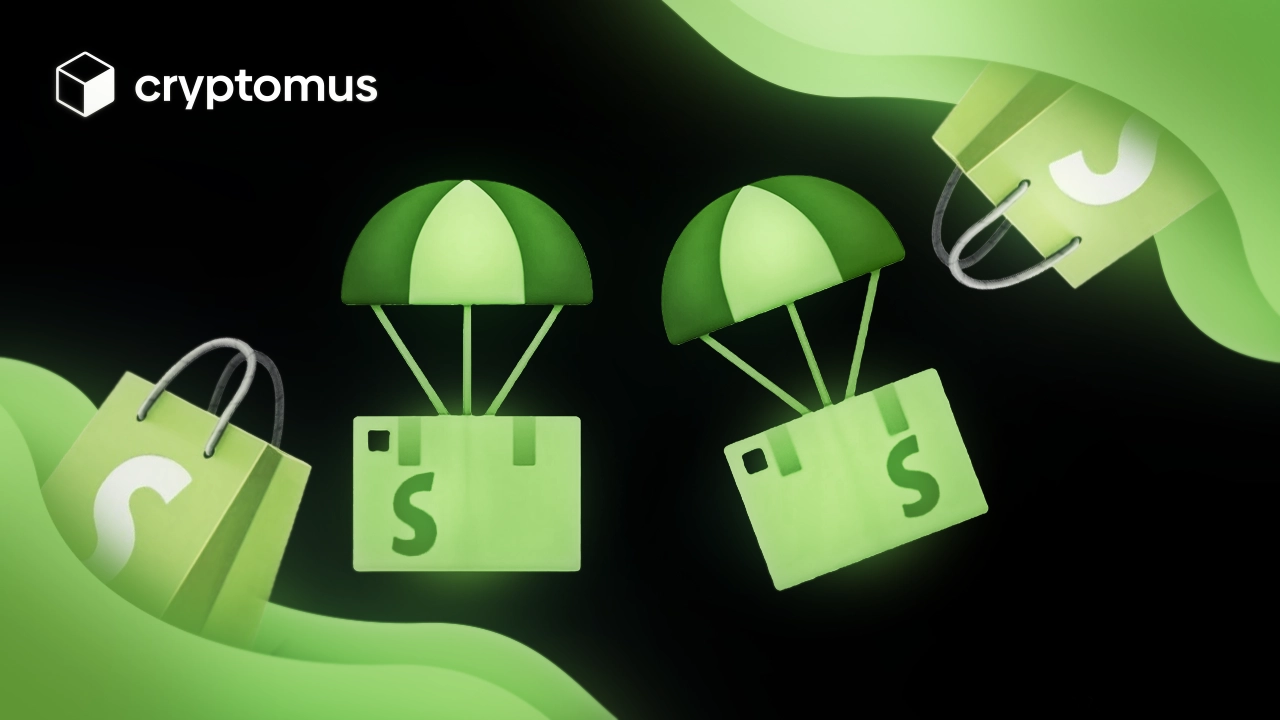 Setting Up Payment Gateways in Shopify
Now that you have seen why combining the benefits of crypto payments with the benefits of dropshipping can provide Shopify best payment method, let's see together how to add this payment to your website.
How to add the Shopify payment method
To integrate Cryptomus crypto payment, you will need to follow this guide:
Sign up for a Cryptomus account: Visit the Cryptomus website and click the sign-up button; enter your name, email address, and phone number, and create a password.

Create a merchant account: Connect to your Cryptomus account and click on create merchant button, enter your business name, website address and other required information.

Generate API keys: Go to the Settings page of your merchant account and click on Generate API Keys button. Provide a domain name and description for your API keys.

Install the Cryptomus plugin: Go to Shopify by going to your Shopify admin dashboard and selecting Settings > Payments. In the Additional Payment Methods section, click Add Payment Methods. Select the Search by Provider option and search for Cryptomus. Click on Install button next to the Cryptomus plugin.

Configure the Cryptomus plugin: Enter your Merchant ID and API Key. Go to the Settings page of the plugin and fill in the required information.

Enable the Cryptomus payment method: Click on the Enable button on the Settings page of the plugin.
Shopify Payment Methods for Customers
Shopify provides a variety of payment methods, including credit cards, PayPal, Shop Pay, Amazon Pay, Apple Pay, Google Pay, and Meta Pay, enhancing customer convenience and ease of purchase.
Managing International Payments in Dropshipping
Traditional banking can take days to send money to another country due to formalities, causing problems for drop shippers. Cryptocurrencies offer instant payment regardless of destination or amount.
Best Payment Method for Shopify
Selecting the right payment gateway for a Shopify store is crucial for sales and customer satisfaction. Consider customer preferences, cost, fraud protection, integration, global sales, and features.
Payment Security Measures
Cryptocurrency and Cryptomus provide a multi-layered protection system that safeguards your assets from various threats like fraud and hacking. Combining this with the high-security nature of the blockchain makes it a more secure system than traditional banking.
Understanding Payment Processing Fees and Cost Management
When working with fees in a traditional system, there is usually a middleman involved, such as a bank, who takes a fee from both you and your customers. However, with cryptocurrency transactions, there is no intermediary involved. You deal directly with your client, and even if you use a gateway like Cryptomus, the fees are significantly lower compared to those charged by a bank.