How to Accept Cryptocurrency Payments with Easy Digital Downloads
After many efforts to create the best service for receiving crypto payments, I have the honor to present to you our latest feature: Cryptomus Easy Digital Downloads crypto integration.
Easy Digital Downloads is a plugin for WordPress that will make the creation of your digital product store as simple and enjoyable as a walk in the park.
This article will give you the secret that will boost your sales worldwide. It will open for you the doors for cryptocurrency global access by combining the simplicity of Easy Digital Downloads with the Cryptomus crypto payment integration.
What Is the Easy Digital Downloads Plugin?
Easy Digital Downloads is a WordPress plugin that allows you to easily create a web platform where you will have the possibility to sell virtual products such as ebooks, online courses, and software, or other digital products.
Main Features
Easy to set up: It is designed to simplify the creation of a digital product store. You can quickly install and configure the plugin on your WordPress website and have a working store.

Digital product management: The plugin allows you to create and manage digital products. You will be able to specify product details, prices, discounts, and promo codes and upload files for customers to download after purchase.

Multiple payment gateways: The plugin supports various payment gateways, PayPal, Stripe, and Amazon Pay, and now, thanks to Cryptomus crypto integration, you can receive payments securely from all over the world thanks to the decentralization of the crypto.

Detailed reporting and sales analysis: It also offers analytics to know how much you sold, what is your best-selling product and so on.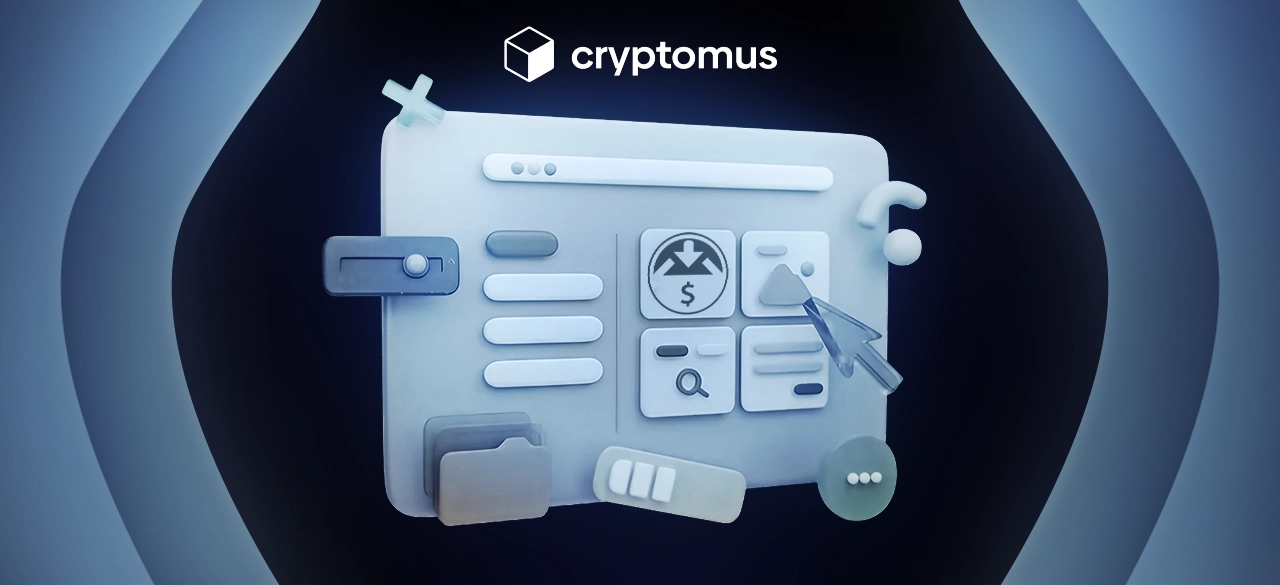 Why Cryptocurrency and Why Cryptomus
Cryptocurrency is known for its decentralization. Decentralization is the fact that it is independent of any financial or governmental institution, and this makes it bulletproof against all political and geographical restrictions, making it the perfect currency for you if you are selling digital products. It is basically the door to global payment access.
If cryptocurrency is a door that leads to global payment access, Cryptomus is the key that opens it. And our latest feature will allow you to integrate a payment system that accepts cryptocurrencies into your Easy Digital Downloads store.
Not only will you have access to many features, such as a crypto converter and an analytics system to track your income, you will also have the possibility to create widgets and use the "White Label Crypto Payment Gateway", which will allow you to create a payment integration with your brand name and image.
How to Accept Cryptocurrency Payments with Easy Digital Downloads?
Here is for you the complete step-by-step guide to fully integrate this feature into your Easy Digital Downloads store:
Step one: Create a Cryptomus account, go to Cryptomus, sign up using a phone number or an email, pass the identity verification, and create a merchant account.

Step two: Go to Cryptomus plugins and download the Easy Digital Downloads files.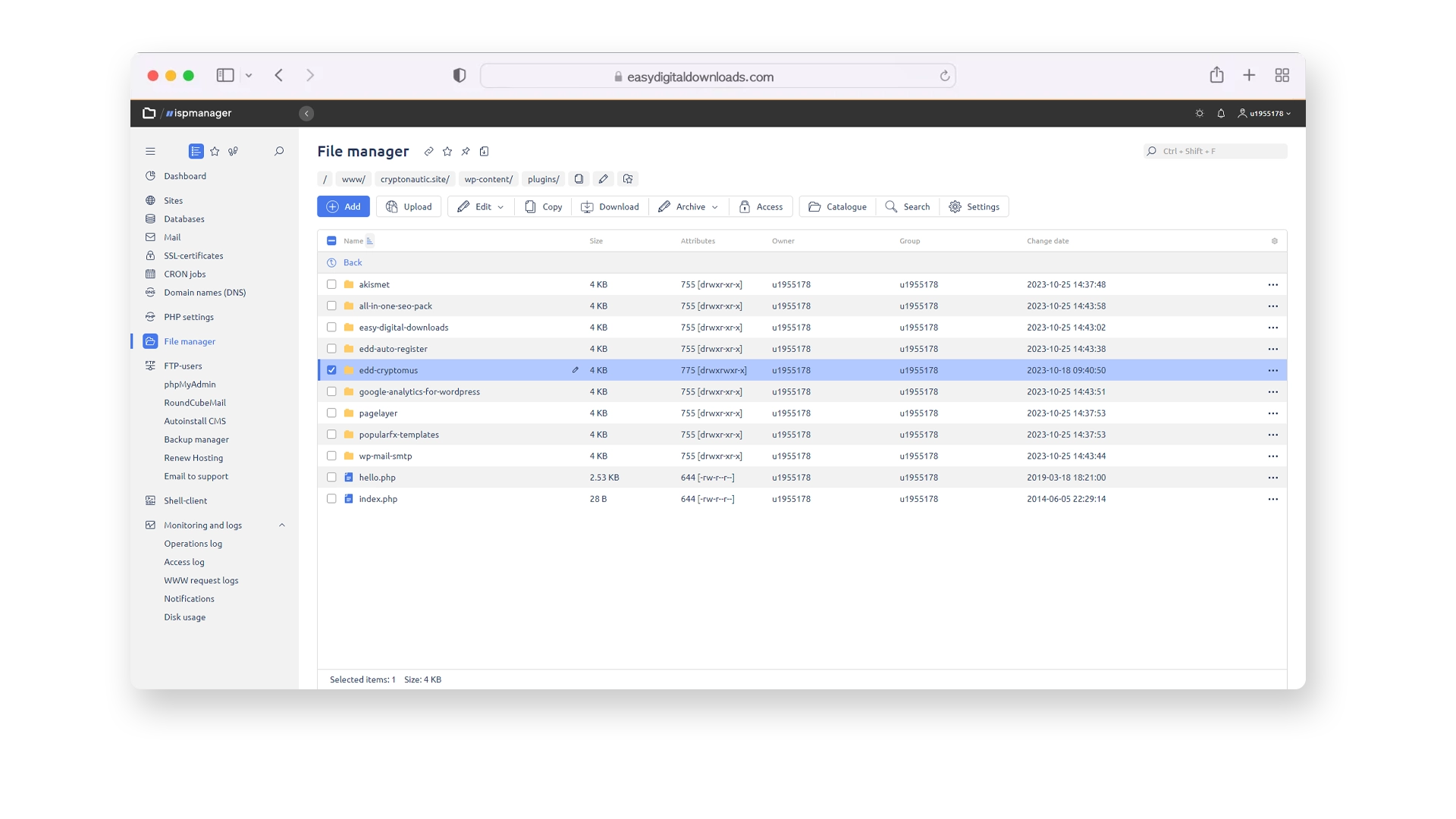 Step three: Once your account is ready and the plugin files too, log in to your admin panel in WordPress and go to Plugins then click on Add New and click again on Upload Plugin and select the file you downloaded from Cryptomus.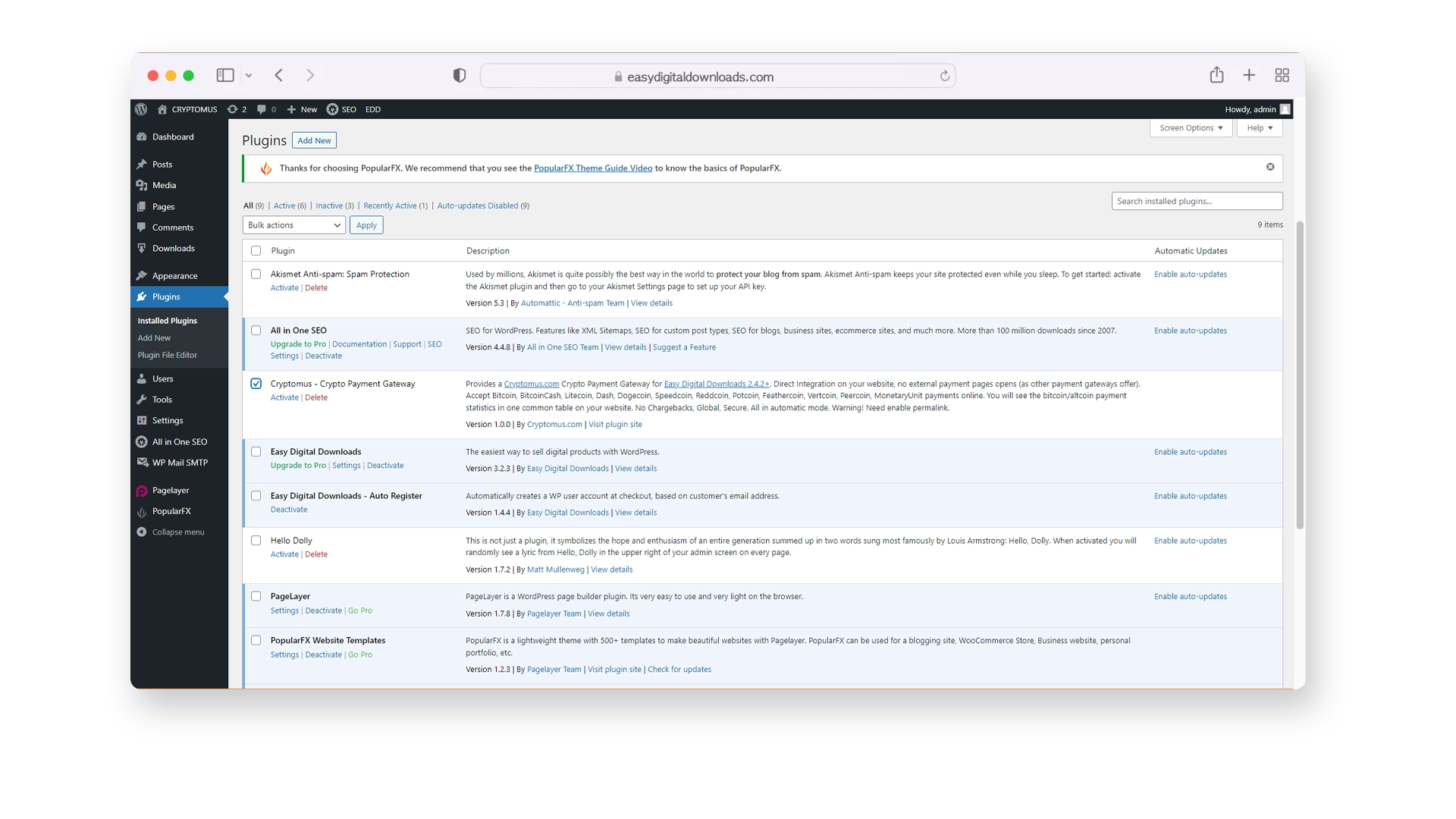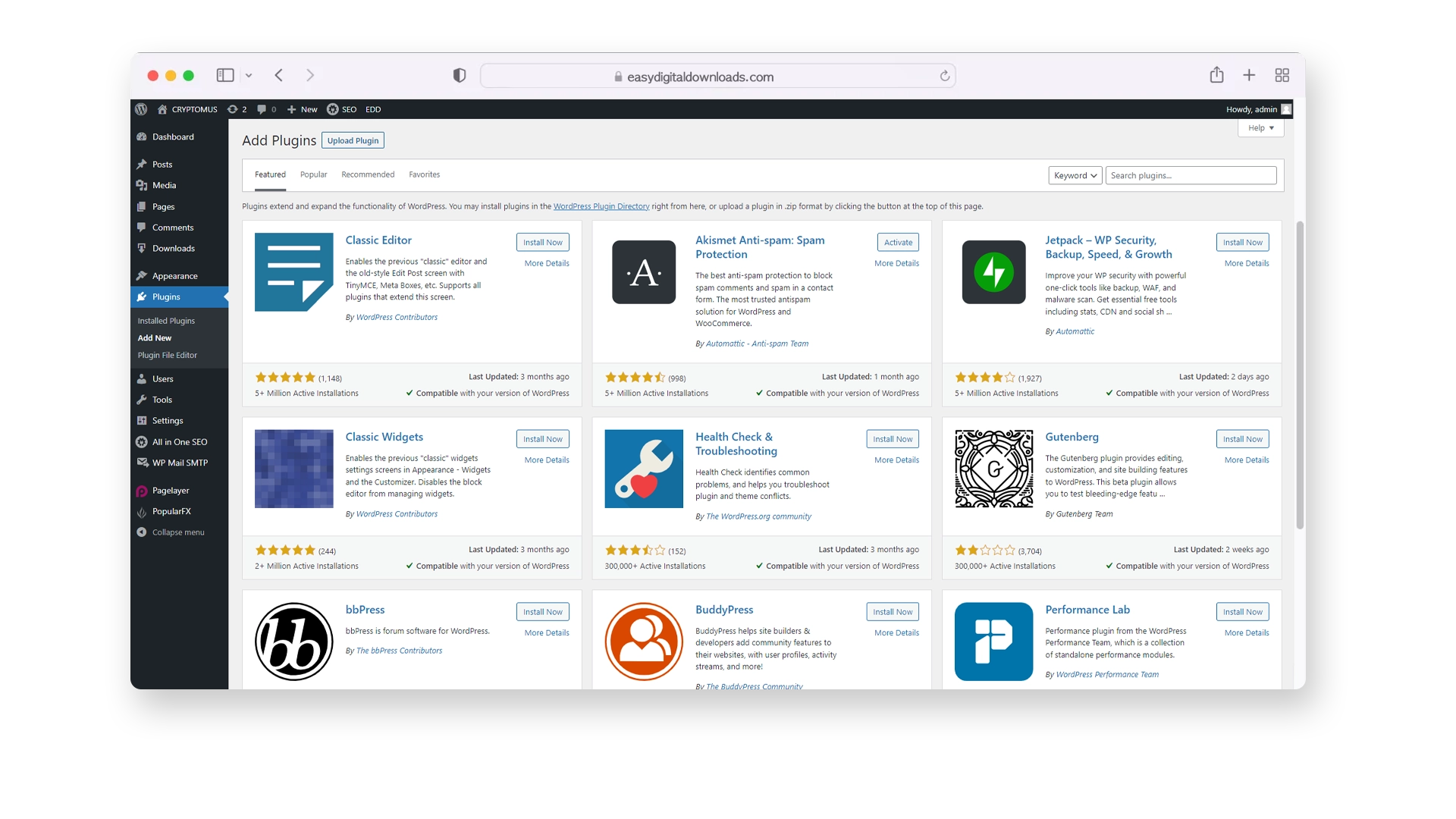 Step four: Now that the plugin is installed, you need to activate it. For this, you need to select the Cryptomus plugin and click on Activate.

Step Five: Once the plugin is activated go to Downloads, then click on Settings and click again on Payments. You will find a page where you need to fill in all the payment information, the Merchant UUID and Merchant Payment Key. For this, you need to go back to your Cryptomus account on your merchant account page, and you will find them there. Copy and paste each one in its place.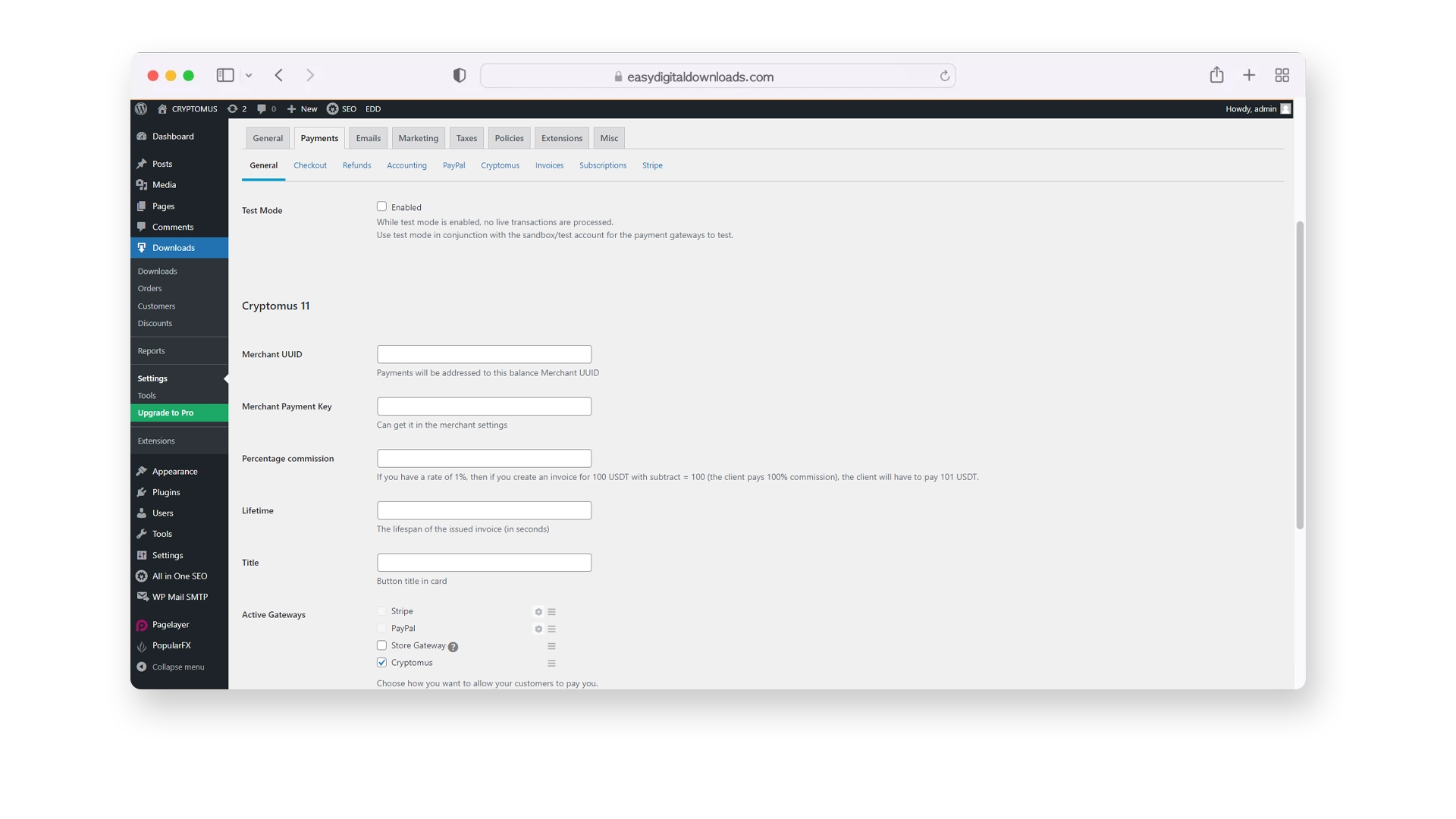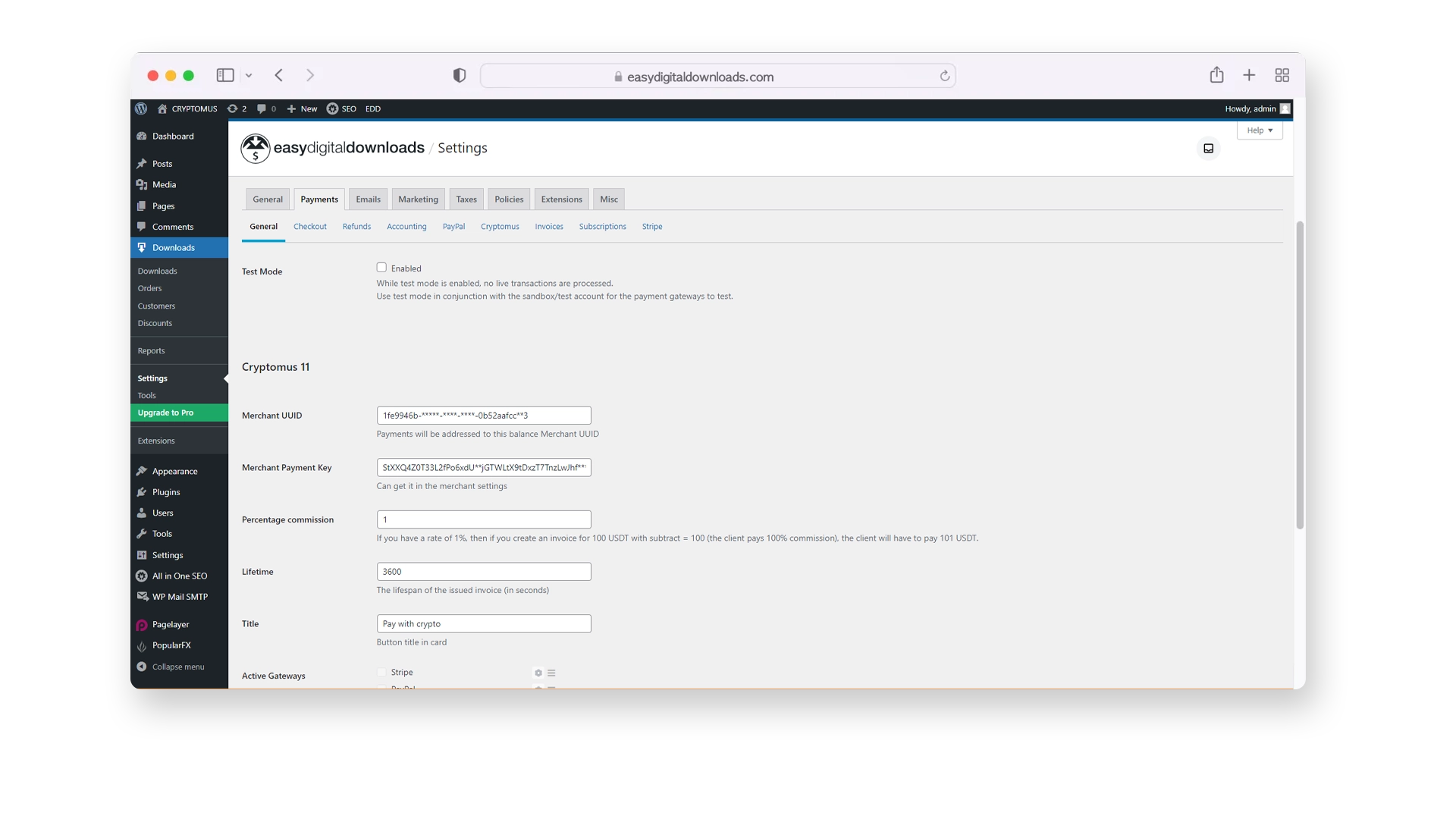 Step six: After entering the Merchant UUID and Merchant Payment Key, scroll down, and you will see a checkbox with the title Activate Gateway. Select Cryptomus, then below it you have Default Gateway, also select Cryptomus. For the last part select the Cryptomus icon for Payment Method Icons and save the changes.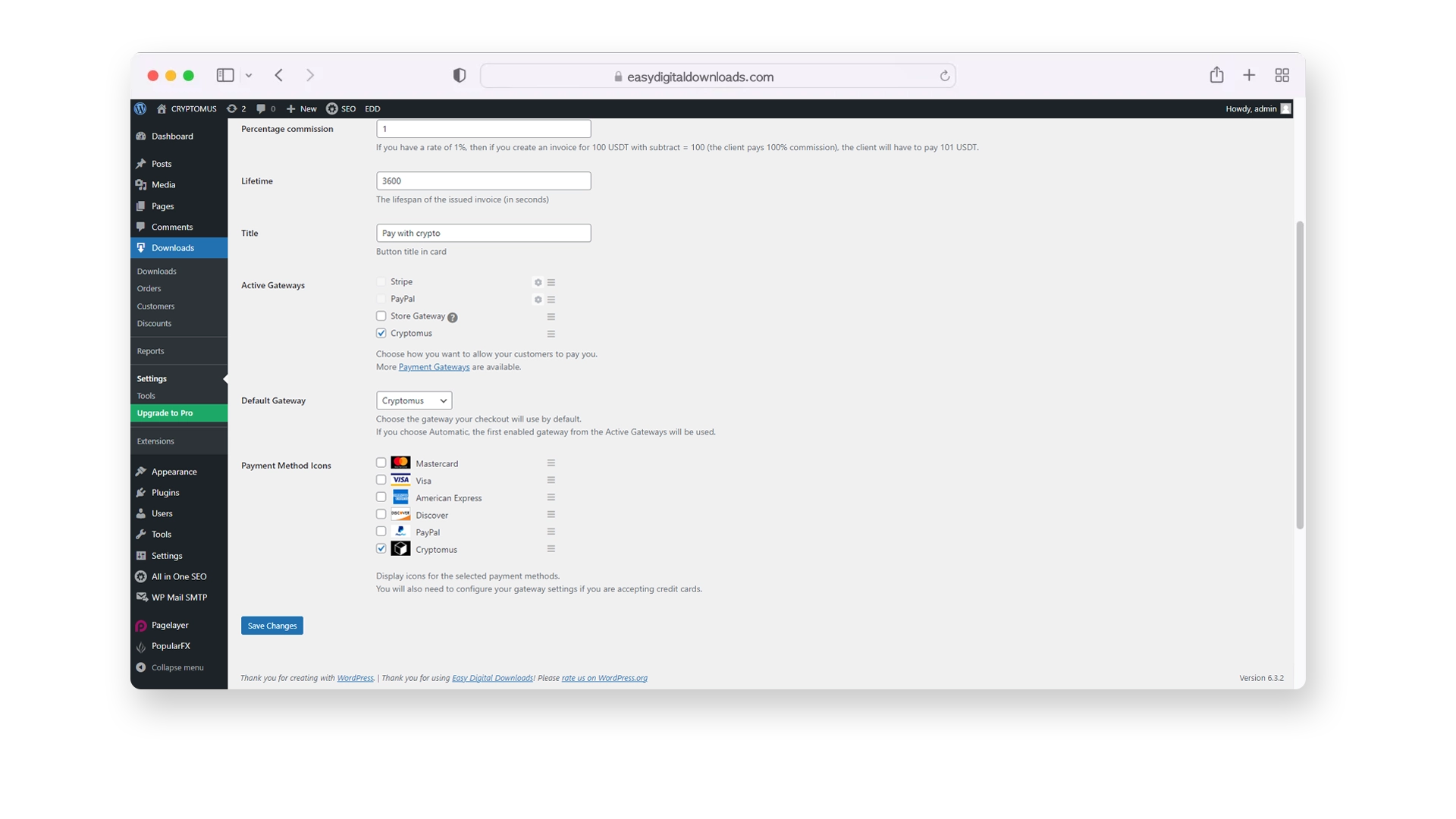 Congratulations, now you have opened the door that will take you to the world of global payment access to cryptocurrency.
Here we are at the end of this article that helps you understand what Easy Digital Downloads is and how, combined with Cryptomus, it can be a game changer in your business. If you like this article, don't hesitate to leave us five stars and comment below to tell us what you think.