How to Accept Cryptocurrency Payments via WhatsApp Bot?
The evolution of the crypto payment is fast day after day after our article about accepting payment in cryptocurrencies using a telegram bot, but did you know it is now possible in Whatsapp too, in fact, yes Whatsapp launches cryptocurrency payments giving you access to new ways of monetization.
In today's article, I will explain to you step by step how to accept WhatsApp crypto payments and what are its benefits for your business and your customers.
Step-by-Step Guide Accepts Cryptocurrency Payments via WhatsApp Bot
WhatsApp launches cryptocurrency payments and a WhatsApp crypto wallet , They began to accept for its users the payment or receive cryptocurrencies via WhatsApp creating a new way to send invoices of payment links or crypto payment API with bots to facilitate the process of crypto monetization.
To accept WhatsApp crypto payments you just need to follow a few simple steps I have created a special step-by-step guide for you that will make it easy:
Setting your Cryptomus account
Yes, the first step is to create a Cryptomus account and do all the verifications and security confirmation, after fully activating your Cryptomus account you will need to create a merchant account and generate an API, a QR code, and payment links, after doing all this now you need to integrate it into your WhatsApp but if you have one, if not you will need to create one.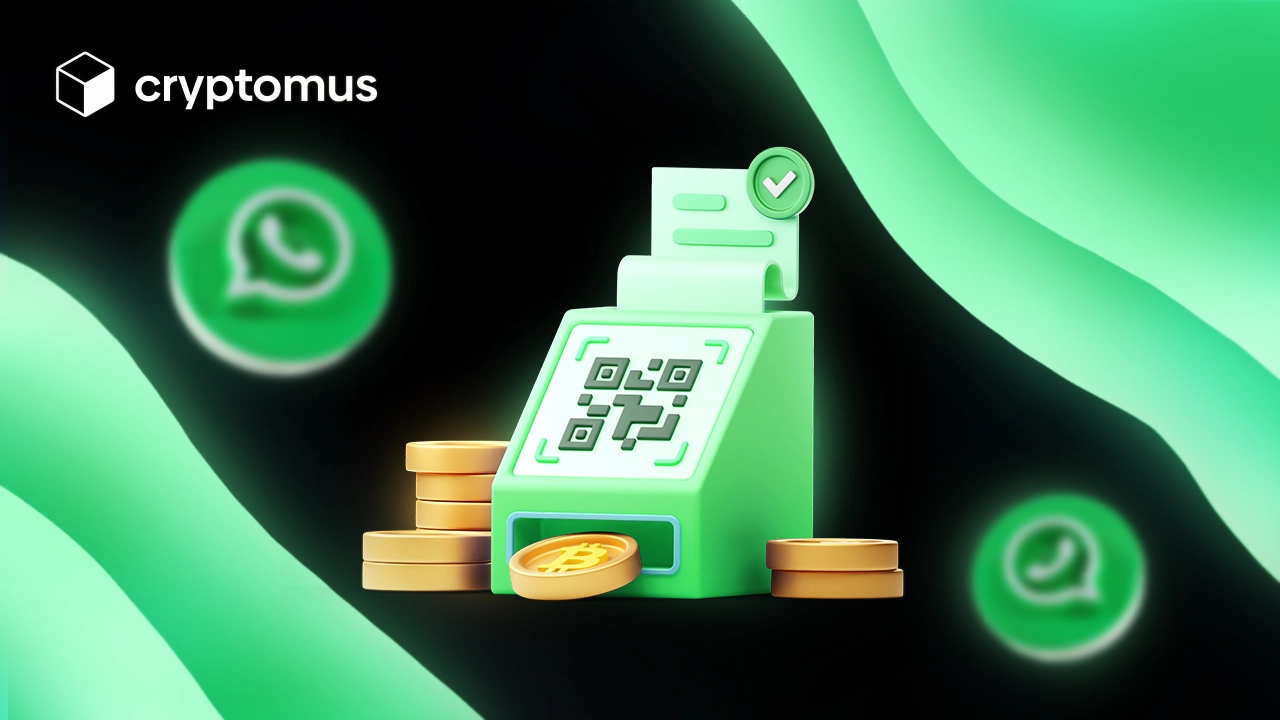 Setting Up Your WhatsApp Bot for Crypto Transactions
How to set up your whatsapp crypto bot? you can simply create one using the programming language or you can buy one, the choice will depend on your skills if you don't have programming knowledge you can search on the internet about bots that you can use to send your invoices but you need to be careful about the way you choose.cc
When you choose your WhatsApp crypto bot you need to look for the best and for that, you need to look for its reputation, and information about its creators, avoid bots created by individuals, and look for companies, that will support you and guarantee that they are more secure than someone you don't know.
Now let us see how to integrate the Cryptomus payment system into your WhatsApp crypto bot and finally activate the WhatsApp crypto payment:
Integration process: If you have a bot that can integrate a payment gateway API then you just need to add the Cryptomus API inside it, if no Cryptomus gives you the ability to create payment invoices in the form of links of QR codes, and you will just need to send it to your customer, he will scan it and pay and you will get your wallet in your Cryptomus business wallet.
I advise you to use this method with your wallet or Cryptomus wallet because according to Meta the WhatsApp crypto wallet is limited for the moment.
Benefits of Cryptocurrency Payments via WhatsApp Bot
The benefits of using WhatsApp for receiving your WhatsApp crypto payment are interesting for you or for your clients
First of all, it is a secure platform for instant money transfers, and it avoids the need for physical cash or checks.
Second WhatsApp offers real-time notifications and transaction history, allowing users to easily track their payment activity, and it also opens up a new customer base for you, as you can easily connect with potential customers through the app.
Thirdly, receiving WhatsApp crypto allows for seamless integration with other business tools and platforms, making it easier to manage and organize your financial transactions.
Safeguarding Cryptocurrency Payments on Payments via WhatsApp
To be able to receive WhatsApp cryptocurrency payment in a safe way, you need to know some facts about how to choose your bot and how to efficiently use the Cryptomus payment system:
Security: You need to choose a bot that offers a maximum level of security such as 2FA or more.

Reviews: When you choose your bot, look at the reviews and what people are saying about it, you may discover some hidden problems.

Support: It is better to choose a company rather than an individual that will sell you a bot, why? To benefit from the support team that will help you with any problem you face and will always be there to assist you.
Simplifying Payments Through WhatsApp Bot
The process of WhatsApp crypto transactions is much easier for you and for your customers, because WhatsApp crypto is a social media that most companies and business owners use, so in reality deploying this technology in your company or your business will not ask you a lot of resources,and the benefits of WhatsApp Crypto are worth it.
Mastering Cryptocurrency Payments on WhatsApp Bot
To completely master WhatsApp cryptocurrency payment you will need to apply the advice you read in this article to ensure a fine working process and safety for you and your customers, the rest will depend on how you advertise your new system about the cryptocurrency that you will choose and many other factors, you can check in our blog we have many articles that will help you understand the process of monetization using the cryptocurrency payment system.