How to Integrate Crypto Payments in Android
The world of crypto started to be everywhere in our lives blogs and YouTube channels talking about trading and others about how to mine crypto on android, and many companies saw the opportunity and created a supply for platforms that would help them integrate the crypto payments in their e-commerce or their social media with the use of bots or in their apps. Our platform Cryptomus is an example of these platforms called crypto gateways.
Integrate android crypto Payments in your android app can be a really interesting opportunity for your business, in fact adding an android crypto payment will open new markets all over the globe and allow you to use all the advantages that cryptocurrencies offer.
In today's article we will talk about how to successfully integrate an android crypto payment system, how to get a crypto wallet app android and how to get the best crypto app for android that is secure and efficient for you and your clients.
A Step-by-Step Guide Integrate Crypto Payments in Android
To be able to receive crypto payments you will need first to get yourself the best crypto app for android and the best android crypto wallet for that you will need to know and follow some simple steps that will help you make the right choice:
Selecting the Right Cryptocurrency for Your Android Integration
to be able to get the best android crypto wallet, and a crypto app android you will need to look at some important factors that will indicate that they are trust worth:
• Reputation: Search for comments, reviews of platforms, review websites, social media, groups, and forums, if there are some hidden problems with that android crypto wallet you will discover them without trying them.
• Security: Always choose an android crypto wallet that offers at least 3 layers of protection like 2FA and email and password confirmation. This will make access to your account from hackers almost impossible, it will offer you a multiple-layer protection for your assets.
• Support: One of the factors that prove that it is one of the crypto pro android wallets is the quality of the support of the answering in an acceptable period, if they help you resolve the problem you are facing in their platform.
• Fees: Choose a crypto wallet for android that is clear and doesn't hide hidden fees like most of these platforms do they add some additional fees that they didn't tell you about before?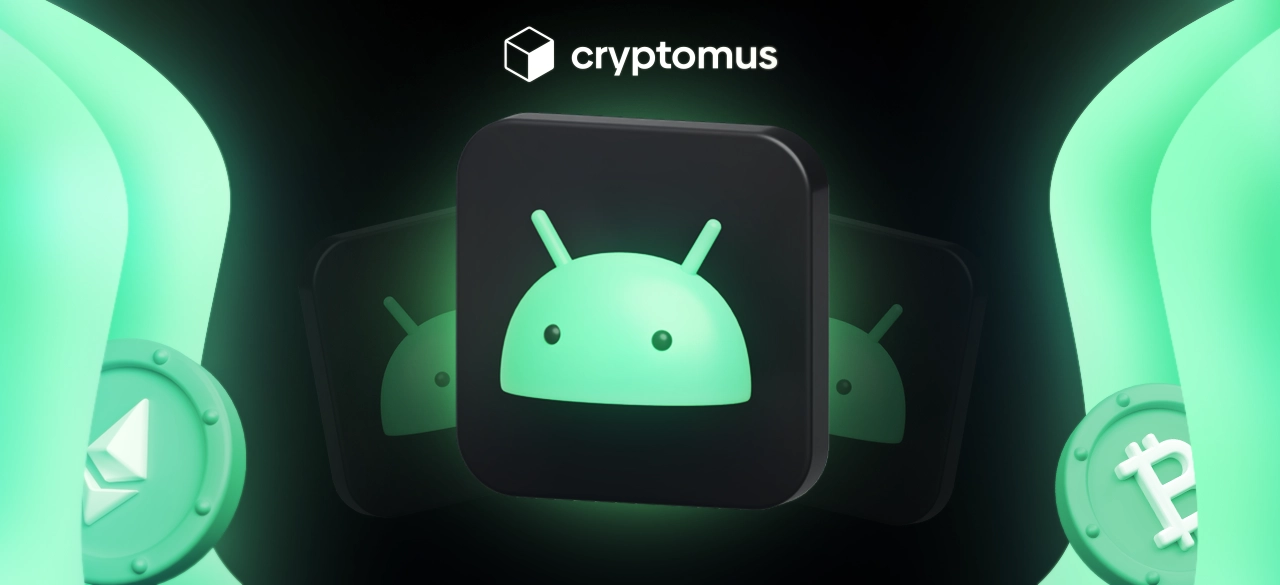 Best Crypto App for Android
Now that we have seen how to get an Android crypto wallet let us know that Cryptomus is one of the best crypto wallet for android that will allow you to receive crypto payments on your android app with different methods, Let's before lets us see why Cryptomus.
we saw before the characteristics that the android wallet crypto must have, Let's compare it with Cryptomus :
• Reputation: With 4.5 stars in Trustpilot Cryptomus is a reliable platform with positive reviews, where you will find all what people think about it, the problems they found, and the benefits they got thanks to it!
• Security: They propose a 4 layer protection with SMS, Email, Password, and 2FA, making account access almost impossible by hackers. They also propose a whitelist for auto withdrawal, protecting assets even if hacked.
• Supports: Cryptomus support is always here to answer your request ,you will always receive an answer in time, It never takes a day maximum is an hour not like other support on other platforms that sometimes takes more than 2 days to get a little answer.
• Fees: In a trustworthy android wallet crypto you will never find hidden fees, With Cryptomus everything is clear all fees are written on the website you will not find surprises.
Handling Cryptocurrency Price Volatility in Your Android App
To manage cryptocurrency price volatility on an Android app, use reliable data, incorporate trend displays, customize alerts, integrate candlestick charts, educate yourself about users, conduct testing, encourage feedback, and provide accurate information.
Setting Up a Crypto Wallet in Your Android App
For this you will need to go to the Cryptomus website create your account and pass all the confirmation steps after that create a merchant account where you will receive your assets, in that merchant account you will have the option to make integration with the use of an API or QR code or payment links that you will be able to use this in a crypto bot android that will make it even easier to receive your payments, you will be able also to use in your social and everywhere you want it literally without any limit.
After integrating your API in your app, you will need to make a test to see if it is working, if not you will need to correct the mistakes or contact the support for help then you will be able to completely receive payments in your app.
Advantages of Crypto Bot Android
Using a crypto bot android can offer interesting advantages, such as user-friendly interfaces, automation, continuous monitoring, and data analysis. However, users must exercise caution as they involve risks and require extensive research and configuration.
Tips for Integrate Crypto Payments in Android
There are some additional tips for a secure and efficient integration:
• Master the Fundamentals of Cryptocurrency: If you're new in the field of Android crypto payments, your first step should be to educate yourself and understand the basics of cryptocurrency. This will allow you to create effective strategies.
• Select Supported Cryptocurrencies: Opt for the primary cryptocurrencies that your users predominantly utilize. This ensures you're offering precisely what they require.
• Incorporate QR Code Scanning: QR code-based payments have gained immense popularity due to their user-friendly nature. Integrating QR code scanning as an option enhances security when used in conjunction with other payment methods such as links or APIs.
• Deliver Clear Instructions: Craft well-structured and straightforward documentation for your clientele. This aids them in comprehending the process with ease.
Ensuring Security Crypto Payment in Android
The Cryptomus platform ensures Android crypto wallet security with a comprehensive four-layer protection protocol, including password, SMS, email, and 2FA authenticator. Additional security measures include whitelist-based withdrawals, PIN code systems, and automated withdrawal mechanisms, making it a top-tier Android crypto wallet.