Secure and Efficient Trading Made Possible: Cryptomus Launches Innovative P2P Crypto Exchange
Cryptomus, the leading cryptocurrency payment gateway, has once again proved its commitment to delivering efficient solutions to the world of cryptocurrency with the launch of its P2P (peer-to-peer) cryptocurrency exchange platform. This innovative platform allows users to trade cryptocurrencies directly with each other without the need for a third-party intermediary, offering a secure and efficient trading experience for all.
In this article, we will explore the features and benefits of Cryptomus' innovative P2P exchange platform, and how it is transforming the way users trade cryptocurrencies. From its easy-to-use interface to its advanced security measures, Cryptomus' P2P exchange is poised to revolutionize the world of cryptocurrency trading. Let's take a closer look at how it works and what sets it apart from traditional exchanges.
What Is a P2P Crypto Exchange?
A P2P (peer-to-peer) crypto exchange is a type of cryptocurrency exchange that allows users to trade cryptocurrencies directly with each other without the involvement of a third-party intermediary. In a P2P exchange, buyers and sellers can interact with each other directly and execute trades without the need for a central authority to oversee the transaction.
P2P exchanges differ from traditional cryptocurrency exchanges that use an order book and matching engine to facilitate trades between buyers and sellers. Instead, P2P exchanges allow users to create their offers to buy or sell cryptocurrencies at their preferred price and wait for other users to accept the offer.
P2P exchanges can provide many advantages over traditional cryptocurrency exchanges. For one, they typically offer more privacy and security, as users can trade directly with each other without the need for a central authority to handle their funds. Additionally, P2P exchanges can offer lower fees and faster transaction times since there is no need for an intermediary to process the transaction.
P2P crypto exchanges have become increasingly popular in recent years due to the benefits they offer and their ability to enable peer-to-peer trading without the need for a middleman.
Seeing our clients using our service to acquire crypto we have decided to create a P2P exchange to make crypto withdrawal more convenient. Cryptomus P2P trading platform has been designed to empower our users with the ability to trade cryptocurrencies directly with other users without the need for a centralized intermediary. This means you can trade with anyone, anywhere in the world, and enjoy greater control over your trades.
With our P2P exchange, you can buy and sell Bitcoin (BTC), Ethereum (ETH), Litecoin (LTC), Bitcoin Cash (BCH), and many other cryptocurrencies with ease. You can choose from a range of payment methods including bank transfers, credit and debit cards, and even e-wallets.
We employ advanced encryption technologies to protect your data, and our two-factor authentication ensures that only you have access to your account.
What's more, we have made it easy for you to use our P2P exchange. Our user-friendly interface ensures that you can easily navigate the platform and complete trades in just a few clicks.
What to Use P2P Exchange for?
The Exchange feature is necessary for both business and personal use. What is it useful for?
For personal use:
Buy and sell crypto to hold it and earn on it – just like you do it with securities and use an opportunity to gain profit from exchange rate volatility.
Buy local currency if you are abroad
Buy crypto P2P to pay for goods and services: it is possible to gain some kind of bonus when you pay in crypto, and what is more, remain completely anonymous and don't be worried about your fiat account getting frozen.
For business use:
Set the cost which is profitable for you
Invest your business' funds into crypto (check related legislations of your country before investing)
Cryptomus allows its users to accept payments in crypto and now they are able to convert them to fiat right away
How to Start Using the Cryptomus P2P Exchange?
We are thrilled to announce the launch of our brand new peer-to-peer (P2P) exchange, Cryptomus P2P, that provides a fast, secure, and seamless way to buy and sell cryptocurrencies. Here is a brief instruction on how to use it:
Log in or sign up or to Cryptomus.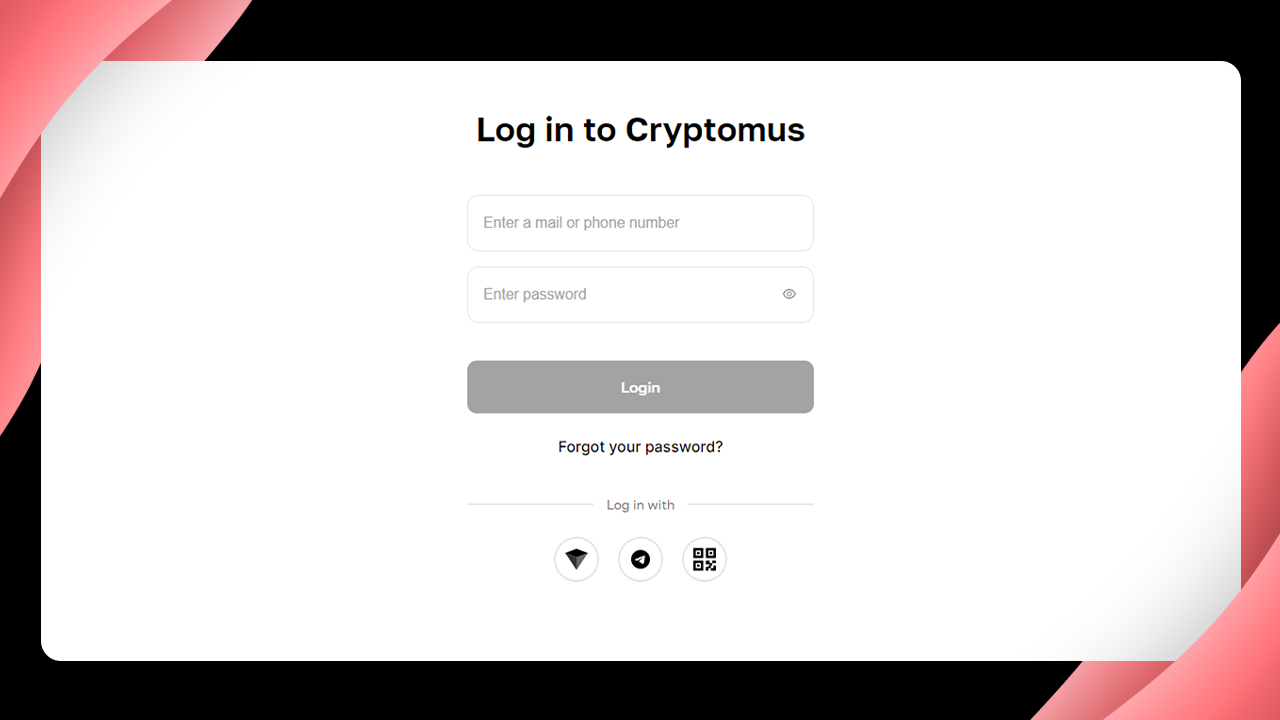 Go to P2P trade wallet and click P2P Trading in the top right corner of the dashboard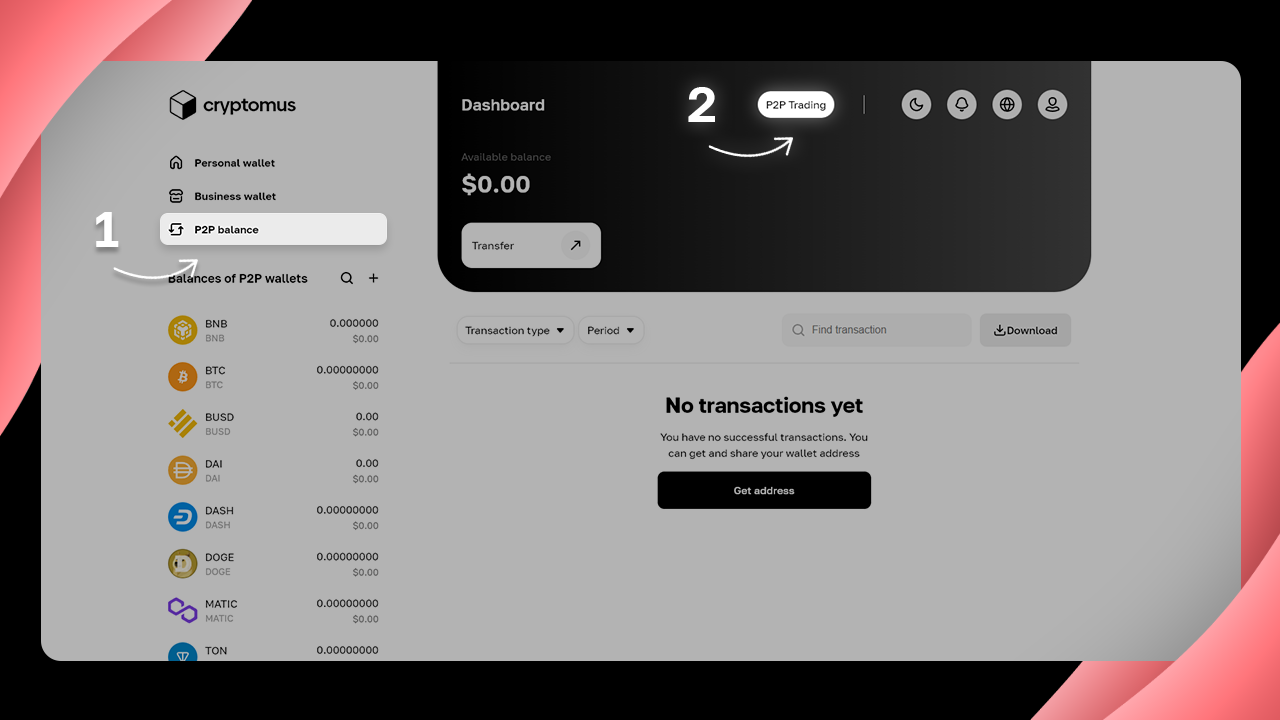 Here you need to enter your nickname and now you can trade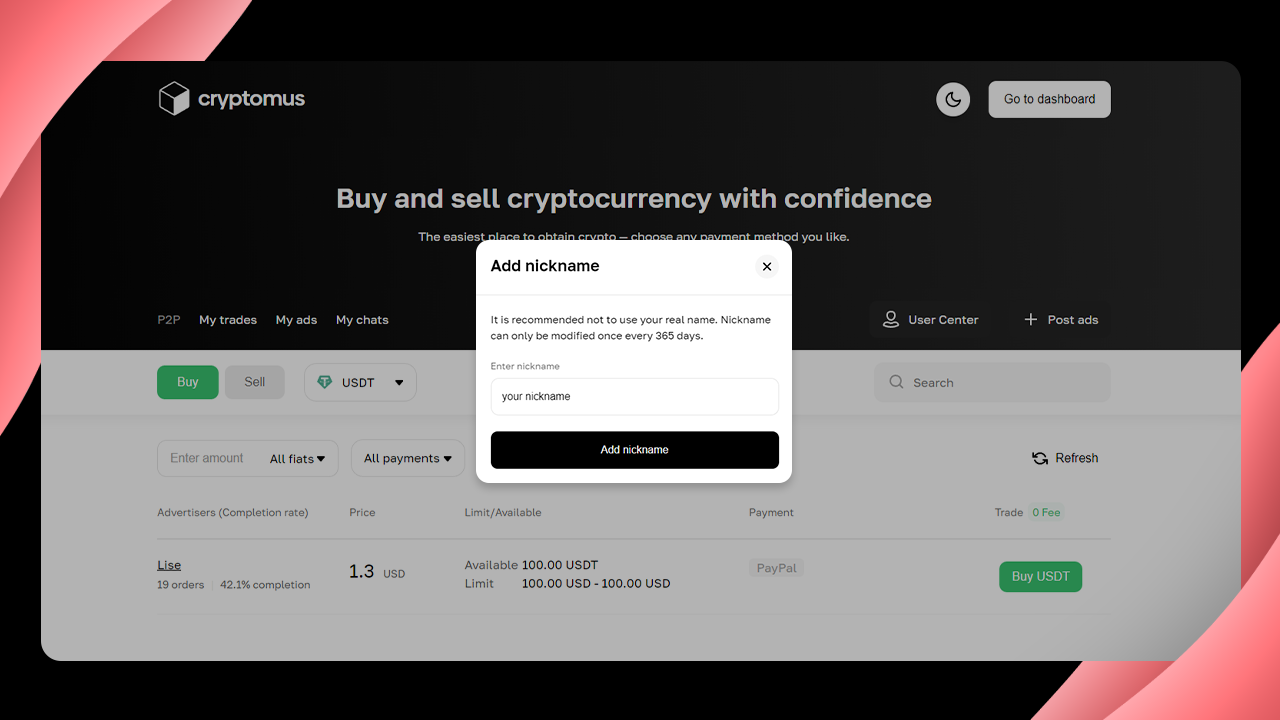 How to Buy or Sell Crypto with Cryptomus P2P Exchange
You can create your ad or fulfill someone else's order. Post an ad to buy or sell crypto:
Click the Post ads button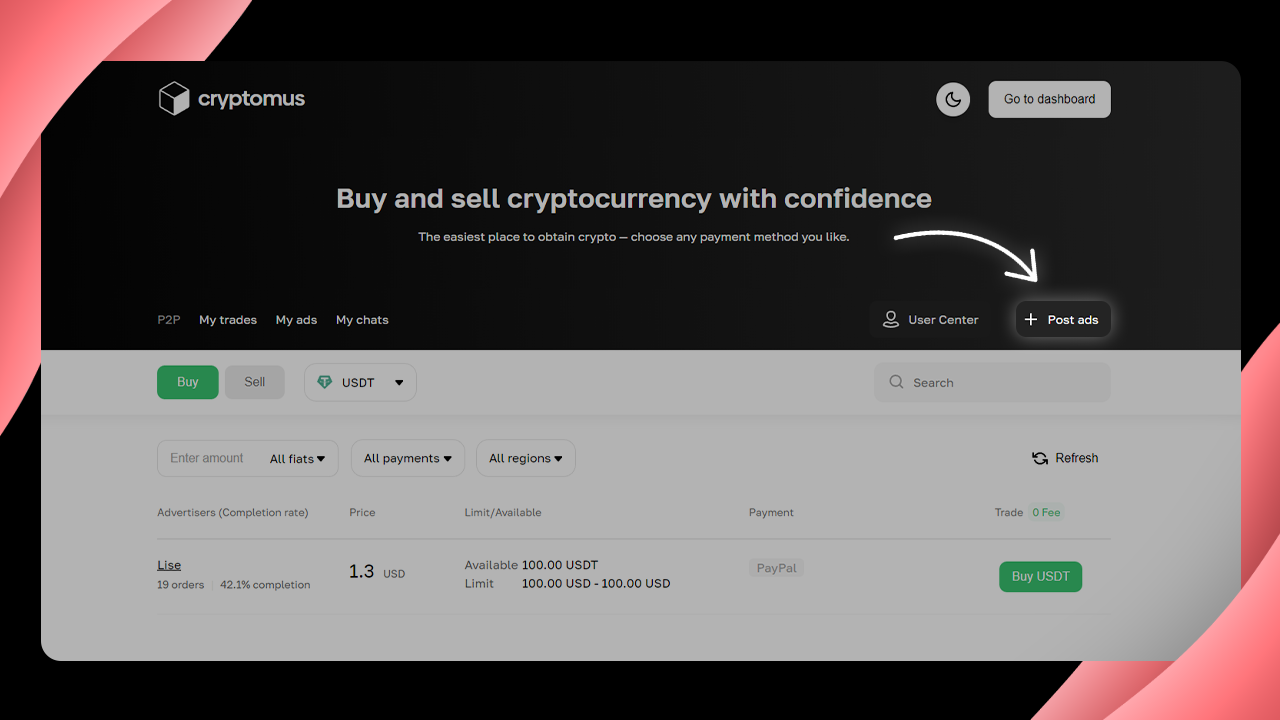 Choose whether you want to buy or sell crypto.
The next step is to set up a currency, amount, and limit for your trade.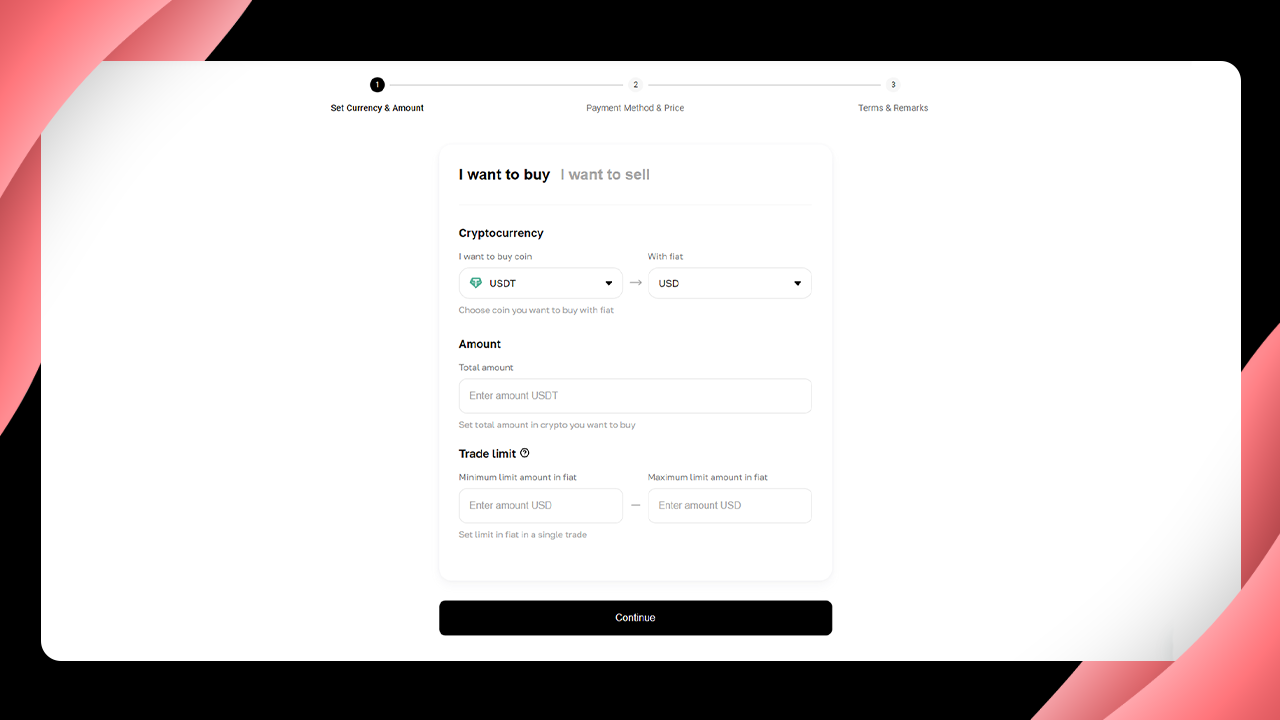 Press Continue and here you need to choose a payment method, region and description (optional), and price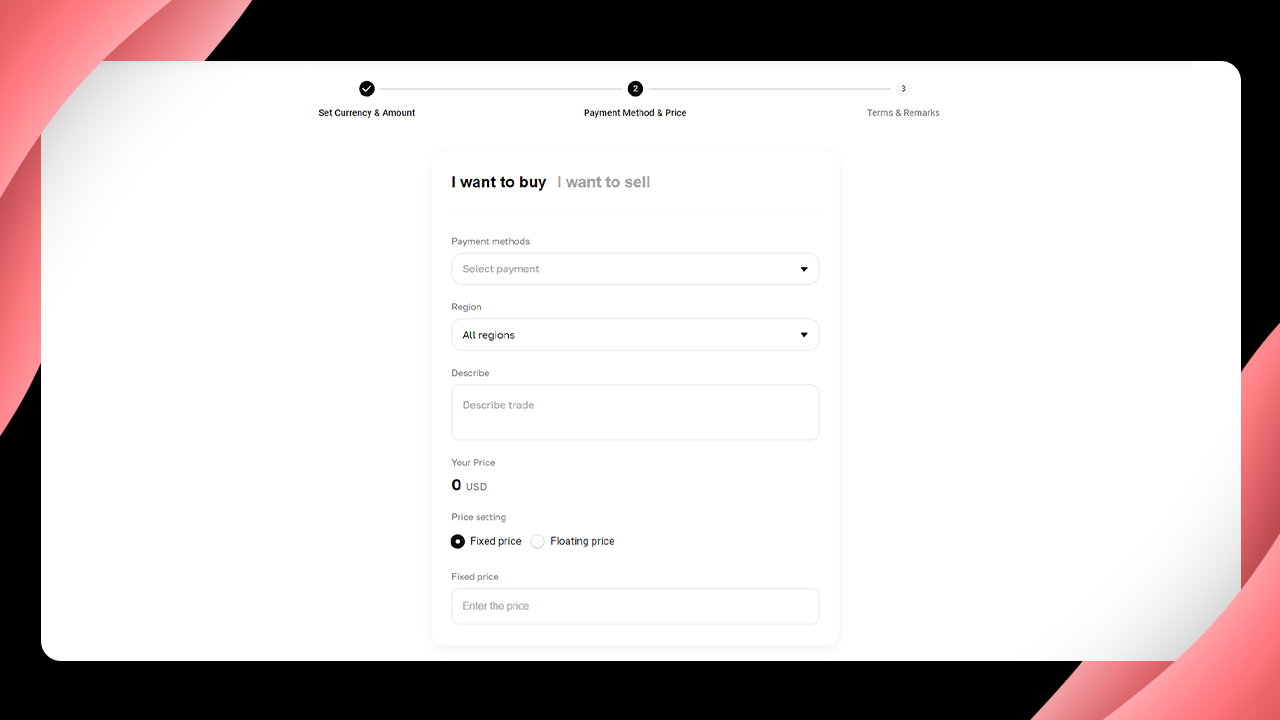 After that you need just to set the status and privacy detail for your ad and done!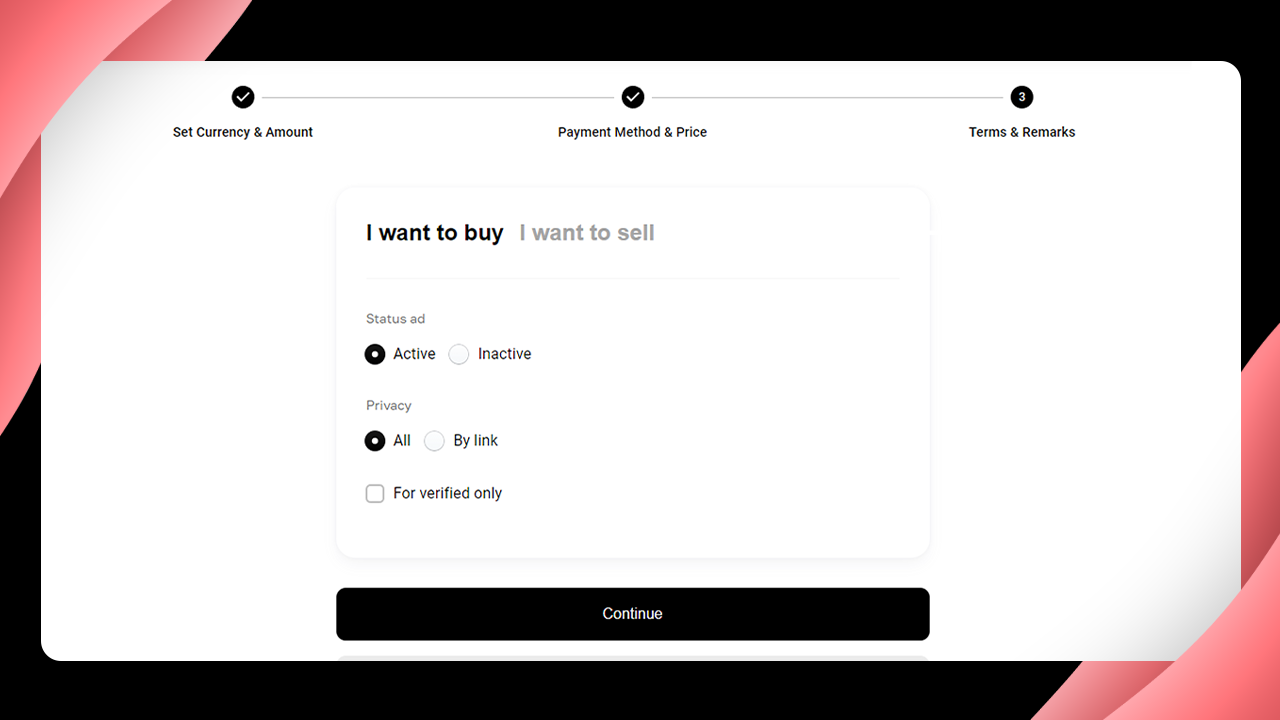 At Cryptomus, we believe that the future of finance is decentralized, and we are committed to creating innovative products that help our users achieve their financial goals. Our P2P exchange is just one example of this commitment.
So, what are you waiting for? Join Cryptomus P2P today and start trading cryptocurrencies in a safe, fast, and secure way.
Thank you for being a part of the Cryptomus community.