Нow to Set Up a Crypto Wallet
A crypto wallet is one of the most essential tools for directly monitoring and managing your crypto assets. In this article, we will discuss all the features of choosing the right wallet and give a step-by-step guide on how to set up a crypto wallet for different purposes.
Choosing the Right Crypto Wallet
How do I set up a crypto wallet? — quite a frequent question. There are various types of crypto wallets, including software and hardware wallets, mobile and desktop wallets, and more. How can you choose the right wallet to suit your needs? Let's see!
The following factors help you better evaluate a particular crypto wallet.
Security: Security should be the main advantage of any crypto wallet, so pay attention to wallets that offer strong security features (two-factor or biometric authentication, etc).

Compatibility: You create a wallet to store your crypto savings, but that doesn't mean that all of them have to be in one cryptocurrency. Make sure that your crypto wallet is compatible with the cryptocurrencies you plan to use or invest in.

Reputation and reviews: Before learning how to set up a cryptocurrency wallet, it's necessary to check a large number of reviews from existing users of this provider. Analyzing the reputation of the wallet provider is crucial to ensuring the wallet is reliable and trustworthy.

Fees: Many wallets may include usage or transaction fees, so it's better to consider this issue in advance. Depending on the type, a wallet can be paid ( hardware wallet) or free (software wallet). Some crypto wallets may charge extra fees for particular features and transactions.

Clear interface: A wallet should have a clear and user-friendly interface so you can compare different platforms and types of wallets and choose the one you prefer the most.

Customer support: A provider that supplies its participants with the required information and resources (specialized blogs, articles, guides, and FAQs) is perfect for users who want to be better integrated into the provider and create a wallet there. They can also help you with issues such as "how to set up my crypto wallet."
We will help and tell you not only how to set up a wallet for cryptocurrency or how to set up a crypto wallet for business but also how to prevent fatal mistakes while using it. Focus on these factors, and you will definitely find the crypto wallet that fully suits all your preferences and needs.
Creating Crypto Wallet with Cryptomus: Step-by-Step Guide
You've chosen the wallet you like, and what's next? In this step-by-step guide, we show you how to set up a crypto wallet in just a few steps using the Cryptomus platform.
Sign up for an account.
To open your Crypto Wallet account on Cryptomus, you need to provide personal information, such as your email address or phone number, and then create a password. You can also sign up for an account using other apps, such as Google, TonKeeper, Telegram, or Apple ID.
Confirmation.
After you have entered your data, you will need to confirm registration through a code sent to your email or SMS. As soon as you enter this code, you will immediately see your account on the platform. Confirmation is also needed every time you log into a Cryptomus account.
Enable Two-Factor Authentication (2FA).
In addition to a strong, complex password, you must enable 2FA to get extra protection for your account and, as a consequence, your crypto assets.
Select the wallet.
On Cryptomus, you can choose a personal or business wallet. What you choose depends on your purposes.
Get your wallet address.
Click the button "receive" to find your wallet address and use it to accept the currency transfer. You can also see your wallet address if you select a cryptocurrency in the left menu. With the button "withdrawal", you can select a particular currency, enter the recipient's wallet address, and make a transfer.
Transfer crypto assets.
You can transfer your crypto assets in several ways, such as exchanging, depositing, or receiving them from another wallet. If you don't have any cryptocurrency yet, start funding your wallet by purchasing it from different exchanges and then transferring it to your wallet balance.
Start using the wallet.
Your Cruptomus wallet is active now, and you can start using it! It will become your indispensable assistant for sending, receiving, and storing your crypto assets.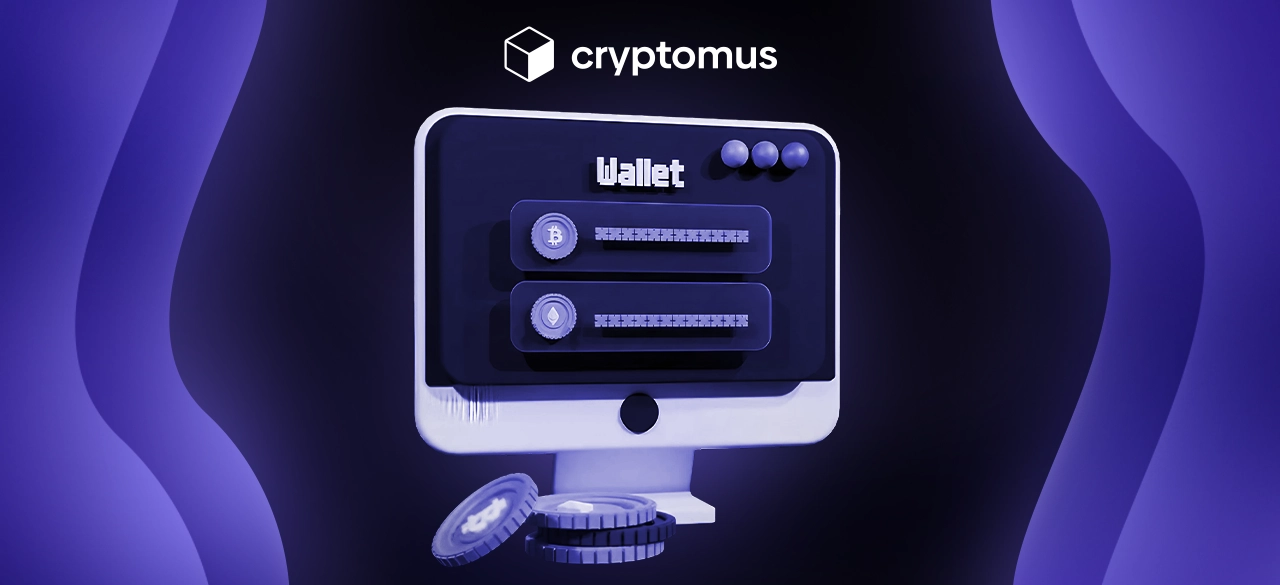 Useful Facilities of Crypto Wallets
We have already told you how to set up a wallet for cryptocurrency. So now we will tell you about the functions and advantages of most of them, as well as give you some tips on how to make using a crypto wallet more convenient and safer.
Security Measures for Protecting Crypto Assets
It would be best to create an account with a relatively strong and complex password and enable Two-Factor Authentication (2FA). You should also avoid using easily guessable information or common passwords.
You shouldn't keep all your savings in one account or wallet. Spreading finances across different wallets can reduce the risk of hacking and help prevent loss.
It is best to stay fully informed about the latest security threats you may encounter, learn about effective practices, and prevent these possibilities.
Don't share personal data or information on your pages or social media accounts. Be careful with what you put out to the public audience.
Backing up a crypto wallet
Always use seed or recovery phases to restore your funds. Your access key will undoubtedly help you keep the cryptocurrency safe or recover your crypto holdings in case of hacking or device loss. Create multiple copies of your recovery phrases and save them in different secure locations.
If you're worried about whether your recovery option will work effectively, then you can test it. Reset your wallet and back it up using your seed phrase to be sure that you have access to savings.
Managing Multiple Cryptocurrencies in a One Wallet
Pay attention to a wallet's feature of supporting multiple cryptocurrencies. Fortunately, most wallets nowadays have this function, but don't neglect this factor.
Managing multiple cryptocurrencies can be truly convenient, but you need to organize your holdings and label or tag your addresses to avoid any further confusion.
Read more articles and guides about how to set up a crypto wallet and manage your assets there. Also, learn about the particular cryptocurrencies you hold, their features, and security aspects to better organize your wallet and stay up to date.
Sending and Receiving Crypto Safely
If you want to send funds without worrying about the transaction's security, double-check the recipient's crypto address and verify transaction details. This is necessary because committed transactions are usually irreversible.
It's essential not to use public Wi-Fi while sending crypto. Through public Wi-Fi networks, attackers can easily steal your data, including passwords, account details, and personal information. Sometimes, for these purposes, they launch their access points to the free Internet. Therefore, conduct your crypto transactions exclusively through reliable Internet providers or VPN.
If your chosen wallet allows you to attach small messages to the payments, then use it as often as possible. This feature will make it easier for you to track the purpose of transactions and also will be convenient for communication with the recipients.
It's necessary to monitor all incoming transactions. This way, you can react faster if you suddenly notice any unexpected or unauthorized transactions.
Troubleshooting Common Crypto Wallet Issues
A crypto wallet definitely offers many advantages and features. Still, it's essential to know what problems you can face while using it and consider possible solutions. Let's examine the main problematic aspects related to the "how to set up a wallet for crypto" theme.
Lost or stolen wallet. If your physical wallet (e.g., a hardware wallet) is lost or stolen, your funds are still protected as long as you have your recovery seed phrase. You just need to get a new one and restore it with the seed phrase. Well done! Your crypto assets are accessible to you.
Forgotten password or PIN. This is one of the most frequent problems of crypto wallet users. In this case, check if your wallet offers password and PIN recovery. Most wallets provide such a function, and you can quickly recover a forgotten password using your seed phrase.
Wallets freezing. You started noticing slowdowns or interruptions in the functioning of your wallet. Make sure your wallet's software is updated, and try clearing the app's cache or reinstalling it. Also, if you have more problems, contact the wallet's customer support service.
Tips for setting up a crypto wallet
How do you set up a crypto wallet without complications? Creating a crypto wallet is a substantial step in your crypto activity. Some general tips definitely help you to prevent mistakes.
Choose the right type of wallet.

Choose a verified wallet.

Download only from official or trusted sources.

Set up a strong password and PIN.

Don't be afraid of using Two-Factor Authentication.

Protect your account - use a seed phrase and create a wallet backup.

Use only secure networks.

Be aware of the latest developments in crypto security and usage.
How do I set up a crypto wallet for my needs? We hope that this article answers this question and that it will help you to set up a crypto wallet. Always prioritize security and enjoy all the benefits of cryptocurrency together with Cryptomus!