How To Become A P2P Merchant on A Cryptocurrency Exchange Platform
Ten thousand years ago, humans successfully mastered the power of agriculture. This allowed us to transition from a nomadic lifestyle to a settled one, resulting in the birth of civilizations. With the development of trading, we created a monetary system using gold and silver. Later, we established the banking system, providing opportunities for everyone. The internet brought us to a world of globalization , enabling us to trade with almost every country and person around the world. Now, we are taking the next step in the evolution of our trading system with the arrival of cryptocurrencies.
The Forex market, controlled by banks and financial institutions worldwide, involves buying and selling currencies like Euro/Dollar or Yen/Dollar but is geographically and politically limited due to government infrastructure control.
A P2P cryptocurrency exchange operates the same way as the forex you can buy and sell cryptocurrencies like bitcoin dogecoin and others. The P2P cryptocurrency exchange is different from the forex.
The P2P Cryptocurrency Exchange Platform is not dependent on any financial infrastructure, making it worldwide and open to everyone without any political limitations. This makes the rule of supply and demand stronger, providing more opportunities to make money.
In this article, we will discuss the basics of the P2P Cryptocurrency Exchange Platform, how to become a P2P merchant on the Cryptomus platform, and also how to become a P2P merchant.
The Basics P2P Cryptocurrency Exchange Platform
Before seeing how to become P2P merchant in Cryptomus or how to become a P2P merchant let's see what are the basics of the Cryptocurrency Exchange Platform.
• Direct Transactions: P2P platforms enable direct trades between users, offering more flexibility in terms and payment methods compared to centralized exchanges.
• Escrow Service: To ensure secure and authentic transactions, many P2P platforms utilize an escrow service. Once a trade is initiated, the cryptocurrency being sold is held in escrow until both parties fulfill their end of the deal.
• Reputation System: To help users identify trustworthy participants, P2P platforms often use a rating or reputation system. Traders earn a reputation based on their transaction history and feedback.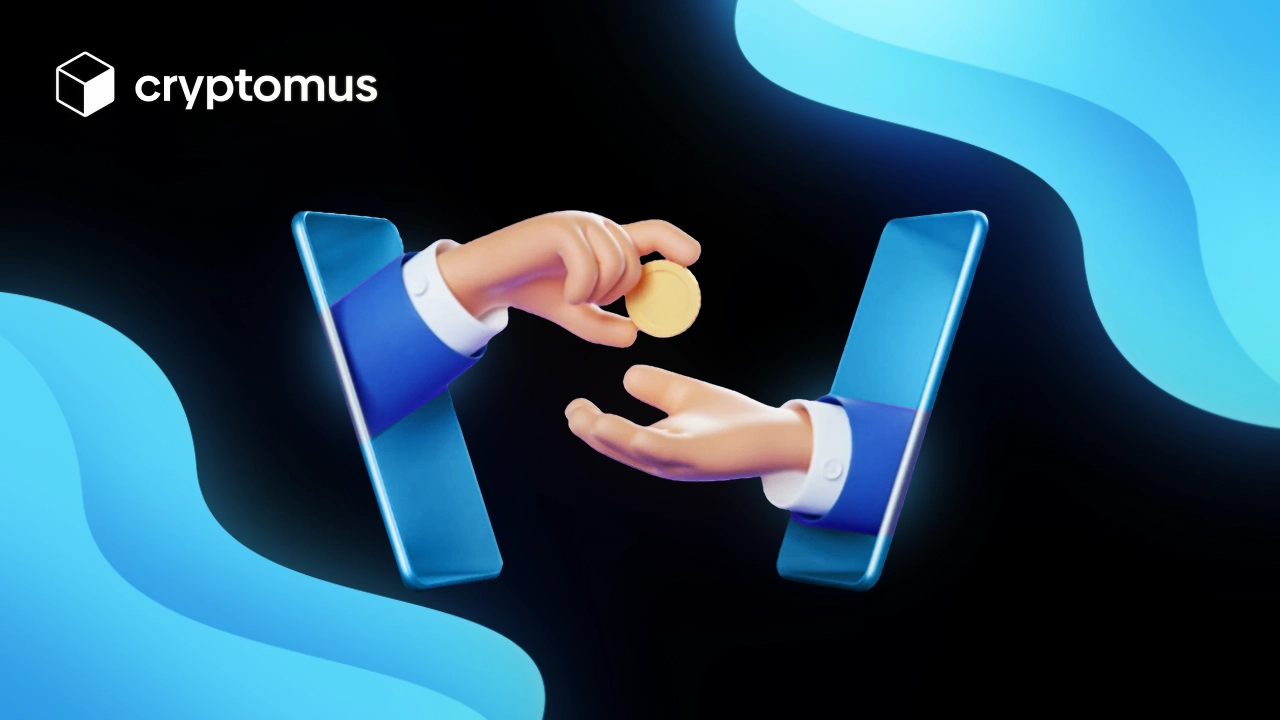 Enabling P2P Merchant Features
Enabling P2P merchant Account is simple you will just need to follow these simple steps:
• Cryptomus account: Go to Cryptomus, and follow all the steps to create an account, pass the KYC verification, and all security processes to protect and finish the creation of your account.
• Go to the P2P wallet: Go to your P2P wallet make sure that everything is okay then click on Trade Now After that you will go to a web page where you will be able to put ads and sell.
• Be informed: Now you can trade but the question is what to trade? you will need to do research, follow the news in crypto blogs and forums, and analyze the market to find the best pair to trade to be able to make benefits.
Now only some steps and you will be ready to trade in our Cryptomus P2P platform which I will give you in the next paragraphs. We will also see at the end of this article how to become a P2P merchant that makes benefits and more important how to become a verified merchant.
Configuring Payment Methods a P2P Platform
To be able to fully understand how to become a P2P merchant or in any other platform you must understand how the payment process works and it is really simple. In your P2P platform, you have the freedom to select payment methods, create ads, and choose the payment method for purchases.
Managing Orders and Transactions a P2P Platform
Efficient order and transaction management, utilizing advanced technologies like blockchain, enhances trust and smooth operations in a decentralized marketplace, fostering user experience and reliability, understanding how to manage Orders and Transactions a P2P Platform will help you understand how to become a P2P merchant or in Cryptomus or any other P2P platform.
Building a Reputation as a P2P Merchant
A P2P merchant's reputation is built on transparent interactions, fair pricing, and ethical practices, fostering trust through secure transactions and community engagement, Reputation is really important if you want to become a good P2P trader, and this will help you achieve your goal of answering the question of how to become P2P merchant or in any other platform.
Implementing Security Measures for P2P Trading
P2P trading platforms must implement robust security measures like end-to-end encryption, two-factor authentication, escrow systems, and anti-fraud algorithms. Regular audits, updated best practices, and user education about risks and safe trading habits ensure a secure and trustworthy trading environment.
How to Become P2P Merchant
How to become a P2P merchant? To trade effectively, create and verify an account, complete KYC, apply for merchant status, review trading history, respond promptly, resolve disputes, and stay updated on crypto graphics , keep trying, make mistakes and learn from them, this is how to become a merchant on P2P.