A wallet is arguably the most important thing for all crypto owners. A crypto wallet is a digital wallet that allows users to store, manage, and transfer their cryptocurrency assets. Unlike traditional wallets that store physical currency, crypto wallets store the private and public keys needed to access and manage a user's cryptocurrency holdings on a blockchain network.
In this article, we will be talking about the Cryptomus crypto wallet, its advantages, and how to start working with it.
Benefits of Cryptomus Wallet
There are the reasons why our wallet solution is the best in the market:
1. Security: Cryptomus wallet is highly secure and ensures that your digital assets are kept safe with the latest security protocols, including two-factor authentication and private key encryption.
2. User-friendly interface: The wallet is designed with a simple and intuitive user interface, making it easy for anyone to use, even if they have no prior experience with cryptocurrencies.
3. Multi-currency support: Cryptomus wallet supports multiple cryptocurrencies, making it a versatile solution for managing all your digital assets in one place.
4. Instant transactions: With the Cryptomus wallet, you can enjoy instant transactions without the need for a third-party intermediary, saving you time and money.
5. Lower transaction fees: Compared to other crypto wallets, Cryptomus wallet has lower transaction fees, which can save you money in the long run.
6. 24/7 customer support: Cryptomus wallet offers 24/7 customer support to help you with any issues or questions you may have, ensuring that you have a smooth and hassle-free experience.
7. Cross-platform compatibility: Cryptomus wallet is compatible with multiple platforms, including desktop and mobile devices, ensuring that you can access your digital assets from anywhere.
8. Comprehensive functionality: The wallet includes different useful tools, such as Staking and Converter. It helps to make managing crypto even more convenient.
Considering all the advantages, we can proudly declare that the Cryptomus wallet is one of the best wallets out there.
How to start?
To be a part of the program you should take the next steps:
Sign up for Cryptomus. The process of it is simple – create an account with your email or phone number, no KYC is needed. You could authorize with TonKeeper as well to be completely anonymous.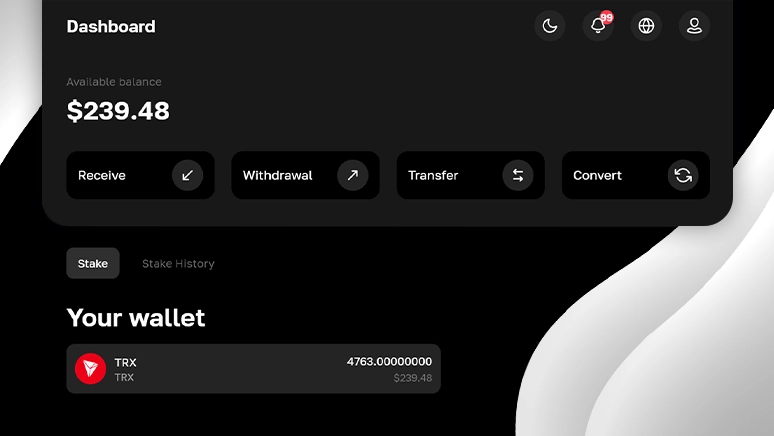 Now you can see the Dashboard. Here it is possible to withdraw, receive, transfer, and convert funds, see your balances for every currency available, track the history of transactions, and even download it.
The brief version of the article could be found there "Wallet" page. Start using our wallet today and enjoy the variety of features available.