Сryptocurrency Payments for African Countries
Africa is the second largest continent on earth with 54 countries and 1.4 billion people. Africa is the most popular continent on earth because of its colonial history, civil wars and terrorism, and this has made countries of Africa suffer and at the same time retarded their development. An example of this is the financial infrastructures: in Africa 57% of the population remains unbanked which means they have no access to international payments.
The side effect of that made African countries and Africans search for other solutions, and their choice was cryptocurrencies, making it the best solution to have access to global payment. There are the leading African countries using cryptocurrency: Nigeria, Kenya, South Africa, Ghana, Tunisia.
If you are reading this article, it means that you are from Africa and you want to use crypto for your business and you are interested in the African market. In both cases I will explain to you in detail how cryptocurrency in Africa works and how Cryptomus can help you.
The Rise of Cryptocurrency Adoption in Africa
The cryptocurrency in Africa is witnessing a remarkable evolution year after year. In fact, more and more Africans started using it to make the crypto exchanges in Africa grow more and more every year.
Take a look at the percentage development of the cryptocurrency in Africa sins 2018 to 2023 to understand this:
In 2018 the percentage of users was 1.5%, in 2019 it increased to reach 3.8% and in 2020 - 7.2%, in 2021- 12.5%, in 2022 - 18.8%, to reach its peak in 2023 with 25%. The most popular cryptocurrency in Africa are the Bitcoin (BTC), Ethereum (ETH), Tether (USDT).
Challenges and Opportunities for Cryptocurrency Payments in African Countries
To see what the cryptocurrency in Africa is, what its challenges are and what opportunities it brings, we first need to understand what are the problems it solves and what are the factors that stop it.
Cryptocurrency in Africa has the potential to greatly improve financial access in Africa. As we've seen, 57% of Africans have no access to the banking system.
This is due to government corruption and political instability in parts of Africa, but thanks to cryptocurrencies, with their decentralized nature, offer Africans who want to change their situation a chance to have access to the global financial system, receive, pay and work with the use of this innovation.
Popular Cryptocurrencies in African Transactions
In this part of this article, we will talk about the top African cryptocurrencies. There are many, but after various research, I made for you the selection that I call the top 5 cryptos Africa:
In the first place we have the Bitcoin (BTC). Yes, it is not only the most popular in the world, but it is also one of the top African cryptocurrencies.
In the second position we have Ethereum (ETH), followed by the Tether (USDT) known for its stability, then you have the Binance coin (BNB) and the last crypto Africa currency is the USD coin (USDC), these are the most popular crypto currencies used in crypto exchanges in Africa.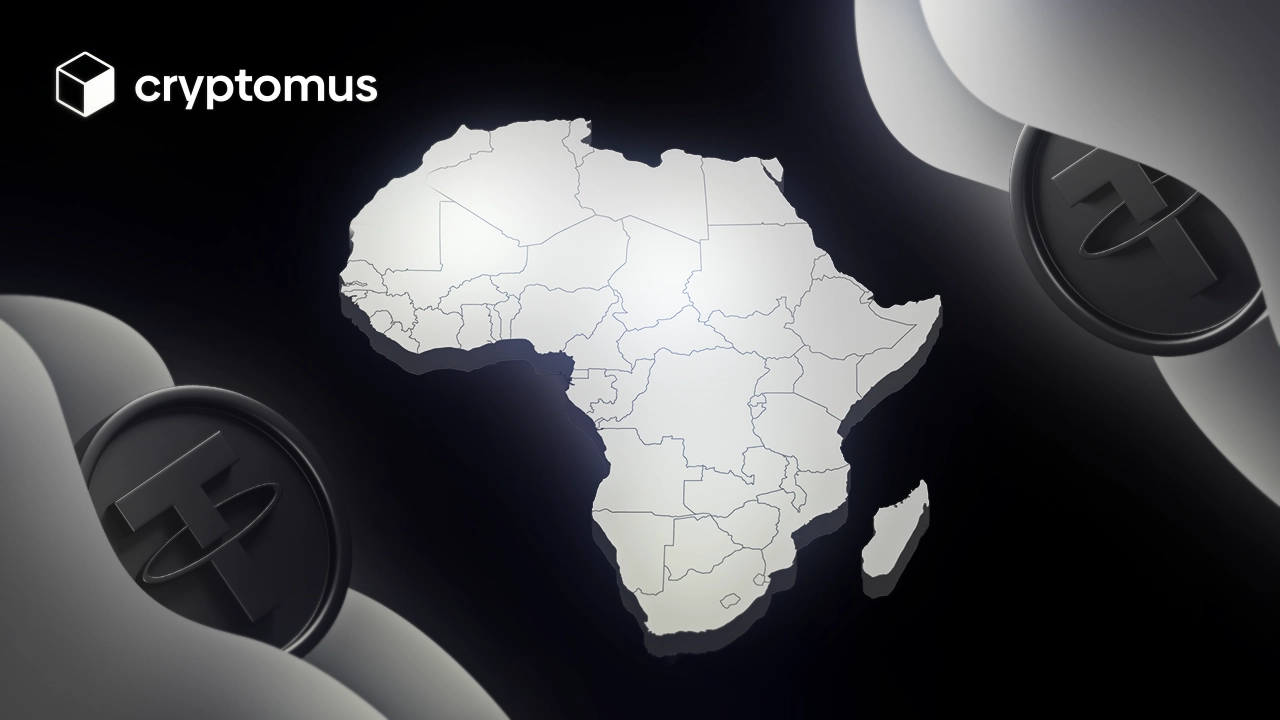 The Role of Crypto Wallets in African Crypto Payments
The use of a wallet is non-negotiable in the world of cryptocurrencies. It is like a bank account. If you have no account, you will have no card and no international payment. A wallet is a tool that helps the African country cryptocurrency to use and create markets like the south Africa crypto exchange market or other countries' market.
As an example of a wallet we could mention Binance, but not only that, each one is different and has its own features, that is why I want to tell you what Cryptomus can do for you in Africa. In fact Cryptomus is not just a wallet. It is a gateway that will allow you to integrate a form or a page on your website, business, social media, bots, etc. It offers a crypto payment method that will allow you to receive and get paid with cryptocurrencies.
Imagine that you are an African freelancer or business owner, integrating this feature into your online-store and your website will open you all the African market, and you will be able to work with all Africans and other people everywhere on the globe.
Cryptocurrency Regulations in African Nations
Crypto in Africa is regulated differently in African countries, with some countries banning them outright and others taking a more lenient approach. Cameroon has banned cryptocurrencies due to financial stability concerns, while the Central African Republic has made Bitcoin legal tender. it differs from one country to another. South Africa has taken a progressive approach to the South Africa crypto exchange market.
Security and Fraud Concerns in African Countries Cryptocurrency Transactions
Security threats like phishing, malware, pump-and-dump schemes, exchange hacks and scams are prevalent globally. Platforms like Cryptomus offer multiple layers of protection, including SMS, password, email and 2FA. The platform also offers features like Whitelist, Auto Withdrawal and 24/7 support to ensure optimal cybersecurity.
The Future of Cryptocurrency Payments in African Countries
Cryptocurrency adoption in Africa is expected to increase significantly in the coming years, with countries such as South Africa with the South Africa crypto exchange market, Nigeria, Kenya and Ghana already having growing crypto communities. Blockchain-based remittances can provide a faster and cheaper way for Africans to receive money from abroad, improve financial inclusion and provide new sources of income for the growing youth population. Challenges include regulatory uncertainty, technical literacy and access to the Internet and electricity.