Best Black Friday Deals For Crypto
Black Friday is the best time to efficiently and inexpensively expand and strengthen your business. The Black Friday crypto market is full of profitable offers and attractive prices. What about making a crypto deal right now?
Black Friday Sales for Crypto Beginners
Every year, Black Friday crypto sales are an ideal shopping opportunity for crypto users, even if you are just getting acquainted with the concept of cryptocurrency. Nowadays, more and more retailers are accepting crypto as a relevant payment method. Thus, their stores and businesses can expand quite quickly and increase the number of their customers.
Black Friday affects crypto, so these days, cryptocurrencies are considered not much as a way of investment but as a full-fledged way for everyday payments, just like regular fiat money.
If you have just started to get acquainted with the concept of cryptocurrency, then a good idea on Crypto Black Friday would be to start simply by buying things that you have wanted for a long time. You can buy or sell things using your crypto (Etsy, Rakuten), buy a video game you want (Playstation Network, Microsoft), or even plan your vacation (Travala.com, Expedia).
How to Score Big Savings on Cryptocurrency this Black Friday
Sales are always a pleasure, but it's even better when you can score cryptocurrency while buying something cool. We will tell you some methods for preserving your crypto savings on this Black Friday.
Use discount codes, coupons, and gift cards on the cryptocurrency exchanges and gateways. Usually, such platforms notify users about such promotions in advance, but you should be attentive and subscribe to the newsletter of the crypto exchanges where you want to purchase something.

Pay more attention to the crypto exchanges. Cryptocurrency prices may be volatile during Black Friday and a few days before. Crypto Black Friday sales often present many opportunities to buy any cryptocurrency at a lower price.
Specials and Discounts on Best Crypto Exchanges on Black Friday
If you want to save more, there's no better time than crypto Black Friday to take advantage of all the specials suggested by different crypto exchanges. Let's check out the top crypto exchange specials and see what they offer!
During the Black Friday period, Binance, one of the largest and most popular cryptocurrency exchanges in the world, also hosts its own Bitcoin Black Friday and gives new users an excellent promotion: all of them receive 600$ as a reward. Also, pay attention to the Bitcoin price drop for Black Friday; that usually happens on these dates. Therefore, buying with Bitcoin on Black Friday is a pretty good idea.

Coinbase Black Friday also starts now, and everyone can get a gift only by registering and making their first purchase on the platform. Sign up today and get 200$ to increase your savings with Coinbase even further.

One of the most popular crypto exchanges is Kraken, which offers convenient conditions for trading and investing. It gives 36% discounts on Black Friday sales for all users and also provides a variety of referral bonuses, including codes and promo codes. Such referral programs allow you to earn rewards for referring new users.

Bitbuy gives 20$ for free to all who deposit 250$ on its platform. Recharge your payment balance and get a nice bonus with it.

Huobi Exchange also offers a double bonus for new participants. All you need to do is create an account on Huobi, earn 300$, and get your 40 DOGE bonus.
Black Friday Crypto Trading Promotions
We have already reviewed the most popular crypto exchanges that provide significant advantages for new and old users. As for crypto trading, these crypto exchanges will also become excellent tools for making profitable Black Friday crypto deals in trading.
These days give you a chance to make crypto trading more beneficial with the following crypto tools:
Only during Black Friday Keepkey gives you the opportunity to trade crypto for free by using its KeepKey coupon. You will receive a zero commission and no trading fees or rates.

Bitstamp, one of the longest-standing cryptocurrency exchanges, also offers special coupons that can save you up to 65% on your trading fees.
So, the Black Friday crypto period can be a great time to save on trading fees and even maximize your income in some cases by using profitable features such as discounted trading fees, bonus rewards for certain transactions, or even free cryptocurrency giveaways.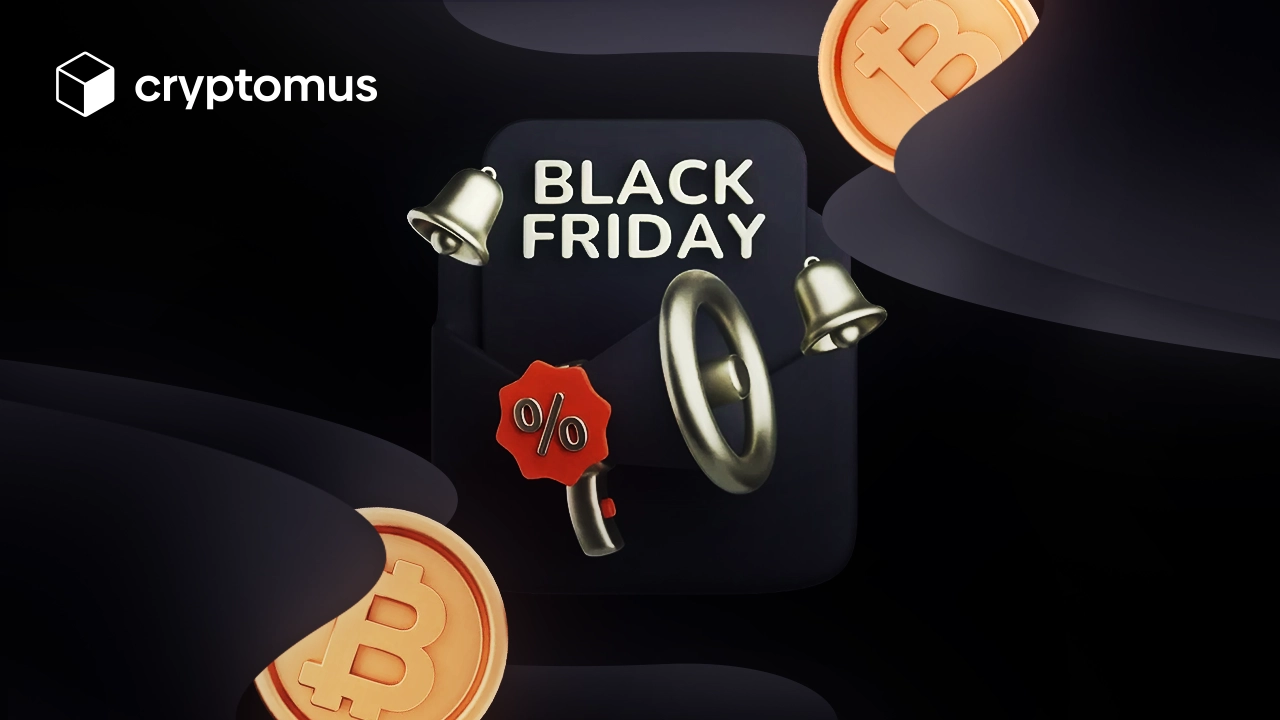 Best Black Friday Cryptocurrency Investment Strategies
As we know, many crypto exchanges offer specials and different kinds of promotions to users on Black Friday. This fact also applies to the popular sphere of crypto investment.
Binance offers users a wide range of crypto options, especially on Bitcoin Black Friday. These options often include special investment bundles or packages with a variety of cryptocurrencies at a discounted price. Binance may also offer exclusive perks for beginner crypto investors who sign up during BTC Black Friday and get or sell Black Friday Bitcoins.

On Black Friday, the Keepkey hardware wallet provides its crypto investors with the opportunity not to pay commissions, trading, and markup fees, as well as use a one-year warranty on their wallet.
However, what about crypto specials and discounts, everything is clear, then how can we prepare for Black Friday in order to spend it profitably and not miss opportunities? The answer is quite simple, so let's see!
First, you need to research promotions on exchanges you're interested in. We advise you to compare offers from different platforms to find the best one for your crypto trading or investment deals.

Pay attention to the official websites and social media of your favorite crypto exchanges in order to stay updated on any Black Friday crypto deals they may offer.

Set and analyze your budget for your crypto deals. Calculate how much you are willing to spend on the crypto business and try to decide which crypto tool or gateway you would like to use during this period.
Remember to always do thorough research and consider your financial situation before making any crypto trading and investment decisions.
Tips for Maximizing Your Savings on Black Friday
Black Friday is clearly associated with a large number of purchases, but why does no one say that during Black Friday, your savings can be maximized? There are a couple of tips that may help you increase your crypto.
If you are planning to invest in cryptocurrency on Black Friday, make it with a fixed amount of money at regular time intervals. It can help you take advantage of price fluctuations and, as a result, maximize your savings over time.

Many crypto exchanges, wallets, and platforms offer cashback or rewards programs for using their services. Use these programs to earn additional crypto rewards on your Black Friday crypto purchases.

Take all advantages from investing in crypto assets! If you want to invest in specific cryptocurrencies or digital assets, Black Friday can be an excellent chance to benefit from potential discounts and price drops.

Pay attention to long-term investment opportunities. While Black Friday promotions may offer short-term benefits, look clearly for cryptocurrencies with solid fundamentals and potential for growth beyond the Black Friday period.

When making crypto Black Friday deals, purchases, or investments, use secure and reputable platforms to protect your savings. Avoid any offers that seem too good to be true.
We truly hope that this article was helpful and that this information will help you manage your savings during Black Friday. And remember, that Black Friday and crypto are better together! So let's celebrate Black Friday with Cryptomus!