A Step-by-Step Guide on How to Get Your Ethereum Wallet Address
What is an Ethereum wallet address? Founded in 2013 and launched in 2015, Ethereum is the second-largest cryptocurrency by market capitalization, after Bitcoin, with a capitalization of 191.34B Md $US. It is also one of the most popular cryptocurrencies in the crypto sphere, with a wide range of use cases, including decentralized finance (DeFi), non-fungible tokens (NFTs), and gaming, making it one of the most popular сryptocurrencies in the crypto sphere.
To be able to master the power of Ethereum, you will need to create an Ethereum wallet address, and with this Ethereum address wallet, you will be able to receive, send or stock Ethereum.
I created a complete guide that will explain to you step-by-step how to get an Ethereum wallet address, and I will answer the most asked question of how to find my Ethereum wallet address.
Introduction to Ethereum Wallet Addresses
An Ethereum address is a 42-character hexadecimal address derived from the last 20 bytes of the public key controlling the account with 0x appended in front. And here is an Ethereum wallet address example:
• 0x71C7656EC7ab88b098defB751B7401B5f6d8976F This is what looks like a random Ethereum wallet address.
How to find Ethereum wallet address
To know how to get your Ethereum wallet address, you will need to go to your wallet, click on receive or send, and you will see a long hexadecimal sentence starting with 0x, like in the example. You will need to copy and paste.
Now that you have an idea of how to get an Ethereum wallet address, see together a step-by-step guide that will explain the process in detail.
Why You Need an Ethereum Wallet Address
For each wallet address, for example Binance Ethereum wallet address is different from one wallet to another. There are many reasons about the fact having an address:
• To receive ETH: Your Ethereum address is like a bank account number. It's necessary to receive funds.
• For security: Having your address separates your funds from others'. If one address is compromised, yours remains secure. It also lets you use measures like multi-signature to protect your assets further.
Step 1: Choose the Right Ethereum Wallet
To choose the best Ethereum wallet, consider these factors before making a choice:
• Consider your needs: Ask yourself the question, what do I need to use Ethereum? And once you will identify what your needs are, you will be able to know what to search for.
• Security requirements: Security is the most crucial factor to consider when choosing an Ethereum wallet. Make sure that the wallet you choose has a good reputation and uses robust security measures to protect your funds, like Cryptomus, which offers multiple layers of protection with password 2FA, SMS, and email code verification.
• Cost and Fees: Make sure that there are no hidden fees. Read and ask questions in forums and so on to know if there are any hidden fees for use. This will prevent you from having unwanted surprises.
• Reputation: Check the reputation of the platform before using it; look at websites like Trustpilot or read comments on social media. It will help you discover what they are hiding.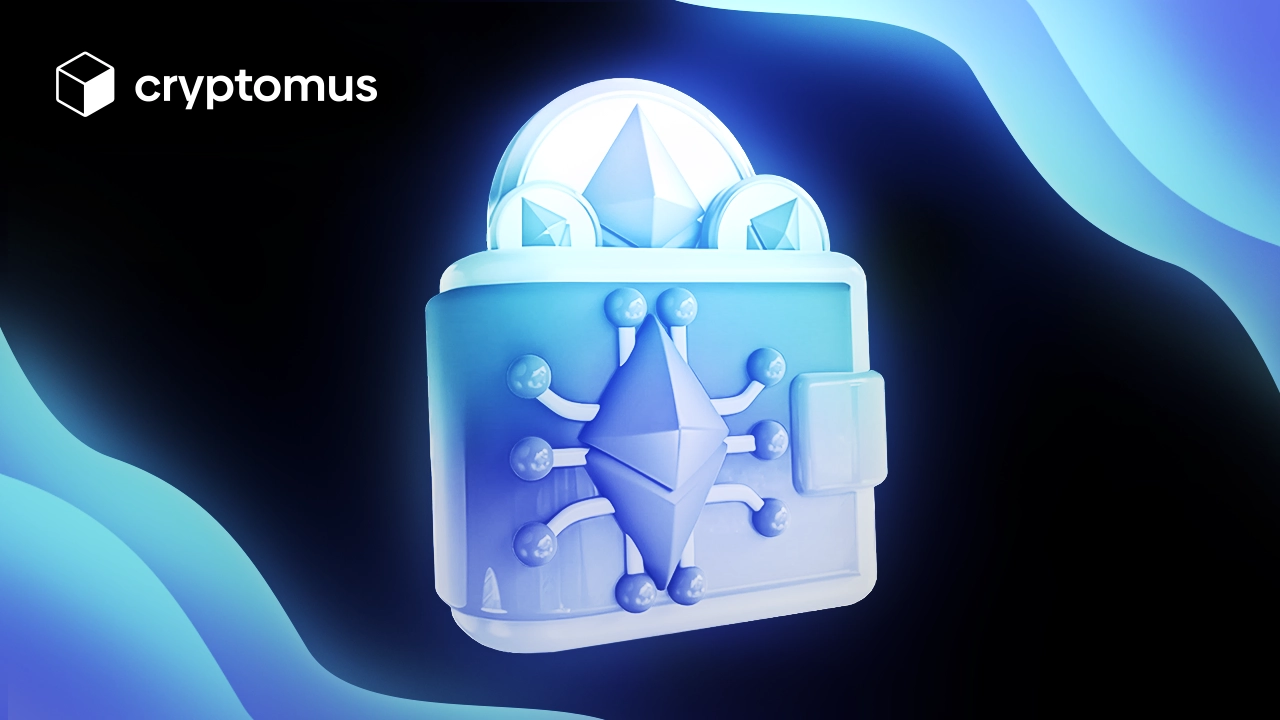 Step 2: Download and Install Your Chosen Wallet
You can download your wallet on mobile or desktop, depending on the features that the platform proposes.
Step 3: Set Up Your Ethereum Wallet
Once you download your wallet or create an account on it, you need to pass all the verification tests like the KYC, put in an email, a phone number, and so on. Then you will have access to your wallet and all information like your address.
Step 4: Safeguard Your Private Key
Once you get your address and you finish the creation of your account, the next step is to secure your account. Generate a private key and make sure to put it on an offline device to avoid the risk of being hacked, and more importantly, don't give it to anyone.
Step 5: Receiving and Sharing Your Ethereum Wallet Address
To send or receive Ethereum, share your wallet address. On your platform, select the wallet, enter the details, choose the correct network, and input the recipient's address accurately.
Step 6: Test Your Ethereum Wallet Address
You can make the test by sending it to your address from another wallet and see if you are receiving assets.
Step 7: Keep Your Ethereum Wallet Secure
To protect your ETH fund, avoid shady wallets, share private keys or recovery phrases, use strong passwords, enable 2-factor authentication, keep software updated, and use cold storage for large amounts, back up your wallet keys and recovery phrases.
Best Practices for Securing Your Ethereum Wallet
To be able to protect your Ethereum wallet address at the same time, your assets, some rules are simple to follow but with a significant impact on the security of your Ethereum wallet address; there are the main advice that you need to put in place from now:
• Strong password with 2FA: Creating a strong password is crucial to protect yourself from hackers. I recommend searching and reading guides on how to make a robust password. To ensure even more security for your Ethereum wallet address, you should use double authentication with an app like Google Authenticator. This added layer of protection will safeguard your assets in case your password is compromised.
• Choice of the wallet: We saw before how to get an Ethereum wallet address that will fill all the criteria for optimal security, check reputation, features proposed, crypto supported, and the quality of the support team, and use the most popular like the Ethereum wallet address Binance or the Ethereum wallet address length, or Cryptomus Ethereum wallet
• Up to date with your software: Always make sure to update your software, antivirus, and programs, and always make an Ethereum wallet address check to be sure that everything is under control.
• Check Ethereum wallet address: Every time you need to send or receive Ethereum, make sure to check the address and confirm that it is correct.
Thank you for arriving at this point; you can share with us your thoughts on this article that explains how to create an Ethereum wallet address by leaving a comment below.